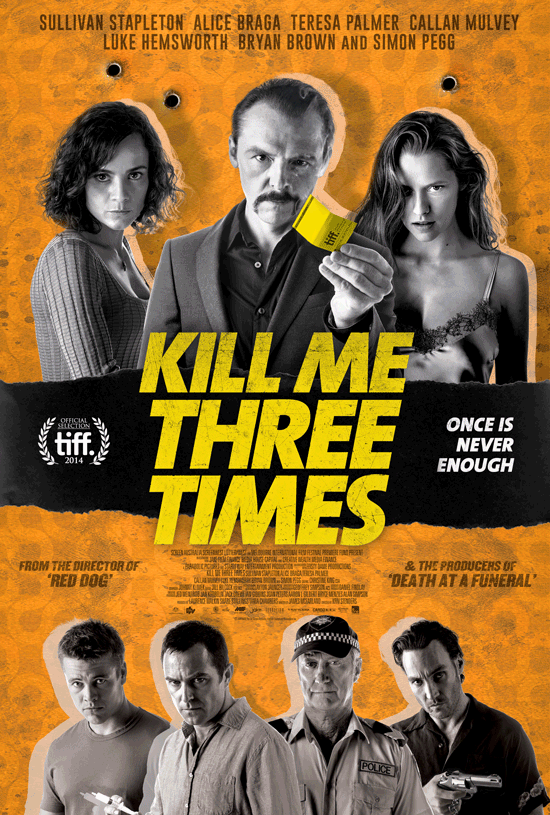 The second that still popped up showing Simon Pegg as a sniper-brandishing hitman, KILL ME THREE TIMES became something worth keeping an eye out for. The above poster for its TIFF premiere (see it in motion here) isn't quite as striking as that first image, but it does a good job of establishing the criminal element of the film, as well as getting the ensemble cast in there.
You see, Simon Pegg is really not the lead; it's an ensemble film, but if you had to pick one protagonist, it'd be Alice Braga. However, aside from being the biggest name in the film, Pegg is also the best thing about it, with his beleaguered, kvetching assassin somehow making it seem like the post-PULP FICTION era didn't give us more "funny murderers" than we could shake a stick at.
It makes sense that they'd sneak a lusty-looking Teresa Palmer in there, since she was in last year's surprise hit WARM BODIES, but it's cool that they found room for the cast of Australian males, such as Sullivan Stapleton, Callan Mulvey (both of whom were in 300: RISE OF AN EMPIRE), Luke Hemsworth (yes, another brother), and Bryan "I'll bet my bile duct" Brown (who's terrific in the flick). It really is an ensemble film, but they could've sold it solely on Pegg's presence, and it's nice to see they're being more faithful to the product than I expected.
It wasn't a mindblower, but I'm a sucker for a good comic-noir, especially in an unconventional setting like the small Australian surfer town this takes place in. Totally worth seeing if only for Pegg's hilarious turn.
KILL ME THREE TIMES premieres at Toronto next Saturday, September 6th, and will hopefully make its way stateside sometime early next year.
-Vincent Kim-Zahedi
"Papa Vinyard"
vincentzahedi@gmail.com
Twitter