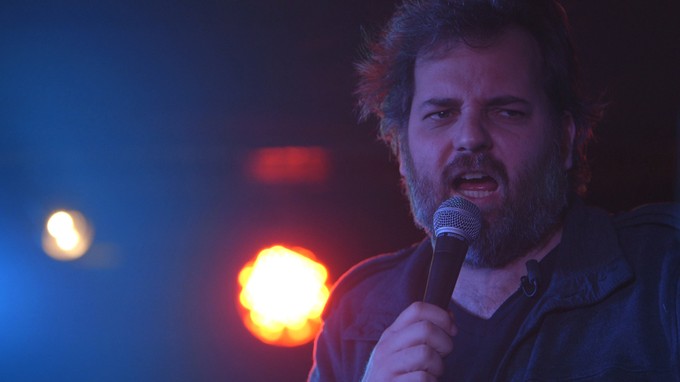 A little over a month out from it's theatrical/VOD debut, and we have a trailer for Neil Berkeley's documentary on Dan Harmon's podcast tour, HARMONTOWN. The first two-thirds are a comic look at Harmon's larger-than-life personality; overweight, bearded, often drinking, and verbally unhinged, Harmon could make an impression even without having credits like HEAT VISION AND JACK, THE SARAH SILVERMAN SHOW, COMMUNITY, and RICK AND MORTY on his back. But they sure do help to convince you the man's not merely a wandering psychopath.
I saw this film at the L.A. Film Fest, and I can tell you that the first 2/3rds of the trailer is indicative of maybe only half the movie. The examination into Harmon's personality, career history, and writing problems is the most interesting stuff in the film (aside from the stuff about Harmon's fellow podcaster, Spencer), but it often gets shoved aside for the topic that permeates the latter section of this trailer: the outpour of love for "the fans". That portion of the film is pedantic, one-note, and heinously forced, like we'd hate Harmon and his crew if we didn't see that the people who went to see them were actually likable, normal folk. Berkeley unfortunately goes way, way too heavy on the "love for the outcast" sentiment, diluting what would otherwise be an enlightening, acidic look at how an insecure, talented creative navigates the bizarre world of contemporary showbiz.
Harmon is a fascinating figure, and a somewhat-brilliant writer, so all the footage of him evaluatiing his life, past, present, and future, is what makes both this trailer and the final film worth seeing.
Plus you get to see the footage of when Harmon played that voicemail from Chevy Chase for his audience. Which is terrific.
HARMONTOWN will inspire you to finally dry out on October 3rd.
-Vincent Kim-Zahedi
"Papa Vinyard"
vincentzahedi@gmail.com
Twitter