Hey guys! Horrorella here...
Paramount Pictures has partnered with artists world wide on a new project celebrating the legacy of the Teenage Mutant Ninja Turtles.
The project fuses the modern rendition and adventures of the Turtles with the Kappa - traditional spirits of Japanes folklore. According to legend, the Kappa were summoned to protect the people of Japan against and evil demon, representing much of what the Turtles would become to our modern culture.
Before the Teenage Mutant Ninja Turtles emerged from their lair to protect New York City from the sinister Shredder and his Foot Clan soldiers, there were four heroic "Kappa" (ancient turtle warriors who vowed to protect a humble village from the demonic Yokai).Paramount Pictures is taking movie fans back in time, to an age of tradition, mystery and magic. In a collaboration with distinguished artists from around the world, "The Legend of the Yokai" is a new experience that explores the secret origins of the Ninja Turtles. Based on traditional folklore, "The Legend of the Yokai" tells the epic tale of a village over-run by an evil warlord and his army of demon monsters. When all hope seems lost, the wishes of an innocent girl summon forth the heroic kappa turtles, who abide by the pillars of honor, courage, wisdom and brotherhood, fighting side-by-side to vanquish this fearsome evil.
To bring this legend to life, Paramount has enlisted the help of 30 artists from 16 different countries as part of the Legend of the Yokai Artist Initiative, and we are excited to debut the work of Spanish artist Diego Rodriguez, and his rendition of Leonardo, representing the pillar of honor.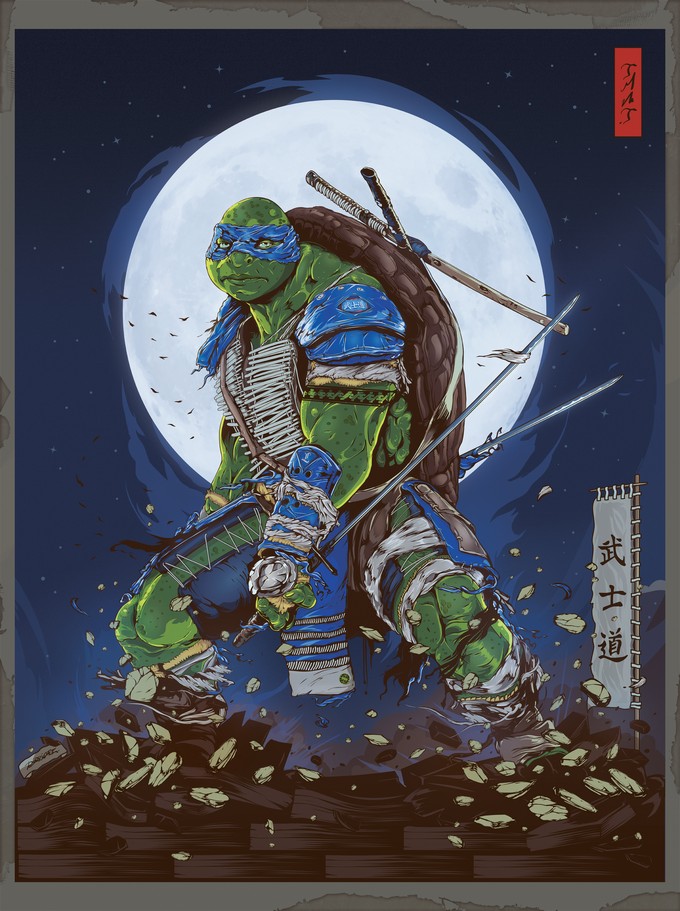 It's an interesting project, and if you head over to the Legend of the Yokai website, you can check out the work of more artists and their take on the Turtles and how they tie in to this legend. It's cool to see the depiction of the very modern concept of the Turtles married with a more traditional story.