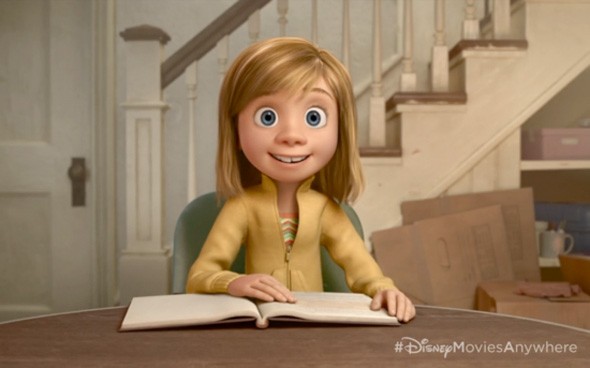 Above is our first look at the main character, Riley, from Pixar's upcoming examination of the inner workings of the human mind, INSIDE OUT. It was revealed in a featurette available to Disney Anywhere members (although you can currently watch it in the embed below) as part of a shot where the camera zooms into Riley's mind's eye as she smiles about something (maybe something in that book?).
This is the character whose walking-and-talking "emotions" will be the focus of the picture. The narrative has her various feelings dealing with her family's move to San Francisco; joy, the predominant emotion of a pre-teen girl, has her work cut out for her as Riley must cope with a new home and the pressures of being the new kid at school.
This could be even more of a female-centric flick than BRAVE; not only is the character less tomboyish and rough-around-the-edges, but we're literally going to be watching the inner life of her character for the duration of the film. Glad to see Pixar is more comfortable acknowledging (and catering to) their massive female audience these days.
This really does seem like the most inventive project Pixar's tackled since at least UP, and everything we're seeing has backed that up so far. Can't wait to see what Pete Docter, Michael Arndt, and the wizards at Pixar have in store for us next year!
INSIDE OUT comes right-side up on June 19th, 2015.
-Vincent Kim-Zahedi
"Papa Vinyard"
vincentzahedi@gmail.com
Twitter