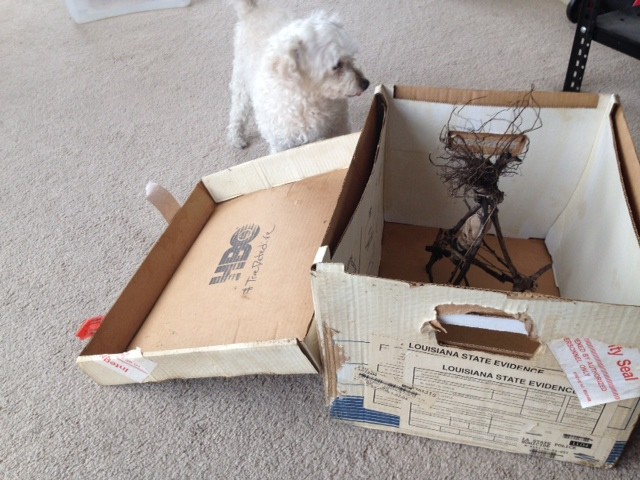 "Breaking Bad," of course, will inevitably win best drama.
Really rooting for "Orange Is The New Black" to take best comedy.
Much as I loved the last batch of "Breaking Bad," I would like to see Matthew McConaughey and Rustin Cohle beat Bryan Cranston this year.
Loads of Lannister love, with "Game of Thrones" picking up best drama, writing and directing nods, plus noms for Peter Dinklage and Lena Headey. Also, wonderfully, a nomination for Mrs. Emma Peel as Olenna Tyrell.
Still lots of love for "Mad Men": best drama, Jon Hamm, Christina Hendricks, Robert Morse,
"Homeland," which won best drama two years ago, was not nominated in that category this year, but it's good to see Mandy Patinkin nominated again for Saul Berenson.
Very little Emmy love for America's most popular not-NFL show, "The Walking Dead."
"Boardwalk Empire" got a directing nod, but nothing for Jack Huston as The Phantom Richard Harrow or Michael Shannon as the godless Nelson Van Alden. Bah!
Outstanding Comedy Series
The Big Bang Theory
CBS • Chuck Lorre Productions, Inc. in association with Warner Bros. Television
Louie
FX Networks • Pig Newton, Inc. and FX Productions
Modern Family
ABC • Picador Productions and Steven Levitan Productions in association with 20th Century Fox Television
Orange Is The New Black
Netflix • Lionsgate Television for Netflix
Silicon Valley
HBO • HBO Entertainment in association with Judgemental Films, Alec Berg, Altschuler Krinsky works, and 3 Arts Entertainment
Veep
HBO • HBO Entertainment in association with Dundee Productions
Outstanding Drama Series
Breaking Bad
AMC • Sony Pictures Television
Downton Abbey
PBS • A Carnival Films/Masterpiece Co-Production in association with NBC Universal
Game Of Thrones
HBO • HBO Entertainment in association with Bighead, Littlehead; Television 360; Startling Television and Generator Productions
House Of Cards
Netflix • Donen/Fincher/Roth and Trigger Street Productions, Inc. in association with Media Rights Capital for Netflix
Mad Men
AMC • Lionsgate Television
True Detective
HBO • HBO Entertainment in association with Neon Black, Anonymous Content, Parliament of Owls and Passenger
Outstanding Lead Actor In A Drama Series
Bryan Cranston as Walter White
Breaking Bad • AMC • Sony Pictures Television
Kevin Spacey as Francis Underwood
House Of Cards • Netflix • Donen/Fincher/Roth and Trigger Street Productions, Inc. in association with Media Rights Capital for Netflix
Jon Hamm as Don Draper
Mad Men • AMC • Lionsgate Television
Jeff Daniels as Will McAvoy
The Newsroom • HBO • HBO Entertainment
Woody Harrelson as Martin Hart
True Detective • HBO • HBO Entertainment in association with Neon Black, Anonymous Content, Parliament of Owls and Passenger
Matthew McConaughey as Rust Cohle
True Detective • HBO • HBO Entertainment in association with Neon Black, Anonymous Content, Parliament of Owls and Passenger
Outstanding Lead Actress In A Drama Series
Michelle Dockery as Lady Mary Crawley
Downton Abbey • PBS • A Carnival Films/Masterpiece Co-Production in association with NBC Universal
Julianna Margulies as Alicia Florrick
The Good Wife • CBS • Eye Productions in association with Scott Free Productions and King Size Productions
Claire Danes as Carrie Mathison
Homeland • Showtime • Showtime Presents, Fox 21, Teakwood Lane Productions, Cherry Pie Productions, Keshet
Robin Wright as Claire Underwood
House Of Cards • Netflix • Donen/Fincher/Roth and Trigger Street Productions, Inc. in association with Media Rights Capital for Netflix
Lizzy Caplan as Virginia Johnson
Masters of Sex • Showtime • Showtime Presents, Sony Pictures Television, Round Two Productions, Timberman/Beverly Productions
Kerry Washington as Olivia Pope
Scandal • ABC • ABC Studios
Outstanding Lead Actor In A Miniseries Or A Movie
Chiwetel Ejiofor as Louis Lester
Dancing On The Edge • Starz • Ruby Film and Television in association with Endgame Entertainment and Playground Creative England and Lip Sync Productions
Martin Freeman as Lester Nygaard
Fargo • FX Networks • MGM and FX Productions
Billy Bob Thornton as Lorne Malvo
Fargo • FX Networks • MGM and FX Productions
Idris Elba as John Luther
Luther • BBC America • A BBC and BBC America co-production
Mark Ruffalo as Ned Weeks
The Normal Heart • HBO • HBO Films in association with Plan B Entertainment, Blumhouse and Ryan Murphy Productions
Benedict Cumberbatch as Sherlock Holmes
Sherlock: His Last Vow (Masterpiece) • PBS • Hartswood West for BBC/Cymru Wales in co-production with Masterpiece
Outstanding Lead Actress In A Miniseries Or A Movie
Jessica Lange as Fiona Goode
American Horror Story: Coven • FX Networks • 20th Century Fox Television
Sarah Paulson as Cordelia Goode Foxx
American Horror Story: Coven • FX Networks • 20th Century Fox Television
Helena Bonham Carter as Elizabeth Taylor
Burton And Taylor • BBC America • A BBC Drama Production co-produced with BBC America
Minnie Driver as Maggie Royal
Return To Zero • Lifetime • Cannonball Productions
Kristen Wiig as Cynthia Morehouse
The Spoils Of Babylon • IFC • Funny or Die for IFC
Cicely Tyson as Carrie Watts
The Trip To Bountiful • Lifetime • Ostar Productions
Outstanding Lead Actor In A Comedy Series
Jim Parsons as Sheldon Cooper
The Big Bang Theory • CBS • Chuck Lorre Productions, Inc. in association with Warner Bros. Television
Ricky Gervais as Derek
Derek • Netflix • Derek Productions Ltd. for Netflix
Matt LeBlanc as Matt LeBlanc
Episodes • Showtime • Showtime Presents, Hat Trick Productions, Crane Klarik Productions
Don Cheadle as Marty Kaan
House Of Lies • Showtime • Showtime Presents, Crescendo Productions, Totally Commercial Films, Refugee Productions, Matthew Carnahan Circus Products
Louis C.K. as Louie
Louie • FX Networks • Pig Newton, Inc. and FX Productions
William H. Macy as Frank Gallagher
Shameless • Showtime • Showtime Presents, John Wells Productions, Warner Bros. Television
Outstanding Lead Actress In A Comedy Series
Lena Dunham as Hannah Horvath
Girls • HBO • HBO Entertainment in association with Apatow Productions and I am Jenni Konner Productions
Melissa McCarthy as Molly Flynn
Mike & Molly • CBS • Bonanza Productions, Inc. in association with Chuck Lorre Productions, Inc. and Warner Bros. Television
Edie Falco as Jackie Peyton
Nurse Jackie • Showtime • Showtime Presents, Lionsgate Television, Jackson Group Entertainment, A Caryn Mandabach Production, Clyde Phillips Productions
Taylor Schilling as Piper Chapman
Orange Is The New Black • Netflix • Lionsgate Television for Netflix
Amy Poehler as Leslie Knope
Parks and Recreation • NBC • Deedle-Dee Productions, Fremulon, 3 Arts Entertainment and Universal Television
Julia Louis-Dreyfus as Vice President Selina Meyer
Veep • HBO • HBO Entertainment in association with Dundee Productions
Outstanding Reality-Competition Program
The Amazing Race
CBS • WorldRace Productions, Inc.
Bertram van Munster, Executive Producer Elise Doganieri, Executive Producer
Jerry Bruckheimer, Executive Producer Jonathan Littman, Executive Producer Mark Vertullo, Executive Producer
Dan Coffie, Co-Executive Producer Giselle Parets, Co-Executive Producer Matt Schmidt, Co-Executive Producer Patrick Cariaga, Co-Executive Producer Phil Keoghan, Co-Executive Producer Michael Norton, Supervising Producer Darren Bunkley, Supervising Producer Neil Jahss, Supervising Producer Micheal DiMaggio, Supervising Producer Chad Baron, Senior Producer
Vanessa Abugho Ballesteros, Senior Producer
Dancing With The Stars
ABC • BBC Worldwide Productions
Conrad Green, Executive Producer Joe Sungkur, Executive Producer
Ashley Edens-Shaffer, Executive Producer Deena Katz, Supervising Producer
Tara West-Margolis, Supervising Producer Daniel Martin, Supervising Producer
Peter Hebri, Senior Producer
Ashley Shea Landers, Senior Producer Megan Wade, Producer
Ryan Goble, Producer
Project Runway
Lifetime • The Weinstein Company, Bunim/Murray Productions and Full Picture Entertainment
Harvey Weinstein, Executive Producer Bob Weinstein, Executive Producer Meryl Poster, Executive Producer Jonathan Murray, Executive Producer Sara Rea, Executive Producer
Heidi Klum, Executive Producer Jane Cha, Executive Producer Desiree Gruber, Executive Producer Rob Sharenow, Executive Producer Gena McCarthy, Executive Producer David Hillman, Executive Producer
Barbara Schneeweiss, Executive Producer Gil Goldschein, Co-Executive Producer Teri Weideman, Co-Executive Producer Rebecca Taylor Henning, Senior Producer Tim Gunn, Producer, Sasha Alpert, Producer
So You Think You Can Dance
FOX • Dick Clark Productions, Inc. in association with 19 Entertainment
Barry Adelman, Executive Producer Simon Fuller, Executive Producer Nigel Lythgoe, Executive Producer Jeff Thacker, Co-Executive Producer James Breen, Co-Executive Producer
Zoe Brown, Senior Supervising Producer Dan Sacks, Senior Supervising Producer Adam Cooper, Supervising Producer Mike Deffina, Senior Producer
Colleen Wagner, Senior Producer Matt Kinsey, Producer
Jensen Moon, Producer
Top Chef
Bravo • Magical Elves for Bravo
Dan Cutforth, Executive Producer Jane Lipsitz, Executive Producer Casey Kriley, Executive Producer Hillary Olsen, Executive Producer Tara Siener, Executive Producer Tom Colicchio, Executive Producer Padma Lakshmi, Executive Producer Erica Ross, Co-Executive Producer
Doneen Arquines, Co-Executive Producer Shealan Spencer, Co-Executive Producer Christian Homlish, Supervising Producer Blake Davis, Supervising Producer
Wade Sheeler, Supervising Producer Ivan Oyco, Senior Producer
The Voice
NBC • Mark Burnett's One Three Inc. and Talpa Media USA in association with Warner Horizon Television
Mark Burnett, Executive Producer John De Mol, Executive Producer Audrey Morrissey, Executive Producer Stijn Bakkers, Executive Producer Lee Metzger, Executive Producer Chad Hines, Co-Executive Producer Nicolle Yaron, Co-Executive Producer
Amanda Zucker, Co-Executive Producer Mike Yurchuk, Co-Executive Producer Jim Roush, Co-Executive Producer
Kyra Thompson, Supervising Producer May Johnson, Senior Producer
Teddy Valenti, Senior Producer Ashley Baumann, Producer Carson Daly, Producer
Keith Dinielli, Producer Barton Kimball, Producer Kyley Tucker, Producer Brittany Martin, Producer
Outstanding Miniseries
American Horror Story: Coven
FX Networks • 20th Century Fox Television
Bonnie & Clyde
Lifetime • Sony Pictures Television
Fargo
FX Networks • MGM and FX Productions
Luther
BBC America • A BBC and BBC America co-production
Treme
HBO • HBO Entertainment in association with Blown Deadline Productions
The White Queen
Starz • Starz presents in association with Company Pictures (an All 3 Media Company) and Playground Entertainment
Outstanding Television Movie
Killing Kennedy
National Geographic Channel • Scott Free Productions for National Geographic Channels
Muhammad Ali's Greatest Fight
HBO • HBO
The Normal Heart
HBO • HBO Films in association with Plan B Entertainment, Blumhouse and Ryan Murphy Productions
Sherlock: His Last Vow (Masterpiece)
PBS • Hartswood West for BBC/Cymru Wales in co-production with Masterpiece
The Trip To Bountiful
Lifetime • Ostar Productions
Outstanding Variety Series
The Colbert Report
Comedy Central • Hello Doggie, Inc. with Busboy Productions and Spartina Productions
The Daily Show With Jon Stewart
Comedy Central • Central Productions, LLC
Jimmy Kimmel Live
ABC • ABC Studios in association with Jackhole Industries
Real Time With Bill Maher
HBO • HBO Entertainment in association with Bill Maher Productions and Brad Grey Television
Saturday Night Live
NBC • SNL Studios in association with Universal Television and Broadway Video
The Tonight Show Starring Jimmy Fallon
NBC • Universal Television and Broadway Video Films in association with Rainmark Films and Sakura Films
Outstanding Supporting Actor In A Drama Series
Aaron Paul as Jesse Pinkman
Breaking Bad • AMC • Sony Pictures Television
Jim Carter as Mr. Carson
Downton Abbey • PBS • A Carnival Films/Masterpiece Co-Production in association with NBC Universal
Peter Dinklage as Tyrion Lannister
Game Of Thrones • HBO • HBO Entertainment in association with Bighead, Littlehead; Television 360; Startling Television and Generator Productions
Josh Charles as Will Gardner
The Good Wife • CBS • Eye Productions in association with Scott Free Productions and King Size Productions
Mandy Patinkin as Saul Berenson
Homeland • Showtime • Showtime Presents, Fox 21, Teakwood Lane Productions, Cherry Pie Productions, Keshet
Jon Voight as Mickey Donovan
Ray Donovan • Showtime • Showtime Presents, The Mark Gordon Company, Bider Sweet
Outstanding Supporting Actress In A Drama Series
Anna Gunn as Skyler White
Breaking Bad • AMC • Sony Pictures Television
Maggie Smith as Violet, Dowager Countess of Grantham
Downton Abbey • PBS • A Carnival Films/Masterpiece Co-Production in association with NBC Universal
Joanne Froggatt as Anna Bates
Downton Abbey • PBS • A Carnival Films/Masterpiece Co-Production in association with NBC Universal
Lena Headey as Cersei Lannister
Game Of Thrones • HBO • HBO Entertainment in association with Bighead, Littlehead; Television 360; Startling Television and Generator Productions
Christine Baranski as Diane Lockhart
The Good Wife • CBS • Eye Productions in association with Scott Free Productions and King Size Productions
Christina Hendricks as Joan Harris
Mad Men • AMC • Lionsgate Television
Outstanding Guest Actor In A Drama Series
Paul Giamatti as Harold Levinson
Downton Abbey • PBS • A Carnival Films/Masterpiece Co-Production in association with NBC Universal
Dylan Baker as Colin Sweeney
The Good Wife • CBS • Eye Productions in association with Scott Free Productions and King Size Productions
Reg E. Cathey as Freddy
House Of Cards • Netflix • Donen/Fincher/Roth and Trigger Street Productions, Inc. in association with Media Rights Capital for Netflix
Robert Morse as Bertram Cooper
Mad Men • AMC • Lionsgate Television
Beau Bridges as Barton Scully
Masters of Sex • Showtime • Showtime Presents, Sony Pictures Television, Round Two Productions, Timberman/Beverly Productions
Joe Morton as Rowan Pope
Scandal • ABC • ABC Studios
Outstanding Guest Actress In A Drama Series
Margo Martindale as Claudia
The Americans • FX Networks • Fox Television Studios and FX Productions
Diana Rigg as Lady Olenna Tyrell
Game Of Thrones • HBO • HBO Entertainment in association with Bighead, Littlehead; Television 360; Startling Television and Generator Productions
Kate Mara as Zoe Barnes
House Of Cards • Netflix • Donen/Fincher/Roth and Trigger Street Productions, Inc. in association with Media Rights Capital for Netflix
Allison Janney as Margaret Scully
Masters of Sex • Showtime • Showtime Presents, Sony Pictures Television, Round Two Productions, Timberman/Beverly Productions
Jane Fonda as Leona Lansing
The Newsroom • HBO • HBO Entertainment
Kate Burton as Sally Langston
Scandal • ABC • ABC Studios
Outstanding Writing For A Drama Series
Breaking Bad • Ozymandias • AMC • Sony Pictures Television
Moira Walley-Beckett, Written by
Breaking Bad • Felina • AMC • Sony Pictures Television
Vince Gilligan, Written by
Game Of Thrones • The Children • HBO • HBO Entertainment in association with Bighead, Littlehead; Television 360; Startling Television and Generator Productions
David Benioff, Written by
D.B. Weiss, Written by
House Of Cards • Chapter 14 • Netflix • Donen/Fincher/Roth and Trigger Street Productions, Inc. in association with Media Rights Capital for Netflix
Beau Willimon, Written by
True Detective • The Secret Fate Of All Of Life
• HBO • HBO Entertainment in association with Neon Black, Anonymous Content, Parliament of Owls and Passenger
Nic Pizzolatto, Written by
Outstanding Directing For A Drama Series
Boardwalk Empire • Farewell Daddy Blues • HBO • HBO Entertainment in association with Leverage, Closest to the Hole Productions, Sikelia Productions and Cold Front Productions
Tim Van Patten, Directed by
Breaking Bad • Felina • AMC • Sony Pictures Television
Vince Gilligan, Directed by
Downton Abbey • Episode 1 • PBS • A Carnival Films/Masterpiece Co-Production in association with NBC Universal
David Evans, Directed by
Game Of Thrones • The Watchers On The Wall
• HBO • HBO Entertainment in association with Bighead, Littlehead; Television 360; Startling Television and Generator Productions
Neil Marshall, Directed by
House Of Cards • Chapter 14 • Netflix • Donen/Fincher/Roth and Trigger Street Productions, Inc. in association with Media Rights Capital for Netflix
Carl Franklin, Directed by
True Detective • Who Goes There • HBO • HBO Entertainment in association with Neon Black, Anonymous Content, Parliament of Owls and Passenger
Cary Joji Fukunaga, Directed by
Outstanding Supporting Actor In A Comedy Series
Andre Braugher as Captain Ray Holt
Brooklyn Nine-Nine • FOX • Universal Television, Fremulon, Dr. Goor Productions and 3 Arts Entertainment
Adam Driver as Adam Sackler
Girls • HBO • HBO Entertainment in association with Apatow Productions and I am Jenni Konner Productions
Jesse Tyler Ferguson as Mitchell Pritchett
Modern Family • ABC • Picador Productions and Steven Levitan Productions in association with 20th Century Fox Television
Ty Burrell as Phil Dunphy
Modern Family • ABC • Picador Productions and Steven Levitan Productions in association with 20th Century Fox Television
Fred Armisen as Various characters
Portlandia • IFC • Broadway Video for IFC
Tony Hale as Gary Walsh
Veep • HBO • HBO Entertainment in association with Dundee Productions
Outstanding Supporting Actress In A Comedy Series
Mayim Bialik as Amy Farrah Fowler
The Big Bang Theory • CBS • Chuck Lorre Productions, Inc. in association with Warner Bros. Television
Julie Bowen as Claire Dunphy
Modern Family • ABC • Picador Productions and Steven Levitan Productions in association with 20th Century Fox Television
Allison Janney as Bonnie
Mom • CBS • Chuck Lorre Productions, Inc. in association with Warner Bros. Television
Kate Mulgrew as Galina "Red" Reznikov
Orange Is The New Black • Netflix • Lionsgate Television for Netflix
Kate McKinnon as Various characters
Saturday Night Live • NBC • SNL Studios in association with Universal Television and Broadway Video
Anna Chlumsky as Amy Brookheimer
Veep • HBO • HBO Entertainment in association with Dundee Productions
Outstanding Guest Actor In A Comedy Series
Bob Newhart as Arthur
The Big Bang Theory • CBS • Chuck Lorre Productions, Inc. in association with Warner Bros. Television
Nathan Lane as Pepper Saltzman
Modern Family • ABC • Picador Productions and Steven Levitan Productions in association with 20th Century Fox Television
Steve Buscemi as Marty
Portlandia • IFC • Broadway Video for IFC
Jimmy Fallon as Host
Saturday Night Live • NBC • SNL Studios in association with Universal Television and Broadway Video
Louis C.K. as Host
Saturday Night Live • NBC • SNL Studios in association with Universal Television and Broadway Video
Gary Cole as Kent Davison
Veep • HBO • HBO Entertainment in association with Dundee Productions
Outstanding Guest Actress In A Comedy Series
Natasha Lyonne as Nicky Nichols
Orange Is The New Black • Netflix • Lionsgate Television for Netflix
Uzo Aduba as Suzanne "Crazy Eyes" Warren
Orange Is The New Black • Netflix • Lionsgate Television for Netflix
Laverne Cox as Sophia Burset
Orange Is The New Black • Netflix • Lionsgate Television for Netflix
Tina Fey as Host
Saturday Night Live • NBC • SNL Studios in association with Universal Television and Broadway Video
Melissa McCarthy as Host
Saturday Night Live • NBC • SNL Studios in association with Universal Television and Broadway Video
Joan Cusack as Sheila Jackson
Shameless • Showtime • Showtime Presents, John Wells Productions, Warner Bros. Television
Outstanding Writing For A Comedy Series
Episodes • Episode 305
Showtime • Showtime Presents, Hat Trick Productions, Crane Klarik Productions
David Crane, Written by
Jeffrey Klarik, Written by
Louie • So Did The Fat Lady
FX Networks • Pig Newton, Inc. and FX Productions
Louis C.K., Written by
Orange Is The New Black • I Wasn't Ready (Pilot)
Netflix • Lionsgate Television for Netflix
Liz Friedman, Written by Jenji Kohan, Written by
Silicon Valley • Optimal Tip-To-Tip Efficiency
HBO • HBO Entertainment in association with Judgemental Films, Alec Berg, Altschuler Krinsky works, and 3 Arts Entertainment
Alec Berg, Written by
Veep • Special Relationship
HBO • HBO Entertainment in association with Dundee Productions
Simon Blackwell, Story and Teleplay by Tony Roche, Story and Teleplay by Armando Iannucci, Story by
Outstanding Directing For A Comedy Series
Episodes • Episode 309
Showtime • Showtime Presents, Hat Trick Productions, Crane Klarik Productions
Iain B. MacDonald, Directed by
Glee • 100
FOX • Ryan Murphy Television in association with 20th Century Fox Television Paris Barclay, Directed by
Louie • Elevator, Part 6
FX Networks • Pig Newton, Inc. and FX Productions
Louis C.K., Directed by
Modern Family • Vegas
ABC • Picador Productions and Steven Levitan Productions in association with 20th Century Fox Television
Gail Mancuso, Directed by
Orange Is The New Black • Lesbian Request Denied
Netflix • Lionsgate Television for Netflix
Jodie Foster, Directed by
Silicon Valley • Minimum Viable Product
HBO • HBO Entertainment in association with Judgemental Films, Alec Berg, Altschuler Krinsky works, and 3 Arts Entertainment
Mike Judge, Directed by
Outstanding Supporting Actor In A Miniseries Or A Movie
Colin Hanks as Deputy Gus Grimly
Fargo • FX Networks • MGM and FX Productions
Jim Parsons as Tommy Boatwright
The Normal Heart • HBO • HBO Films in association with Plan B Entertainment, Blumhouse and Ryan Murphy Productions
Joe Mantello as Mickey Marcus
The Normal Heart • HBO • HBO Films in association with Plan B Entertainment, Blumhouse and Ryan Murphy Productions
Alfred Molina as Ben Weeks
The Normal Heart • HBO • HBO Films in association with Plan B Entertainment, Blumhouse and Ryan Murphy Productions
Matt Bomer as Felix Turner
The Normal Heart • HBO • HBO Films in association with Plan B Entertainment, Blumhouse and Ryan Murphy Productions
Martin Freeman as John Watson
Sherlock: His Last Vow (Masterpiece) • PBS • Hartswood West for BBC/Cymru Wales in co-production with Masterpiece
Outstanding Supporting Actress In A Miniseries Or A Movie
Frances Conroy as Myrtle Snow
American Horror Story: Coven • FX Networks • 20th Century Fox Television
Kathy Bates as Madame Delphine LaLaurie
American Horror Story: Coven • FX Networks • 20th Century Fox Television
American Horror Story: Coven • FX Networks• 20th Century Fox Television
Angela Bassett as Marie Laveau
Allison Tolman as Molly Solverson
Fargo • FX Networks • MGM and FX Productions
Ellen Burstyn as Olivia
Flowers In The Attic • Lifetime • Cue The Dog Productions
Julia Roberts as Dr. Emma Brookner
The Normal Heart • HBO • HBO Films in association with Plan B Entertainment, Blumhouse and Ryan Murphy Productions
Outstanding Writing For A Miniseries, Movie Or A Dramatic Special
American Horror Story: Coven • Bitchcraft
FX Networks • 20th Century Fox Television
Ryan Murphy, Written by
Brad Falchuk, Written by
Fargo • The Crocodile's Dilemma
FX Networks • MGM and FX Productions
Noah Hawley, Written by
Luther
BBC America • A BBC and BBC America co-production
Neil Cross, Written by
The Normal Heart
HBO • HBO Films in association with Plan B Entertainment, Blumhouse and Ryan Murphy Productions
Larry Kramer, Screenplay by
Sherlock: His Last Vow (Masterpiece)
PBS • Hartswood West for BBC/Cymru Wales in co-production with Masterpiece
Steven Moffat, Written by
Treme …To Miss New Orleans
HBO • HBO Entertainment in association with Blown Deadline Productions
David Simon, Written by
Eric Overmyer, Written by
Outstanding Directing For A Miniseries, Movie Or A Dramatic Special
American Horror Story: Coven • Bitchcraft
FX Networks • 20th Century Fox Television
Alfonso Gomez-Rejon, Directed by
Fargo • The Crocodile's Dilemma
FX Networks • MGM and FX Productions
Adam Bernstein, Directed by
Fargo • Buridan's Ass
FX Networks • MGM and FX Productions
Colin Bucksey, Directed by
Muhammad Ali's Greatest Fight
HBO • HBO Films in association with Rainmark Films and Sakura Films
Stephen Frears, Directed by
The Normal Heart
HBO • HBO Films in association with Plan B Entertainment, Blumhouse and Ryan Murphy Productions
Ryan Murphy, Directed by
Sherlock: His Last Vow (Masterpiece)
PBS • Hartswood West for BBC/Cymru Wales in co-production with Masterpiece
Nick Hurran, Directed by
Outstanding Variety Special
AFI Life Achievement Award: A Tribute To Mel Brooks
TNT • AFI Productions
The Beatles: The Night That Changed America
CBS • AEG Ehrlich Ventures, LLC
Best Of Late Night With Jimmy Fallon Primetime Special
NBC • Universal Television and Broadway Video
Billy Crystal: 700 Sundays
HBO • HBO Entertainment in association with Jennilind Productions
The Kennedy Center Honors
CBS • The Stevens Company in association with the John F. Kennedy Center
Sarah Silverman: We Are Miracles
HBO • HBO Entertainment in association with Funny or Die and Black Gold Films
Outstanding Writing For A Variety Series
The Colbert Report
Comedy Central • Hello Doggie, Inc. with Busboy Productions and Spartina Productions
Opus Moreschi, Head Writer Stephen Colbert, Writer Tom Purcell, Writer
Richard Dahm, Writer Barry Julien, Writer Michael Brumm, Writer Rob Dubbin, Writer Jay Katsir, Writer Frank Lesser, Writer Glenn Eichler, Writer
Meredith Scardino, Writer Max Werner, Writer
Eric Drysdale, Writer Paul Dinello, Writer Nate Charny, Writer Sam Kim, Writer Aaron Cohen, Writer Gabe Gronli, Writer Matt Lappin, Writer
The Daily Show With Jon Stewart
Comedy Central • Central Productions, LLC
Elliott Kalan, Head Writer Tim Carvell, Head Writer Steve Bodow, Writer
Dan Amira, Writer Travon Free, Writer Hallie Haglund, Writer JR Havlan, Writer Matt Koff, Writer
Dan McCoy, Writer Jo Miller, Writer
Zhubin Parang, Writer Daniel Radosh, Writer Lauren Sarver, Writer Jon Stewart, Writer Rory Albanese, Writer
Inside Amy Schumer
Comedy Central • Jax Media
Jessi Klein, Head Writer Amy Schumer, Writer Emily Altman, Writer Jeremy Beiler, Writer Neil Casey, Writer
Kurt Metzger, Writer Kyle Dunnigan, Writer Christine Nangle, Writer Daniel Powell, Writer
Key & Peele • Comedy Central • Central Productions
Jay Martel, Writer Ian Roberts, Writer Jordan Peele, Writer
Keegan-Michael Key, Writer Alex Rubens, Writer Rebecca Drysdale, Writer Colton Dunn, Writer
Rich Talarico, Writer Charlie Sanders, Writer
Portlandia
IFC • Broadway Video for IFC
Fred Armisen, Writer Carrie Brownstein, Writer Jonathan Krisel, Writer Graham Wagner, Writer Karey Dornetto, Writer
The Tonight Show Starring Jimmy Fallon • NBC • Universal Television and Broadway Video
AD Miles, Head Writer Patrick Borelli, Writer Gerard Bradford, Writer Luke Cunningham, Writer Mike DiCenzo, Writer Mike Drucker, Writer Jess Dweck, Writer
Dicky Eagan, Writer Jimmy Fallon, Writer John Haskel, Writer Josh Lieb, Writer Arthur Meyer, Writer
Chase Mitchell, Writer Dan Opsal, Writer Gavin Purcell, Writer
Jon Rineman, Monologue Writing Supervised by/Writer
Albertina Ross, Writer Jason Ross, Writer David Young, Writer Michael Jann, Writer
Outstanding Writing For A Variety Special
The Beatles: The Night That Changed America
• CBS • AEG Ehrlich Ventures, LLC
Ken Ehrlich, Written by David Wild, Written by
Billy Crystal: 700 Sundays • HBO • HBO Entertainment in association with Jennilind Productions
Billy Crystal, Written by
The 71st Annual Golden Globe Awards • NBC • Dick Clark Productions, Inc. in association with the Hollywood Foreign Press Association Barry Adelman, Written by
Tina Fey, Special Material by Amy Poehler, Special Material by Jon Macks, Special Material by Dave Boone, Special Material by Alex Baze, Special Material by
Robert Carlock, Special Material by Sam Means, Special Material by Seth Meyers, Special Material by Mike Shoemaker, Special Material by
Sarah Silverman: We Are Miracles • HBO • HBO Entertainment in association with Funny or Die and Black Gold Films
Sarah Silverman, Written by
67th Annual Tony Awards • CBS • White Cherry Entertainment
Dave Boone, Written by
Paul Greenberg, Special Material by
Outstanding Directing For A Variety Series
The Colbert Report • Episode 9135
Comedy Central • Hello Doggie, Inc. with Busboy Productions and Spartina Productions
James Hoskinson, Directed by
The Daily Show With Jon Stewart • Episode 18153
Comedy Central • Central Productions, LLC
Chuck O'Neil, Directed by
Portlandia • Getting Away
IFC • Broadway Video for IFC
Jonathan Krisel, Directed by
Saturday Night Live • Host: Jimmy Fallon
NBC • SNL Studios in association with Universal Television and Broadway Video
Don Roy King, Directed by
The Tonight Show Starring Jimmy Fallon • Episode 1 (Will Smith/U2)
NBC • Universal Television and Broadway Video
Dave Diomedi, Directed by
Outstanding Directing For A Variety Special
The Beatles: The Night That Changed America
CBS • AEG Ehrlich Ventures, LLC
Gregg Gelfand, Directed by
The Kennedy Center Honors
CBS • The Stevens Company in association with the John F. Kennedy Center
Louis J. Horvitz, Directed by
The Oscars
ABC • Academy of Motion Picture Arts and Sciences
Hamish Hamilton, Directed by
Six By Sondheim
HBO • HBO Documentary Films in association with Sabella Entertainment
James Lapine, Directed by
The Sound Of Music Live!
NBC • Universal Television, Sony Pictures Television, Storyline Entertainment
Beth McCarthy Miller, Directed by
Rob Ashford, Theatrical Direction by
67th Annual Tony Awards
CBS • White Cherry Entertainment
Glenn Weiss, Directed by
Outstanding Special Class Program
The 71st Annual Golden Globe Awards
NBC • Dick Clark Productions, Inc. in association with the Hollywood Foreign Press Association
The Oscars
ABC • Academy of Motion Picture Arts and Sciences
Sochi 2014 Olympic Winter Games Opening Ceremony
NBC • NBC in association with FiveCurrents
The Sound Of Music Live!
NBC • Universal Television, Sony Pictures Television, Storyline Entertainment
67th Annual Tony Awards
CBS • White Cherry Entertainment
Outstanding Short-Format Live-Action Entertainment Program
Between Two Ferns with Zach Galifianakis: President Barack Obama
FunnyOrDie.com • Funny Or Die
Scott Aukerman, Executive Producer Zach Galifianakis, Executive Producer BJ Porter, Executive Producer
Mike Farah, Executive Producer
Childrens Hospital
Adult Swim • Produced by Abominable Pictures, The Corddry Company and Warner Bros. Televison Group's Studio 2.0
Rob Corddry, Executive Producer Jonathan Stern, Executive Producer David Wain, Executive Producer Mike Lazzo, Executive Producer Keith Crofford, Executive Producer Ken Marino, Co-Executive Producer
Parks And Rec In Europe
NBC.com • NBC Entertainment Digital, Deedle-Dee Productions, 3 Arts Entertainment
Morgan Sackett, Producer Michael Schur, Producer Dean Holland, Producer David Hyman, Producer
The Soup: True Detective
E! • Wilshire Studios
Edward Boyd, Executive Producer
K.P. Anderson, Executive Producer Joel McHale, Co-Executive Producer Dominic Delelo, Co-Executive Producer
Hathaway Loftus, Supervising Producer Dan Riesser, Producer
Super Bowl XLVIII Halftime Show Starring Bruno Mars
FOX • NFL Network production Ricky Kirshner, Executive Producer
Steve Bornstein, Executive Producer Rob Paine, Supervising Producer Bruno Mars, Performer
Outstanding Short-Format Nonfiction Program
Comedians In Cars Getting Coffee
Crackle.com • An Embassy Row Production for Crackle
Jerry Seinfeld, Executive Producer
COSMOS: A National Geographic Deeper Dive
NationalGeographic.com • National Geographic Channel
Allan Butler, Executive Producer Christina Ricchiuti, Producer
I Was There: Boston Marathon Bombings
History.com • A&E Digital Studios in association with Kitty Guerrilla Films
Sean Kennedy, Executive Producer Kathleen Williams, Executive Producer Jaimie DeFina, Senior Producer
Jay Leno's Garage
NBC.com • NBC Entertainment Digital, Big Dog Productions Jay Leno, Executive Producer
Kico Velarde, Supervising Producer
Robert Hayes, Producer Helga Pollock, Producer David Swift, Producer Walker Dalton, Producer
Park Bench With Steve Buscemi
AOL • Olive Productions and RadicalMedia in association with AOL Originals.
Steve Buscemi, Executive Producer Stanley Tucci, Executive Producer Wren Arthur, Executive Producer Justin Wilkes, Executive Producer Joe Killian, Executive Producer
Jon Doran, Executive Producer
30 For 30 Shorts
ESPN • ESPN Films in association with Resonance Story Company Connor Schell, Executive Producer
John Dahl, Executive Producer Bill Simmons, Executive Producer Maura Mandt, Executive Producer Dan Silver, Producer
Tate Donovan, Producer
Outstanding Interactive Program
Comedy Central's @midnight
Comedy Central • Comedy Central, Funny or Die, Serious Business, Aloha Productions, Nerdist Industries
Comedy Central Funny or Die Serious Business Aloha Productions Nerdist Industries
Game of Thrones Premiere – Facebook Live and Instagram
HBO • Facebook and Instagram
Sabrina Caluori, VP Digital and Social Media, HBO
Paul Beddoe-Stephens, Strategic Partnerships TV, Facebook + Instagram
Jim Marsh, Digital and Social Media, HBO
Michael McMorrow, VP Event Planning and Production, HBO
Michael McMillian, Host
The Tonight Show Starring Jimmy Fallon Digital Experience
NBC • NBC Entertainment NBC Entertainment Digital
The Voice
NBC.com • NBC Entertainment Digital, One Three Media, Talpa Media USA, Warner Horizon
NBC Entertainment One Three Media Talpa Media USA Warner Horizon
Outstanding Children's Program
Degrassi
Nickelodeon • Nickelodeon Linda Schuyler, Executive Producer Stephen Stohn, Executive Producer
Sarah Glinski, Executive Producer Matt Huether, Co-Executive Producer
Stephanie Williams, Supervising Producer Stefan Brogren, Producer
David Lowe, Producer
Dog With A Blog
Disney Channel • Dipthong Productions / It's a Laugh Productions / Disney Channel
Michael B. Kaplan, Executive Producer Jim Hope, Co-Executive Producer
Leo Clarke, Produced by
Good Luck Charlie
Disney Channel • It's a Laugh Productions / Disney Channel
Dan Staley, Executive Producer Drew Vaupen, Executive Producer Phil Baker, Executive Producer
Christopher Vane, Co-Executive Producer Erika Kaestle, Co-Executive Producer Patrick McCarthy, Co-Executive Producer Jim Gerkin, Co-Executive Producer
Pixie Wespiser, Produced by
Nick News With Linda Ellerbee – Family Secrets: When Violence Hits Home
Nickelodeon • Nickelodeon in association with Lucky Duck Productions
Linda Ellerbee, Executive Producer Rolfe Tessem, Executive Producer Wally Berger, Supervising Producer
Mark Lyons, Producer Martin Toub, Produced by
One Last Hug: Three Days At Grief Camp
HBO • HBO Documentary Films in association with GDH Productions and Vermilion Films Sheila Nevins, Executive Producer
Sara Bernstein, Supervising Producer Greg DeHart, Produced by
Paul Freedman, Produced by
Wynton Marsalis – A YoungArts Masterclass
HBO • HBO Family in association with Simon
& Goodman Picture Company and YoungArts
Sheila Nevins, Executive Producer Lin Arison, Executive Producer Jackie Glover, Supervising Producer Karen Goodman, Produced by
Kirk Simon, Produced by
Outstanding Host For A Reality Or Reality-Competition Program
Betty White, Host
Betty White's Off Their Rockers • Lifetime • Kinetic Content
Tom Bergeron, Host
Dancing With The Stars • ABC • BBC Worldwide Productions
Jane Lynch, Host
Hollywood Game Night • NBC • Hazy Mills Productions, Mission Control Media and Universal Television
Heidi Klum, Host Tim Gunn, Co-Host
Project Runway • Lifetime • The Weinstein Company, Bunim/Murray Productions and Full Picture Entertainment
Cat Deeley, Host
So You Think You Can Dance • FOX • Dick Clark Productions, Inc. in association with 19 Entertainment
Cat Deeley, Host
Anthony Bourdain, Host
The Taste • ABC • Kinetic Content
Outstanding Narrator
Jeremy Irons, Narrator
Game Of Lions • Nat Geo WILD • Wildlife Films for National Geographic Channels
Daniel Craig, Narrator
One Life • Nat Geo WILD • BBC Earth Productions
Jane Lynch, Narrator
Penguins: Waddle All The Way • Discovery Channel • A John Downer Production for BBC and Discovery Channel
Henry Strozier, Narrator
Too Cute! • Holiday Special • Animal Planet • Produced by True Entertainment, LLC for Animal Planet
Whoopi Goldberg, Narrator
Whoopi Goldberg Presents Moms Mabley • HBO • HBO Documentary Films in association with George Schlatter Productions and Whoop Inc. Productions
Outstanding Structured Reality Program
Antiques Roadshow
PBS • WGBH Educational Foundation
Marsha Bemko, Executive Producer Sam Farrell, Supervising Producer Sarah K. Elliott, Producer
Diners, Drive-Ins and Dives • Food Network • Citizen Pictures
Guy Fieri, Executive Producer Frank Matson, Executive Producer Kat Higgins, Executive Producer Tim McOsker, Executive Producer
MythBusters
Discovery Channel • Beyond Productions PTY Ltd. for the Discovery Channel
Jamie Hyneman, Executive Producer Adam Savage, Executive Producer Dan Tapster, Executive Producer John Luscombe, Executive Producer Cameo Wallace, Executive Producer Lauren Williams, Senior Producer Steve Christiansen, Senior Producer Linda Wolkovitch, Producer Eric Haven, Producer Dennis Kwon, Producer
Shark Tank
ABC • Sony Pictures Television
Mark Burnett, Executive Producer Clay Newbill, Executive Producer Phil Gurin, Executive Producer
Yun Lingner, Co-Executive Producer Becky Blitz, Senior Producer
Sami Aziz, Producer
Heather M. Dreiling, Producer Michael Kramer, Producer Laura Roush, Producer
Kate Ryu, Producer
Undercover Boss
CBS • Studio Lambert, All3Media America
Stephen Lambert, Executive Producer Chris Carlson, Executive Producer
Eli Holzman, Executive Producer Scott Cooper, Co-Executive Producer
Abigail Shafran, Co-Executive Producer Mike Cotton, Co-Executive Producer
Brielle Lebsack Cohen, Co-Executive Producer Rachelle Mendez, Supervising Producer Margaret Burris, Supervising Producer
Who Do You Think You Are?
TLC • Shed Media US and Is Or Isn't Entertainment Alex Graham, Executive Producer
Pamela Healey, Executive Producer Lisa Kudrow, Executive Producer Dan Bucatinsky, Executive Producer Al Edgington, Executive Producer Lisa Bohacek, Co-Executive Producer Jim Albarano, Producer
Alexandra Orton, Producer Heather Ross, Producer
Outstanding Unstructured Reality Program
Alaska: The Last Frontier
• Discovery Channel • Discovery Studios
Daniel Soiseth, Executive Producer Michael Masland, Executive Producer Grant Kahler, Executive Producer
Deadliest Catch • Discovery Channel • Original Productions, LLC, a FremantleMedia Company for the Discovery Channel
Thom Beers, Executive Producer Jeff Conroy, Executive Producer John Gray, Executive Producer David Pritikin, Executive Producer
R. Decker Watson, Jr., Co-Executive Producer
Flipping Out
Bravo • Authentic Entertainment for Bravo
Tom Rogan, Executive Producer Lauren Lexton, Executive Producer Andrew Hoegl, Executive Producer Jeff Lewis, Executive Producer
Nick Capodice, Co-Executive Producer Audrey Olsen, Co-Executive Producer Shannon Callaghan, Senior Producer
Million Dollar Listing New York
Bravo • World of Wonder for Bravo
Fenton Bailey, Executive Producer Randy Barbato, Executive Producer Tom Campbell, Executive Producer Danielle King, Executive Producer Megan Estrada, Executive Producer
Wahlburgers
A&E • 44 Blue Productions in association with Closest to the Hole Productions, Leverage Entertainment and Donnie D Productions for A&E
Mark Wahlberg, Executive Producer Donnie Wahlberg, Executive Producer Stephen Levinson, Executive Producer Rasha Drachkovitch, Executive Producer Jym Buss, Executive Producer
Lily Neumeyer, Executive Producer Devon Graham, Executive Producer David Hale, Co-Executive Producer Brian Spoor, Co-Executive Producer Brittany A. Little, Supervising Producer
Wild Things With Dominic Monaghan
BBC America • A BBC America original production, produced by Cream Productions and Wildfire Television and co-produced by BBC Worldwide Dominic Monaghan, Executive Producer
David Brady, Executive Producer Philip Clarke, Executive Producer Kate Harrison, Executive Producer
Marianne Kushmaniuk, Series Producer Richard Life, Producer
Outstanding Documentary Or Nonfiction Special
JFK (American Experience)
PBS • American Experience is a production of WGBH
Mark Samels, Executive Producer Sharon Grimberg, Senior Producer Susan Bellows, Produced by
Paycheck To Paycheck: The Life And Times Of Katrina Gilbert
HBO • HBO Documentary Films in association with The Shriver Report and Mackerel Sky Films
Sheila Nevins, Executive Producer Maria Shriver, Executive Producer Nancy Abraham, Senior Producer Sascha Weiss, Producer
Shari Cookson, Produced by Nick Doob, Produced by
Running From Crazy
OWN • Cabin Creek Films
Erica Forstadt, Executive Producer Mariel Hemingway, Executive Producer Barbara Kopple, Executive Producer Lisa Erspamer, Executive Producer Oprah Winfrey, Executive Producer David Cassidy, Produced by
The Sixties: The Assassination Of President Kennedy
CNN • Herzog & Company
Tom Hanks, Executive Producer Gary Goetzman, Executive Producer Mark Herzog, Executive Producer Jonathan Buss, Producer
Stephen J. Morrison, Producer
The Square
Netflix • Noujaim Films, Maktube Productions, Netflix Originals, Worldview Entertainment, Roast Beef Productions and Participant Media for Netflix Jodie Evans, Executive Producer
Lekha Singh, Executive Producer Sarah Johnson, Executive Producer Mike Lerner, Executive Producer Gavin Dougan, Executive Producer Karim Amer, Produced by
Jehane Noujaim, Produced by
Whoopi Goldberg Presents Moms Mabley
HBO • HBO Documentary Films in association with George Schlatter Productions and Whoop Inc. Productions
Whoopi Goldberg, Executive Producer / Produced by
Tom Leonardis, Executive Producer / Produced by George Schlatter, Executive Producer
Outstanding Documentary Or Nonfiction Series
American Masters
PBS • A Production of Thirteen's American Masters for WNET Susan Lacy, Executive Producer
Julie Sacks, Supervising Producer / Series Producer
Junko Tsunashima, Supervising Producer Dori Berinstein, Produced by
COSMOS: A SpaceTime Odyssey
FOX/NatGeo • Fuzzy Door Productions and Cosmos Studios, Inc. in association with FOX Broadcasting Company and National Geographic Channel
Ann Druyan, Executive Producer Seth MacFarlane, Executive Producer Mitchell Cannold, Executive Producer Brannon Braga, Executive Producer Jason Clark, Co-Executive Producer Livia Hanich, Producer
Steve Holtzman, Producer Neil deGrasse Tyson, Host
Pioneers Of Television
PBS • Boettcher+Trinklein Television Michael J. Trinklein, Producer
Steven J. Boettcher, Producer
The World Wars
HISTORY • Stephen David Entertainment for History
Stephen David, Executive Producer Russ McCarroll, Executive Producer Paul Cabana, Executive Producer
Elaine Frontain Bryant, Executive Producer Tim W. Kelly, Co-Executive Producer Shirley Escott, Supervising Producer
David C. White, Series Producer
Years Of Living Dangerously
Showtime • Showtime Presents, A Roaring Fork Films Production
Joel Bach, Executive Producer David Gelber, Executive Producer Daniel Abbasi, Executive Producer
Jennifer Latham, Supervising Producer Adam Bolt, Senior Producer
Solly Granatstein, Producer Jacob Kornbluth, Producer
Outstanding Informational Series Or Special
Anthony Bourdain: Parts Unknown
CNN • Zero Point Zero Productions
Anthony Bourdain, Executive Producer Chris Collins, Executive Producer Lydia Tenaglia, Executive Producer Sandra Zweig, Executive Producer Nick Brigden, Producer
Michael Steed, Producer Tom Vitale, Producer
Inside The Actors Studio
Bravo • In The Moment Productions for Bravo
James Lipton, Executive Producer Shawn Tesser, Produced by
Jeff Wurtz, Produced by
Through The Wormhole With Morgan Freeman
• Science Channel • Revelations Entertainment
Producing Team
Vice
HBO • HBO Entertainment in association with Vice and Bill Maher Productions
Bill Maher, Executive Producer Shane Smith, Executive Producer Eddy Moretti, Executive Producer BJ Levin, Executive Producer Jedd Thomas, Senior Producer Jonah Kaplan, Series Producer
The Writers' Room
Sundance Channel • Relativity Television in association with SundanceTV
Tom Forman, Executive Producer Brad Bishop, Executive Producer Mike Maloy, Executive Producer Neal Kendall, Executive Producer Jim Rash, Producer / Host
Exceptional Merit In Documentary Filmmaking
The Amish: Shunned (American Experience)
PBS • A Five O'Clock Films production for American Experience
Mark Samels, Executive Producer Sharon Grimberg, Senior Producer Callie T. Wiser, Produced by
Brave Miss World
Netflix • Linor Documentary, LLC in association with Rocket Girl Productions
Cecilia Peck, Produced by Motty Reif, Produced by
Inbal B. Lessner, Produced by Lati Grobman, Executive Producer
Hillsborough (30 For 30 Soccer Stories)
ESPN • ESPN Films in association with VeryMuchSo Productions
Connor Schell, Executive Producer John Dahl, Executive Producer Daniel Gordon, Produced by Deirdre Fenton, Produced by
Life According To Sam
HBO • HBO Documentary Films in association with Fine Films
Sheila Nevins, Executive Producer
Nancy Abraham, Senior Producer Sean Fine, Produced by
Andrea Nix, Produced by
Outstanding Writing For Nonfiction Programming
Anthony Bourdain: Parts Unknown • Congo
CNN • Zero Point Zero Productions
Anthony Bourdain, Written by
COSMOS: A SpaceTime Odyssey • Standing Up In The Milky Way
FOX/NatGeo • Fuzzy Door Productions and Cosmos Studios, Inc. in association with FOX Broadcasting Company and National Geographic Channel
Ann Druyan, Written by Steven Soter, Written by
JFK (American Experience)
PBS • American Experience is a production of WGBH
Mark Zwonitzer, Written by
The World Wars • Trial By Fire
HISTORY • Stephen David Entertainment for History Stephen David, Head Writer
David C. White, Head Writer John Ealer, Writer
Alec Michod, Writer Chelsea Coates, Writer Randy Counsman, Writer Russ McCarroll, Writer Jordan Rosenblum, Writer David Schaye, Writer
Years Of Living Dangerously • The Surge
Showtime • Showtime Presents, A Roaring Fork Films Production
Adam Bolt, Written by
Outstanding Directing For Nonfiction Programming
The Amazing Race • Part Like The Red Sea
CBS • WorldRace Productions, Inc.
Bertram van Munster, Directed by
COSMOS: A SpaceTime Odyssey • Standing Up In The Milky Way
FOX/NatGeo • Fuzzy Door Productions and Cosmos Studios, Inc. in association with FOX Broadcasting Company and National Geographic Channel
Brannon Braga, Directed by
Regular Show • The Last Laserdisc Player
Cartoon Network • Cartoon Network Studios
Robot Chicken • Born Again Virgin Christmas Special
Cartoon Network • Stoopid Buddy Stoodios
Project Runway • Sky's The Limit
Lifetime • The Weinstein Company, Bunim/Murray Productions and Full Picture Entertainment Craig Spirko, Directed by
Shark Tank • Episode 501
ABC • Sony Pictures Television
Ken Fuchs, Directed by
The Square
Netflix • Noujaim Films, Maktube Productions, Netflix Originals, Worldview Entertainment, Roast Beef Productions and Participant Media for Netflix Jehane Noujaim, Directed by
Outstanding Animated Program
Archer • Archer Vice: The Rules Of Extraction
FX Networks • FX Productions
Bob's Burgers • Mazel Tina
FOX • 20th Century Fox Television
Futurama • Meanwhile
Comedy Central • The Curiosity Company in association with 20th Century Fox Television
South Park • Black Friday
Comedy Central • Central Productions
Teenage Mutant Ninja Turtles: The Manhattan Project
Nickelodeon • Nickelodeon
Outstanding Short-Format Animated Program
Adventure Time • Be More
Cartoon Network• Cartoon Network Studios
Disney Mickey Mouse • 'O Sole Minnie
Disney Channel • Disney Television Animation
Disney Phineas and Ferb • Thanks But No Thanks
Disney Channel • Disney Television Animation
Regular Show • The Last Laserdisc Player
Cartoon Network • Cartoon Network Studios
Robot Chicken • Born Again Virgin Christmas Special
Cartoon Network • Stoopid Buddy Stoodios
Outstanding Character Voice-Over Performance
Disney Mickey Mouse • The Adorable Couple
Disney Channel • Disney Television Animation
Chris Diamantapolous as Mickey Mouse
Dog With A Blog • My Parents Posted What?!
Disney Channel • Dipthong Productions / It's a Laugh Productions / Disney Channel
Stephen Full as Stan
Family Guy • In Harmony's Way
FOX • Fox Television Animation
Seth MacFarlane as Peter Griffin, Stewie Griffin, Glenn Quagmire
Futurama • Calculon 2.0
Comedy Central • The Curiosity Company in association with 20th Century Fox Television
Maurice LaMarche as Calculon and Morbo
Robot Chicken DC Comics Special II: Villains In Paradise
Cartoon Network • Stoopid Buddy Stoodios
Seth Green as Various characters
The Simpsons • Four Regrettings And A Funeral
FOX • Gracie Films in association with 20th Century Fox Television
Harry Shearer as Kent Brockman, Mr. Burns, Younger Burns, Smithers
Outstanding Art Direction For A Contemporary Or Fantasy Series (Single-Camera)
Game Of Thrones • The Laws Of Gods And Men
• The Mountain And The Viper • HBO • HBO Entertainment in association with Bighead, Littlehead; Television 360; Startling Television and Generator Productions
Deborah Riley, Production Designer Paul Ghirardani, Art Director
Rob Cameron, Set Decorator
House Of Cards • Chapter 18 • Chapter 24
Netflix • Donen/Fincher/Roth and Trigger Street Productions, Inc. in association with Media Rights Capital for Netflix
Steve Arnold, Production Designer Halina Gebarowicz, Art Director Tiffany Zappulla, Set Decorator
Justified • A Murder Of Crowes • Wrong Roads
• The Toll
FX Networks • Sony Pictures Television
Dave Blass, Production Designer Oana Bogdan, Art Director Shauna Aronson, Set Decorator
True Blood • At Last • F**k The Pain Away • In The Evening
HBO • HBO Entertainment in association with Your Face Goes Here Entertainment
Suzuki Ingerslev, Production Designer Cat Smith, Art Director
Ron V. Franco, S.D.S.A., Set Decorator
True Detective • Form And Void • The Locked Room • Seeing Things
HBO • HBO Entertainment in association with Neon Black, Anonymous Content, Parliament of Owls and Passenger
Alex DiGerlando, Production Designer Mara LePere-Schloop, Art Director Tim Beach, Art Director
Cynthia Slagter, Set Decorator
Outstanding Art Direction For A Period Series, Miniseries Or A Movie (Single-Camera)
American Horror Story: Coven
FX Networks • 20th Century Fox Television
Mark Worthington, Production Designer
Andrew Murdock, Art Director
Ellen Brill, S.D.S.A., Set Decorator
Boardwalk Empire • Erlkönig • The Old Ship Of Zion • Farewell Daddy Blues
HBO • HBO Entertainment in association with Leverage, Closest to the Hole Productions, Sikelia Productions and Cold Front Productions
Bill Groom, Production Designer Adam Scher, Art Director
Carol Silverman, Set Decorator
Downton Abbey • Episode 8
PBS • A Carnival Films/Masterpiece Co-Production in association with NBC Universal
Donal Woods, Production Designer Mark Kebby, Art Director
Gina Cromwell, Set Decorator
Mad Men • Time Zones
AMC • Lionsgate Television
Dan Bishop, Production Designer Shanna Starzyk, Art Director Claudette Didul, Set Decorator
Masters Of Sex • Pilot
Showtime • Showtime Presents, Sony Pictures Television, Round Two Productions, Timberman/Beverly Productions
Andrew Jackness, Production Designer Kevin Rupnik, Art Director
Ellen Christiansen, Set Decorator
Outstanding Art Direction For A Contemporary Program (Half-Hour Or Less)
The Big Bang Theory • The Hofstadter Insufficiency • The Locomotive Manipulation • The Proton Transmogrification
CBS • Chuck Lorre Productions, Inc. in association with Warner Bros. Television
John Shaffner, Production Designer Francoise Cherry-Cohen, Art Director Ann Shea, Set Decorator
House Of Lies • Wreckage • Middlegame • Zhang
Showtime • Showtime Presents, Crescendo Productions, Totally Commercial Films, Refugee Productions, Matthew Carnahan Circus Products
Ray Yamagata, Production Designer Chikako Suzuki, Art Director
Tim Stepeck, Set Decorator
Modern Family • Las Vegas
ABC • Picador Productions and Steven Levitan Productions in association with 20th Century Fox Television
Claire Bennett, Production Designer Sam Kramer, Art Director
Brian Kasch, Set Decorator
Silicon Valley • Articles Of Incorporation • Signaling Risk • Optimal Tip-To-Tip Efficiency
HBO • HBO Entertainment in association with Judgemental Films, Alec Berg, Altschuler Krinsky works, and 3 Arts Entertainment Richard Toyon, Production Designer
L.J. Houdyshell, Art Director Cynthia Slagter, Set Decorator
Veep • Clovis • Detroit • Special Relationship
HBO • HBO Entertainment in association with Dundee Productions
Jim Gloster, Production Designer Sharon Davis, Art Director Jennifer Engel, Set Decorator
Outstanding Art Direction For Variety, Nonfiction, Reality or Reality-Competition Program
COSMOS: A SpaceTime Odyssey • Hiding In The Light • The Lost Worlds Of Planet Earth • Unafraid Of The Dark
FOX/NatGeo • Fuzzy Door Productions and Cosmos Studios, Inc. in association with FOX Broadcasting Company and National Geographic Channel
Seth Reed, Production Designer Johnny Jos, Art Director
The Oscars • ABC • Academy of Motion Picture Arts and Sciences
Derek McLane, Production Designer Joe Celli, Art Director
Gloria Lamb, Art Director
Portlandia • Celery • Sharing Finances • 3D Printer
IFC • Broadway Video for IFC Tyler Robinson, Production Designer
Schuyler Telleen, Art Director Katherine Isom, Set Decorator
Saturday Night Live • Host: Jimmy Fallon • Host: Jonah Hill • Host: Anna Kendrick
NBC • SNL Studios in association with Universal Television and Broadway Video
Eugene Lee, Production Designer Akira Yoshimura, Production Designer
Keith Ian Raywood, Production Designer
N. Joseph DeTullio, Production Designer
Sochi 2014 Olympic Winter Games Opening Ceremony
NBC • NBC in association with FiveCurrents
George Tsypin, Production Designer Rob Bissinger, Art Director
The Voice • Episode 601 • Episode 516A • Episode 607
NBC • Mark Burnett's One Three Inc. and Talpa Media USA in association with Warner Horizon Television
Anton Goss, Production Designer
James Pearse Connelly, Production Designer Zeya Maurer, Art Director
Lydia Smyth, Art Director Kristen O'Malley, Set Decorator
Outstanding Casting For A Comedy Series
Louie
FX Networks • Pig Newton, Inc. and FX Productions
Gayle Keller, Casting Director
Modern Family
ABC • Picador Productions & Steven Levitan Productions in association with 20th Century Fox Television
Jeff Greenberg, CSA, Casting Director
Nurse Jackie
Showtime • Showtime
Presents, Lionsgate Television, Jackson Group Entertainment, A Caryn Mandabach Production, Clyde Phillips Productions Julie Tucker, CSA, Casting Director
Ross Meyerson, CSA, Casting Director
Orange Is The New Black
Netflix • Lionsgate Television for Netflix
Jennifer Euston, CSA, Casting Director
Veep
HBO • HBO Entertainment in association with Dundee Productions Allison Jones, Casting Director
Pat Moran, CSA, Casting Director Meredith Tucker, Casting Director
Outstanding Casting For A Miniseries, Movie Or A Special
American Horror Story: Coven
FX Networks • 20th Century Fox Television
Robert J. Ulrich, CSA, Casting Director Eric Dawson, CSA, Casting Director Meagan Lewis, CSA, Casting Director
Fargo
FX Networks • MGM and FX Productions
Rachel Tenner, CSA, Casting Director Jackie Lind, CSA, Casting Director
The Normal Heart
HBO • HBO Films in association with Plan B Entertainment,
Outstanding Casting For A Drama Series
Breaking Bad
AMC • Sony Pictures Television
Sharon Bialy, CSA, Casting Director Sherry Thomas, CSA, Casting Director Kiira Arai, CSA, Casting Director
Game Of Thrones
HBO • HBO Entertainment in association with Bighead, Littlehead; Television 360; Startling Television and Generator Productions
Nina Gold, CSA, Casting Director Robert Sterne, Casting Director
The Good Wife
CBS • Eye Productions in association with Scott Free Productions and King Size Productions
Mark Saks, CSA, Casting Director
House Of Cards
Netflix • Donen/Fincher/Roth and Trigger Street Productions, Inc. in association with Media Rights Capital for Netflix
Laray Mayfield, CSA, Casting Director Julie Schubert, CSA, Casting Director
True Detective
HBO • HBO Entertainment in association with Neon Black, Anonymous Content, Parliament of Owls and Passenger Alexa L. Fogel, CSA, Casting Director
Christine Kromer, CSA, Casting Director Meagan Lewis, CSA, Casting Director
Blumhouse and Ryan Murphy Productions
Amanda Mackey, CSA, Casting Director
Cathy Sandrich Gelfond, CSA, Casting Director
Sherlock: His Last Vow (Masterpiece)
PBS • Hartswood West for BBC/Cymru Wales in co-production with Masterpiece
Julia Duff, CDG, Casting Director
Kate Rhodes James, CDG, Casting Director
Treme
HBO • HBO Entertainment in association with Blown Deadline Productions Alexa L. Fogel, CSA, Casting Director
Meagan Lewis, CSA, Casting Director
Outstanding Choreography
Dancing With The Stars • Routines: Human / Ameksa / Too Darn Hot
ABC • BBC Worldwide Productions
Derek Hough, Choreographer
So You Think You Can Dance • Routines: Trigger / Sand / The Gravel Road
FOX • Dick Clark Productions, Inc. in association with 19 Entertainment
Christopher Scott, Choreographer
So You Think You Can Dance • Routines: Edge of Glory / Feelin' Good / I Can't Make You Love Me
FOX • Dick Clark Productions, Inc. in association with 19 Entertainment
Mandy Moore, Choreographer
So You Think You Can Dance • Routines: Puttin' on the Ritz / Gold Rush / Run the World
FOX • Dick Clark Productions, Inc. in association with 19 Entertainment Tabitha Dumo, Choreographer
Napoleon Dumo, Choreographer
So You Think You Can Dance • Routines: Hanging by a Thread / Wicked Game / Medicine
FOX • Dick Clark Productions, Inc. in association with 19 Entertainment
Travis Wall, Choreographer
Outstanding Cinematography For A Multi-Camera Series
The Exes • When Haskell Met Sammy
TV Land • Hudson Street Productions
George Mooradian, ASC, Director of Photography
How I Met Your Mother • Daisy
CBS • Twentieth Century Fox Television
Christian La Fountaine, Director of Photography
Last Man Standing • Eve's Boyfriend
ABC • Twentieth Century Fox Television
Donald A. Morgan, ASC, Director of Photography
Mike & Molly • Weekend At Peggy's
CBS • Bonanza Productions, Inc. in association with Chuck Lorre Productions, Inc. and Warner Bros. Television
Gary Baum, Director of Photography
2 Broke Girls • And The Near Death Experience
CBS • Bonanza Productions Inc. in association with MPK Productions and Warner Bros. Television
Christian La Fountaine, Director of Photography
Outstanding Cinematography For A Single-Camera Series
Breaking Bad • Granite State
AMC • Sony Pictures Television
Michael Slovis, ASC, Director of Photography
Sherlock: His Last Vow (Masterpiece)
PBS • Hartswood West for BBC/Cymru Wales in
co-production with Masterpiece
Neville Kidd, Director of Photography
House Of Cards • Chapter 18
Netflix • Donen/Fincher/Roth and Trigger Street Productions, Inc. in association with Media Rights Capital for Netflix
Igor Martinovic, Director of Photography
True Detective • Who Goes There
HBO • HBO Entertainment in association with Neon Black, Anonymous Content, Parliament of Owls and Passenger
Adam Arkapaw, Director of Photography
Outstanding Cinematography For A Miniseries Or Movie
Fargo • Buridan's Ass
FX Networks • MGM and FX Productions
Dana Gonzales, Director of Photography
Fargo • The Crocodile's Dilemma
FX Networks • MGM and FX Productions Matt Lloyd, CSC, Director of Photography
Fleming: The Man Who Would Be Bond • Episode 1
BBC America • Ecosse Films and BBC America and Sky Atlantic co-production Edward Wild, Director of Photography
Killing Kennedy
National Geographic Channel • Scott Free Productions for National Geographic Channels
Stephen St. John, Director of Photography
The Normal Heart
HBO • HBO Films in association with Plan B Entertainment, Blumhouse and Ryan Murphy Productions Danny Moder, Director of Photography
Outstanding Cinematography For Nonfiction Programming
Anthony Bourdain: Parts Unknown • Tokyo
CNN • Zero Point Zero Production
Morgan Fallon, Director of Photography
Anthony Bourdain: Parts Unknown • Punjab
CNN • Zero Point Zero Productions
Todd Liebler, Director of Photography Zach Zamboni, Director of Photography
COSMOS: A SpaceTime Odyssey • Standing Up In The Milky Way
FOX/NatGeo • Fuzzy Door Productions and Cosmos Studios, Inc. in association with FOX Broadcasting Company and National Geographic Channel
Bill Pope, ASC, Director of Photography
The Square • Netflix
Noujaim Films, Maktube Productions, Netflix Originals, Worldview Entertainment, Roast Beef Productions and Participant Media for Netflix Cinematography Team
Vice • Greenland Is Melting/Bonded Labor
HBO • HBO Entertainment in association with Vice and Bill Maher Productions
Jake Burghart, Director of Photography Jerry Ricciotti, Director of Photography
Outstanding Cinematography For Reality Programming
Alaska: The Last Frontier • Of Moose And Men
Discovery Channel • Discovery Studios
Brian Mandle, Director of Photography Scott Gardner, Camera, Neil Moore, Camera David Short, Camera, John Whittier, Camera
The Amazing Race • Part Like The Red Sea
CBS • WorldRace Productions, Inc.
Cinematography Team
Deadliest Catch • Careful What You Wish For
Discovery Channel • Original Productions, LLC, a FremantleMedia Company for the Discovery Channel
Cinematography Team
Project Runway • Tie The Knot
Lifetime • The Weinstein Company, Bunim/Murray Productions and Full Picture Entertainment Gus Dominguez, Director of Photography
Survivor • Mad Treasure Hunt (Cagayan)
CBS • Mark Burnett Productions Cinematography Team
The Voice • Episode 601 • NBC • Mark Burnett's One Three Inc. and Talpa Media USA in association with Warner Horizon Television Alex Van Wagner, Cinematography
Outstanding Commercial
Childlike Imagination • General Imagination
MJZ, Production Company BBDO, Ad Agency
Hero's Welcome • Budweiser
HSI Productions, Production Company Anomaly, Ad Agency
Misunderstood • Apple
Park Pictures, Production Company TBWAMedia Arts Lab, Ad Agency
Possibilities • Nike
MJZ, Production Company Wieden + Kennedy, Ad Agency
Puppy Love • Budweiser
RSA, Production Company Anomaly, Ad Agency
Outstanding Costumes For A Series
Boardwalk Empire • New York Sour
HBO • HBO Entertainment in association with Leverage, Closest to the Hole Productions, Sikelia Productions and Cold Front Productions
John Dunn, Costume Designer Lisa Padovani, Costume Designer
Joseph La Corte, Costume Supervisor
Downton Abbey • Episode 8
PBS • A Carnival Films/Masterpiece Co-Production in association with NBC Universal
Caroline McCall, Costume Designer Heather Leat, Costume Supervisor
Poli Kyriacou, Assistant Costume Designer
Game Of Thrones • The Lion And The Rose
HBO • HBO Entertainment in association with Bighead, Littlehead; Television 360; Startling Television and Generator Productions
Michele Clapton, Costume Designer Sheena Wichary, Costume Supervisor
Alexander Fordham, Assistant Costume Designer Nina Ayres, Assistant Costume Designer
Mad Men • Time Zones
AMC • Lionsgate Television
Janie Bryant, Costume Designer
Tiffany White Stanton, Costume Designer Stacy Horn, Costume Supervisor
Once Upon A Time • A Curious Thing
ABC • ABC Studios
Eduardo Castro, Costume Designer
Monique McRae, Assistant Costume Designer
Outstanding Costumes For A Miniseries, Movie or Special

American Horror Story: Coven • Bitchcraft
FX Networks • 20th Century Fox Television Lou Eyrich, Costume Designer
Elizabeth Macey, Costume Supervisor
Ken Van Duyne, Assistant Costume Designer
House Of Versace
Lifetime • BFL Productions
Clair Nadon, Costume Designer
Nicole Magny, Assistant Costume Designer
The Normal Heart
HBO • HBO Films in association with Plan B Entertainment, Blumhouse and Ryan Murphy Productions Daniel Orlandi, Costume Designer
Gail A. Fitzgibbons, Costume Supervisor Hartsell Taylor, Costume Supervisor Maria Tortu, Assistant Costume Designer
Sherlock: His Last Vow (Masterpiece)
PBS • Hartswood West for BBC/Cymru Wales in
co-production with Masterpiece
Sarah Arthur, Costume Designer Ceri Walford, Costume Supervisor
The White Queen • The Price Of Power
Starz • Starz presents in association with Company Pictures (an All 3 Media Company) and Playground Entertainment
Nic Ede, Costume Designer Raissa Hans, Costume Supervisor
Elizabeth Healy, Assistant Costume Designer
Outstanding Single-Camera Picture Editing For A Drama Series
Breaking Bad • Tohajillee
AMC • Sony Pictures Television
Kelley Dixon, A.C.E, Edited by
Breaking Bad • Felina
AMC • Sony Pictures Television
Skip MacDonald, A.C.E., Edited by
Breaking Bad • Granite State
AMC • Sony Pictures Television
Kelley Dixon, A.C.E., Edited by Chris McCaleb, Edited by
House Of Cards • Chapter 14 • Netflix • Donen/Fincher/Roth and Trigger Street Productions, Inc. in association with Media Rights Capital for Netflix
Byron Smith, MPEG, Editor
True Detective • Who Goes There
HBO • HBO Entertainment in association with Neon Black, Anonymous Content, Parliament of Owls and Passenger
Affonso Goncalves, Editor, Sue Federman, Edited by
Outstanding Single-Camera Picture Editing For A Comedy Series
Modern Family • Vegas
ABC • Picador Productions and Steven Levitan Productions in association with 20th Century Fox Television
Ryan Case, Editor
Orange Is The New Black • Tit Punch
Netflix • Lionsgate Television for Netflix
William Turro, Editor
Orange Is The New Black • Can't Fix Crazy
Netflix • Lionsgate Television for Netflix Michael S. Stern, Edited by
Orange Is The New Black • Tall Men With Feelings
Netflix • Lionsgate Television for Netflix
Shannon Mary Mitchell, A.C.E., Edited by
Portlandia • Getting Away
IFC • Broadway Video for IFC
Bill Benz, Editor
Daniel Gray Longino, Editor
Outstanding Multi-Camera Picture Editing For A Comedy Series
The Big Bang Theory • The Cooper Extraction
CBS • Chuck Lorre Productions, Inc. in association with Warner Bros. Television
Peter Chakos, Edited by
The Colbert Report • Episode 9115
Comedy Central • Hello Doggie, Inc. with Busboy Productions and Spartina Productions
Christein Aromando, Editor
Jason Baker, Editor
The Daily Show With Jon Stewart • Episode 19006
Comedy Central • Central Productions, LLC
Robert York, Editor Eric Davies, Editor Graham Frazier, Editor Daric Schlesselman, Editor
How I Met Your Mother • Gary Blauman
CBS • Twentieth Century Fox Television
Jimmy Kimmel Live • Behind The Scandelabra
ABC • ABC Studios in association with Jackhole Industries
James Crowe, Editor Jason Bielski, Editor Brian Marsh, Editor Kevin McCullough, Editor Matt Williams, Editor
Outstanding Single-Camera Picture Editing For A Miniseries Or A Movie
Fargo • The Crocodile's Dilemma
FX Networks • MGM and FX Productions
Skip MacDonald, A.C.E., Edited by
Fargo • The Rooster Prince
FX Networks • MGM and FX Productions
Bridget Durnford, Edited by
Fargo • Buridan's Ass
FX Networks • MGM and FX Productions
Regis Kimble, Editor
The Normal Heart
HBO • HBO Films in association with Plan B Entertainment, Blumhouse and Ryan Murphy Productions Adam Penn, Editor
Sherlock: His Last Vow (Masterpiece)
PBS • Hartswood West for BBC/Cymru Wales in
co-production with Masterpiece
Yan Miles, Editor
Outstanding Picture Editing For Short-Form Segments And Variety Specials
AFI Life Achievement Award: A Tribute To Mel Brooks • TNT • AFI Productions
Michael Polito, Editor Debra Light, Editor Thomas Mitchell, Editor Dave Brown, Editor
Pi Ware, Editor
Billy Crystal: 700 Sundays • HBO • HBO Entertainment in association with Jennilind Productions
Kent Beyda, A.C.E., Editor
The Colbert Report • People Destroying America: Vicco Mayor Johnny Cummings (Segment) • Comedy Central • Hello Doggie, Inc. with Busboy Productions and Spartina Productions
Christein Aromando, Editor
The Colbert Report • StePhfest Colbchella '013 – Daft Punk'd (Segment) • Comedy Central • Hello Doggie, Inc. with Busboy Productions and Spartina Productions Jason Baker, Editor
The Daily Show With Jon Stewart • McConnelling (Segment) • Comedy Central • Central Productions, LLC
Eric Davies, Editor
Outstanding Picture Editing For Nonfiction Programming
American Masters • Jimi Hendrix: Hear My Train A Comin' • PBS • A Production of Fuse Films and Thirteen's American Masters for WNET
Gordon Mason, A.C.E., Editor Stephen Ellis, Editor
Phil McDonald, Editor
Anthony Bourdain: Parts Unknown • Tokyo • CNN • Zero Point Zero Productions
Nick Brigden, Editor
COSMOS: A SpaceTime Odyssey • Standing Up In The Milky Way • FOX/NatGeo • Fuzzy Door Productions and Cosmos Studios, Inc. in association with FOX Broadcasting Company and National Geographic Channel
John Duffy, A.C.E., Edited by Michael O'Halloran, Edited by, Eric Lea, Edited by
The Sixties: The Assassination Of President Kennedy • CNN • Herzog & Company
Chris A. Peterson, Editor
The Square • Netflix • Noujaim Films, Maktube Productions, Netflix Originals, Worldview Entertainment, Roast Beef Productions and Participant Media for Netflix Pedro Kos, Edited by, Christopher de la Torre, Edited by, Muhamed El Manasterly, Edited by
Outstanding Picture Editing For Reality Programming
The Amazing Race • Part Like The Red Sea • CBS • WorldRace Productions, Inc.
Eric Goldfarb, Editor Julian Gomez, Editor Andrew Kozar, Editor Paul C. Nielsen, Editor Andy Castor, Editor Jennifer Nelson, Editor Jacob Parsons, Editor
Deadliest Catch • Careful What You Wish For
• Discovery Channel • Original Productions, LLC, a FremantleMedia Company for the Discovery Channel
Josh Earl, A.C.E., Supervising Editor Rob Butler, A.C.E., Editor
Art O'Leary, Editor
Naked And Afraid • The Jungle Curse • Discovery Channel • Produced by Renegade 83, LLC for Discovery Channel
Emily Hsuan, Editor Chris Meyer, Editor
Project Runway • Finale, Part 2 • Lifetime • The Weinstein Company, Bunim/Murray Productions and Full Picture Entertainment Julie Cohen, Editor, Scott Austin Hahn, Editor Adrienne Salisbury, Editor Eileen Finkelstein, Editor Ryan Mallick, Editor, Yaffa Lerea, Editor
Survivor • Head Of The Snake (Cagayan) • CBS • Mark Burnett Productions
Frederick Hawthorne, Supervising Editor Joubin Mortazavi, Editor
Evan Mediuch, Editor Dave Armstrong, Editor Andrew Bolhuis, Editor Tim Atzinger, Editor
The Voice • Episode 601 • NBC • Mark Burnett's One Three Inc. and Talpa Media USA in association with Warner Horizon Television John M. Larson, Supervising Editor, Hudson H. Smith III, Supervising Editor Robert M. Malachowski Jr., Supervising Editor William Fabian Castro, Editor
Eric B. Shanks, Editor Jason Stewart, Editor Robby Thompson, Editor Noel Guerra, Editor James Munoz, Editor
Outstanding Hairstyling For A Single-Camera Series
Boardwalk Empire • William Wilson • HBO • HBO Entertainment in association with Leverage, Closest to the Hole Productions, Sikelia Productions and Cold Front Productions
Francesca Paris, Department Head Hairstylist Lisa Dellechiaie, Key Hairstylist
Therese Ducey, Key Hairstylist
Downton Abbey • Episode 8 • PBS • A Carnival Films/Masterpiece Co-Production in association with NBC Universal
Magi Vaughan, Department Head Hairstylist Adam James Phillips, Key Hairstylist
Game Of Thrones • The Lion and the Rose • HBO • HBO Entertainment in association with Bighead, Littlehead; Television 360; Startling Television and Generator Productions
Kevin Alexander, Department Head Hairstylist Candice Banks, Key Hairstylist
Rosalia Culora, Hairstylist Gary Machin, Hairstylist, Nicola Mount, Hairstylist
Mad Men • The Runaways • AMC • Lionsgate Television
Theraesa Rivers, Department Head Hairstylist Arturo Rojas, Key Hairstylist
Valerie Jackson, Hairstylist Ai Nakata, Hairstylist
Outstanding Hairstyling For A Multi-Camera Series Or Special
Dancing With The Stars • 1805 • ABC • BBC Worldwide Productions
Mary Guerrero, Department Head Hairstylist Kimi Messina, Key Hairstylist
Cyndra Dunn, Additional Hairstylist Sean Smith, Additional Hairstylist Jennifer Guerrero, Additional Hairstylist Gail Ryan, Additional Hairstylist
Key & Peele • Substitute Teacher #3 •
Comedy Central • Central Productions
Amanda Mofield, Department Head Hairstylist Raissa Patton, Key Hairstylist
The Originals • Dance Back From The Grave • CW • Bonanza Productions Inc., My So-Called Company and Alloy Entertainment in association with Warner Bros. Television and CBS Television Studios
Colleen Labaff, Department Head Hairstylist Kimberley Spiteri, Co-Department Head Hairstylist
The Oscars • ABC • Academy of Motion Picture Arts and Sciences
Anthony Wilson, Department Head Hairstylist Natasha Allegro, Key Hairstylist
Cynthia Romo, Hairstylist
Saturday Night Live • Host: Anna Kendrick • NBC • SNL Studios in association with Universal Television and Broadway Video Bettie O. Rogers, Department Head Hairstylist
Jodi Mancuso, Key Hairstylist Inga Thrasher, Hairstylist Jennifer Serio Stauffer, Hairstylist Cara Hannah Sullivan, Hairstylist Joe Whitmeyer, Hairstylist
The Voice • Episode 419B • NBC • Mark Burnett's One Three Inc. and Talpa Media USA in association with Warner Horizon Television Shawn Finch, Department Head Hairstylist
Jerilynn Stephens, Key Hairstylist Renee Ferruggia, Hairstylist Samantha Wen, Hairstylist
Corey Hill, Hairstylist Cheryl Marks, Hairstylist
Outstanding Hairstyling For A Miniseries Or A Movie
American Horror Story: Coven • FX Networks
• 20th Century Fox Television
Monte C. Haught, Department Head Hairstylist Michelle Ceglia, Key Hairstylist
Yolanda Mercadel, Hairstylist Daina Daigle, Additional Hairstylist
Bonnie & Clyde • Lifetime • Sony Pictures Television
Audrey Anzures, Department Head Hairstylist Catherine Childers, Hairstylist
Mob City • A Guy Walks Into a Bar • TNT • TNT Originals
Nina Marie Paskowitz, Department Head Hairstylist Michael Moore, Key Hairstylist
The Normal Heart • HBO • HBO Films in association with Plan B Entertainment, Blumhouse and Ryan Murphy Productions Chris Clark, Department Head Hairstylist
Joe Whitmeyer, Key Hairstylist Valerie Gladstone, Hairstylist Frida Ardottir, Personal Hairstylist
Lyndell Quiyou, Personal Hairstylist
The White Queen • Long Live the King • Starz
• Starz presents in association with Company Pictures (an All 3 Media Company) and Playground Entertainment
Karen Bryan-Dawson, Department Head Hairstylist Kate Starr, Key Hairstylist
Julie Kendrick, Assistant Department Head Hairstylist
Louise Coles, Hairstylist
Outstanding Lighting Design/Lighting Direction For A Variety Series
America's Got Talent • Episode 826 • NBC • FremantleMedia North America
Joshua Hutchings, Lighting Designer Harry Sangmeister, Lighting Director Lorne MacDougall, Lighting Director
Dancing With The Stars • Episode 1711A •ABC • BBC Worldwide Productions
Simon Miles, Lighting Designer Suzanne Sotelo, Lighting Director Matthew Cotter, Lighting Director
Saturday Night Live • Host: Jimmy Fallon • NBC • SNL Studios in association with Universal Television and Broadway Video Phil Hymes, Lighting Designer
Geoff Amoral, Lighting Director Rick McGuinness, Lighting Director
The Tonight Show Starring Jimmy Fallon • Episode 1 (Will Smith/U2) • NBC • Universal Television and Broadway Video
Fred Bock, Lighting Director Phil Hymes, Lighting Director
Jared Kirchmer, Lighting Director Francis Biancamano, Lighting Director
The Voice • Episode 619A • NBC • Mark Burnett's One Three Inc. and Talpa Media USA in association with Warner Horizon Television Oscar Dominguez, Lighting Designer
Samuel Barker, Lighting Director Craig Housenick, Lighting Director Daniel K. Boland, Lighting Director John Bradley, Lighting Director
Robert A. Dickinson, Lighting Designer Noah A. Mitz, Lighting Director
Harry Sangmeister, Lighting Director Ed McCarthy, Lighting Director
Outstanding Main Title Design
Black Sails • Starz • Platinum Dunes and
Quaker Moving Pictures in association with Starz Originals
Karen Fong, Director
Michelle Dougherty, Designer/Director Alan Williams, Designer/Art Director Kris Kuksi, Fine Art Sculptor
COSMOS: A SpaceTime Odyssey • FOX/NatGeo • Fuzzy Door Productions and Cosmos Studios, Inc. in association with FOX Broadcasting Company and National Geographic Channel
Curtis Doss, Creative Director Shaun Collings, Creative Director
Randall Smith, Visual Effects Supervisor Tom Connors, CG Supervisor
Masters Of Sex • Showtime • Showtime Presents, Sony Pictures Television, Round Two Productions, Timberman/Beverly Productions Leanne Dare, Art Director
Yi-Jen Liu, Designer Jon Forsman, Animator Gabriel Britz, Editor
Silicon Valley • HBO • HBO Entertainment in association with Judgemental Films, Alec Berg, Altschuler Krinsky works, and 3 Arts Entertainment
Garson Yu, Creative Director
Mehmet Kizilay, Designer/Lead Animator
True Detective • HBO • HBO Entertainment in association with Neon Black, Anonymous Content, Parliament of Owls and Passenger Patrick Clair, Creative Director
Raoul Marks, Animator
Jennifer Sofio Hall, Creative Producer
Outstanding Lighting Design/Lighting Direction For A Variety Special
The Beatles: The Night That Changed America
• CBS • AEG Ehrlich Ventures, LLC
Matt Firestone, Lighting Designer Ted Wells, Lighting Designer Matthew Cotter, Lighting Director Mike Zinman, Lighting Director
The 56th Grammy Awards • CBS • AEG Ehrlich Ventures, LLC
Robert A. Dickinson, Lighting Designer Andy O'Reilly, Lighting Director
Jon Kusner, Lighting Director Harrison Lippman, Lighting Director
The Oscars • ABC • Academy of Motion Picture Arts and Sciences
Robert A. Dickinson, Lighting Designer Robert Barnhart, Lighting Designer Andy O'Reilly, Lighting Director
Jon Kusner, Lighting Director
Sochi 2014 Olympic Winter Games Opening Ceremony • NBC • NBC in association with FiveCurrents
Al Gurdon, Lighting Designer Michael Owen, Lighting Director Ross Williams, Lighting Director
Super Bowl XLVIII Halftime Show Starring Bruno Mars • FOX • NFL Network production Robert Barnhart, Lighting Designer
Pete Radice, Lighting Director David Grill, Lighting Director LeRoy Bennett, Lighting Director
67th Annual Tony Awards • CBS • White Cherry Entertainment
Outstanding Makeup For A Single-Camera Series (Non-Prosthetic)
Boardwalk Empire • New York Sour • HBO • HBO Entertainment in association with Leverage, Closest to the Hole Productions, Sikelia Productions and Cold Front Productions
Michele Paris, Department Head Makeup Artist Steven Lawrence, Key Makeup Artist
Anette Lian-Williams, Key Makeup Artist
Breaking Bad • Ozymandias • AMC • Sony Pictures Television
Tarra Day, Department Head Makeup Artist Corey Welk, Key Makeup Artist
Game Of Thrones • Oathkeeper • HBO • HBO Entertainment in association with Bighead, Littlehead; Television 360; Startling Television and Generator Productions
Jane Walker, Department Head Makeup Artist Ann McEwan, Makeup Artist
Mad Men • The Runaways • AMC • Lionsgate Television
Lana Horochowski, Department Head Makeup Artist
Ron Pipes, Key Makeup Artist Ken Neiderbaumer, Makeup Artist
Maurine Burke, Additional Makeup Artist Jen Greenberg, Additional Makeup Artist
True Detective • The Secret Fate Of All Of Life
• HBO • HBO Entertainment in association with Neon Black, Anonymous Content, Parliament of Owls and Passenger
Felicity Bowring, Department Head Makeup Artist Wendy Bell, Key Makeup Artist
Ann Pala, Makeup Artist Kim Perrodin, Makeup Artist
Linda Dowds, Personal Makeup Artist
Outstanding Makeup For A Multi-Camera Series Or Special (Non-Prosthetic)
Dancing With The Stars • 1703 • ABC • BBC Worldwide Productions
Zena Shteysel, Department Head Makeup Artist Angela Moos, Key Makeup Artist
Patti Bortoli, Additional Makeup Artist Barbara Fonte, Additional Makeup Artist Sarah Woolf, Additional Makeup Artist Julie Socash, Additional Makeup Artist
Key & Peele • East/West Bowl Rap • Comedy Central • Central Productions
Scott Wheeler, Department Head Makeup Artist Suzy Diaz, Key Makeup Artist
David L. Anderson, Makeup Artist Georgia Allen, Makeup Artist
Saturday Night Live • Host: Jimmy Fallon • NBC • SNL Studios in association with Universal Television and Broadway Video Louie Zakarian, Department Head Makeup Artist
Amy Tagliamonti, Additional Makeup Artist Sara Egan, Additional Makeup Artist Daniela Zivcovic, Additional Makeup Artist Melanie Demitri, Additional Makeup Artist
So You Think You Can Dance • Season 10 Finale • FOX • Dick Clark Productions, Inc. in association with 19 Entertainment
Heather Anne Cummings, Department Head Makeup Artist
Amy Harmon, Makeup Artist Angela Nogaro, Makeup Artist Allan Avendano, Makeup Artist
Tym Schutchai Buacharern, Makeup Artist
The Voice • Episode 516B • NBC • Mark Burnett's One Three Inc. and Talpa Media USA in association with Warner Horizon Television Darcy Gilmore, Department Head Makeup Artist
Sherri Simmons, Key Makeup Artist Thea Samuels, Makeup Artist Kristene Bernard, Makeup Artist Carlene Kearns, Makeup Artist Molly Tissavary, Makeup Artist
Outstanding Makeup For A Miniseries Or A Movie (Non-Prosthetic)
American Horror Story: Coven • FX Networks
• 20th Century Fox Television
Eryn Krueger Mekash, Department Head Makeup Artist
Kim Ayers, Key Makeup Artist Vicki Vacca, Makeup Artist Mike Mekash, Makeup Artist
Christopher Nelson, Makeup Artist Lucy O'Reilly, Makeup Artist
Anna Nicole • Lifetime • Sony Pictures Television for Lifetime Television
Todd McIntosh, Co-Department Head Makeup Artist
David De Leon, Co-Department Head Makeup Artist
Amber Crowe, Key Makeup Artist
Bonnie & Clyde • Lifetime • Sony Pictures Television
Trefor Proud, Department Head Makeup Artist Karri Farris, Key Makeup Artist
Fargo • FX Networks • MGM and FX Productions
Gail Kennedy, Department Head Makeup Artist
Joanne Preece, Assistant Department Head Makeup Artist
Gunther Schetterer, Makeup Artist Keith Sayer, Personal Makeup Artist
The Normal Heart • HBO • HBO Films in association with Plan B Entertainment, Blumhouse and Ryan Murphy Productions Eryn Krueger Mekash, Department Head Makeup Artist
Sherri Berman Laurence, Key Makeup Artist Nicky Pattison, Makeup Artist
LuAnn Claps, Makeup Artist Mike Mekash, Makeup Artist
Carla White, Personal Makeup Artist
Outstanding Prosthetic Makeup For A Series, Miniseries, Movie Or A Special
American Horror Story: Coven • FX Networks
• 20th Century Fox Television
Eryn Krueger Mekash, Department Head Makeup Artist
Mike Mekash, Key Special Makeup Effects Artist
Christien Tinsley, Prosthetic Designer Jason Hamer, Prosthetic Designer Christopher Nelson, Makeup Effects Artist David L. Anderson, Makeup Effects Artist Cristina Patterson, Makeup Effects Artist Rob Freitas, Makeup Effects Artist
Anna Nicole • Lifetime • Sony Pictures Television for Lifetime Television
Todd McIntosh, Co-Department Head Makeup Artist
David De Leon, Co-Department Head Makeup Artist
Greg Cannom, Prosthetic Designer
Boardwalk Empire • William Wilson • HBO • HBO Entertainment in association with Leverage, Closest to the Hole Productions, Sikelia Productions and Cold Front Productions
Michele Paris, Department Head Makeup Artist Steven Lawrence, Special Makeup Effects Artist
Breaking Bad • Felina • AMC • Sony Pictures Television
Tarra Day, Department Head Makeup Artist Steve LaPorte, Key Makeup Artist
Greg Nicotero, Prosthetic Designer Stephan Dupuis, Makeup Artist Howard Leigh Berger, Makeup Artist
Game Of Thrones • The Children • HBO • HBO Entertainment in association with Bighead, Littlehead; Television 360; Startling Television and Generator Productions
Jane Walker, Department Head Makeup Artist Barrie Gower, Prosthetic Designer
The Normal Heart • HBO • HBO Films in association with Plan B Entertainment, Blumhouse and Ryan Murphy Productions Eryn Krueger Mekash, Department Head Makeup Artist
Sherri Berman Laurence, Key Special Makeup Effects Artist
Christien Tinsley, Prosthetic Designer
Mary Anne Spano, Special Makeup Effects Artist James Sarzotti, Special Makeup Effects Artist Nicky Pattison, Special Makeup Effects Artist
Outstanding Music Composition For A Series (Original Dramatic Score)
COSMOS: A SpaceTime Odyssey • Standing Up In The Milky Way • FOX/NatGeo • Fuzzy Door Productions and Cosmos Studios, Inc. in association with FOX Broadcasting Company and National Geographic Channel
Alan Silvestri, Music by
Downton Abbey • Episode 8 • PBS • A Carnival Films/Masterpiece Co-Production in association with NBC Universal
John Lunn, Music by
Game Of Thrones • The Mountain and the Viper • HBO • HBO Entertainment in association with Bighead, Littlehead; Television 360; Startling Television and Generator Productions
Ramin Djawadi, Music by
House Of Cards • Chapter 26 • Netflix • Donen/Fincher/Roth and Trigger Street Productions, Inc. in association with Media Rights Capital for Netflix
Jeff Beal, Music by
True Detective • Form and Void • HBO • HBO Entertainment in association with Neon Black, Anonymous Content, Parliament of Owls and Passenger
T Bone Burnett, Music by
Outstanding Music Direction
Barbra Streisand: Back to Brooklyn (Great Performances) • PBS • A Co-Production of the Jack My Dog Corporation and Thirteen Productions LLC in association with WNET William Ross, Music Director
The Beatles: The Night That Changed America
• CBS • AEG Ehrlich Ventures, LLC
Don Was, Music Director
The Oscars • ABC • Academy of Motion Picture Arts and Sciences
William Ross, Music Director
Saturday Night Live • Host: Jimmy Fallon •
Outstanding Music Composition For A Miniseries, Movie Or A Special (Original Dramatic Score)
American Horror Story: Coven • The Seven Wonders • FX Networks • 20th Century Fox Television
James Levine, Music by
Clear History • HBO • HBO Films
Ludovic Bource, Music by
Fargo • The Crocodile's Dilemma • FX Networks • MGM and FX Productions Jeff Russo, Music by
Herblock: The Black & The White • HBO • The Stevens Company in association with HBO Documentary Films
Rob Mathes, Music by
Sherlock: His Last Vow (Masterpiece) • PBS • Hartswood West for BBC/Cymru Wales in
co-production with Masterpiece
David Arnold, Music by Michael Price, Music by
The White Queen • The Final Battle • Starz • Starz presents in association with Company Pictures (an all 3 Media Company) and Playground Entertainment
John Lunn, Music by
NBC • SNL Studios in association with Universal Television and Broadway Video Lenny Pickett, Music Director
Leon Pendarvis, Music Director Eli Brueggemann, Music Director
The Sound Of Music Live! • NBC • Universal Television, Sony Pictures Television, Storyline Entertainment
David Chase, Music Director
67th Annual Tony Awards • CBS • White Cherry Entertainment
Elliot Lawrence, Music Director Jamie Lawrence, Music Director
Outstanding Original Music And Lyrics
A Christmas Carol – The Concert • Song Title: No Trouble • PBS • Scrooge & Friends LLC Bob Christianson, Music by
Alisa Hauser, Lyrics by
Key & Peele • Substitute Teacher #3 / Song Title: Les Mis • Comedy Central • Central Productions
Joshua Funk, Music by Rebecca Drysdale, Lyrics by
Saturday Night Live • Host: Jimmy Fallon / Song Title: Home For The Holiday (Twin Bed)
• NBC • SNL Studios in association with Universal Television and Broadway Video Eli Brueggemann, Music by
Chris Kelly, Lyrics by Sarah Schneider, Lyrics by Aidy Bryant, Lyrics by Kate McKinnon, Lyrics by
Sofia The First: The Floating Palace • Song Title: Merroway Cove • Disney Channel • Disney Television Animation
John William Kavanaugh, Music by Craig Gerber, Lyrics by
Sons Of Anarchy • A Mother's Work / Song Title: Day Is Gone • FX Networks • Fox 21 Bob Thiele, Music & Lyrics by
Noah Gundersen, Music & Lyrics by Kurt Sutter, Music & Lyrics by
67th Annual Tony Awards • Song Title: Bigger!
• CBS • White Cherry Entertainment
Tom Kitt, Music by
Lin-Manuel Miranda, Lyrics by
Outstanding Original Main Title Theme Music
Black Sails • Starz • Platinum Dunes and Quaker Moving Pictures in association with Starz Originals
Julian Bear McCreary, Theme by
COSMOS: A SpaceTime Odyssey • FOX/NatGeo • Fuzzy Door Productions and Cosmos Studios, Inc. in association with FOX Broadcasting Company and National Geographic Channel
Alan Silvestri, Theme by
Magic City • Starz • Media Talent
Daniele Luppi, Theme by
Sleepy Hollow • FOX • K/O Paper Products in association with 20th Century Fox Television Brian Tyler, Theme by
Robert Grant Lydecker, Theme by
The Spoils Of Babylon • IFC • Funny or Die for IFC
Andrew Feltenstein, Theme by John Nau, Theme by
Outstanding Sound Editing For A Series
Black Sails • I. • Starz • Platinum Dunes and Quaker Moving Pictures in association with Starz Originals
Benjamin Cook, Supervising Sound Editor Iain Eyre, Sound Editor
Sue Cahill, Sound Editor Jeffrey A. Pitts, Sound Editor Tim Tuchrello, Sound Editor Brett Voss, Sound Editor Michael Baber, Music Editor Jeffrey Wilhoit, Foley Artist
James "Jimmy" Moriana, Foley Artist
Boardwalk Empire • White Horse Pike • HBO • HBO Entertainment in association with Leverage, Closest to the Hole Productions, Sikelia Productions and Cold Front Productions
Fred Rosenberg, Supervising Sound Editor Roland Vajs, Sound Editor
Bill Orrico, Sound Editor Annette Kudrack, Music Editor
Ruy Garcia, Sound Effects Editor Jeffrey Stern, Dialogue Editor Steve Visscher, Foley Editor Marko Costanzo, Foley Artist
Breaking Bad • Felina • AMC • Sony Pictures Television
Nick Forshager, Supervising Sound Editor Kathryn Madsen, Supervsing Sound Editor Jason Tregoe Newman, Music Editor
Mark Cookson, Sound Effects Editor Cormac Funge, Sound Effects Editor Jane Boegel, Dialogue Editor
Jeff Cranford, Foley Editor Tim Boggs, Foley Editor Gregg Barbanell, Foley Artist
Dominique Decaudian, Foley Artist
Game Of Thrones • The Watchers On The Wall
• HBO • HBO Entertainment in association with Bighead, Littlehead; Television 360; Startling Television and Generator Productions
Tim Kimmel, Supervising Sound Editor Jed M. Dodge, Supervising Dialogue Editor Tim Hands, Supervising ADR Editor
Paula Fairfield, Sound Designer David Klotz, Music Editor
Bradley C. Katona, Sound Effects Editor Brett Voss, Foley Editor
Jeffrey Wilhoit, Foley Artist Dylan T. Wilhoit, Foley Artist
The Walking Dead • Too Far Gone • AMC • AMC Productions
Jerry Ross, Supervising Sound Editor Michael Baber, Music Editor
Tim Farrell, Sound Effects Lou Thomas, Dialogue Ediitor
Clayton Weber, FoleyArtist
Outstanding Sound Editing For A Miniseries, Movie Or A Special
American Horror Story: Coven • Fearful Pranks Ensue • FX Networks • 20th Century Fox Television
Gary Megregian, Supervising Sound Editor David Klotz, Music Editor
Timothy A. Cleveland, Sound Effects Editor Paul Diller, Sound Effects Editor
Brian Thomas Nist, Sound Effects Editor Steve M. Stuhr, Dialogue Editor
Lance Wiseman, Dialogue Editor Noel Vought, Foley Artist
Bonnie & Clyde • Night Two • Lifetime • Sony Pictures Television
Robert L. Sephton, Supervising Sound Editor / Sound Designer
Pembrooke Andrews, Supervising Dialogue & ADR Editor
Joanie Diener, Music Editor Chato Hill, Dialogue Editor Robert Guastini, Dialogue Editor Mike Pipgras, Foley Editor
Anita Cannella, Foley Artist Amy Kane, Foley Artist
Fargo • The Crocodile's Dilemma • FX Networks • MGM and FX Productions Frank Laratta, Supervising Sound Editor
Kevin Buchholz, ADR Supervisor John Peccatiello, Sound Design Skye Lewin, Music Editor
Jason Lawrence, Dialogue Editor Brent Planiden, ADR Editor Adam DeCoster, Foley Artist Andrew Morgado, Foley Artist
Klondike • Part 1 • Discovery Channel • Discovery Networks in association with Entertainment One and Nomadic Pictures presents
Lee Walpole, Supervising Sound Editor Frank Laratta, Sound Designer
Iain Eyre, ADR Supervisor
Andy Kennedy, Sound Effects Editor Jason Lawrence, Dialogue Editor
Mob City • Oxpecker & Stay Down • TNT • TNT Originals
Matthew E. Taylor, Supervising Sound Editor Rickley Dumm, Sound Effects Editor
Tim Farrell, Sound Effects Editor Jason King, Sound Effects Editor Lou Thomas, Dialogue & ADR Editor Joseph Tsai, Foley Editor
Alyson Dee Moore, Foley Artist John Roesch, Foley Artist
Sherlock: His Last Vow (Masterpiece) • PBS • Hartswood West for BBC/Cymru Wales in
co-production with Masterpiece
Doug Sinclair, Supervising Sound Editor Stuart McCowan, Sound Editor
Jon Joyce, Sound Editor
Paul McFadden, Sound Editor Sue Harding, Foley Artist
Outstanding Sound Editing For Nonfiction Programming (Single Or Multi-Camera)
The Amazing Race • Part Like The Red Sea • CBS • WorldRace Productions, Inc.
Eric Goldfarb, Sound Editor Julian Gomez, Sound Editor Andrew Kozar, Sound Editor Paul C. Nielsen, Sound Editor Jacob Parsons, Sound Editor Andy Castor, Sound Editor Jennifer Nelson, Sound Editor Ryan Leamy, Sound Editor Eric Beetner, Sound Editor Aaron Cross, Sound Editor
Anthony Bourdain: Parts Unknown • Punjab • CNN • Zero Point Zero Productions
Benny Mouthon, Sound Editor Hunter Gross, Sound Editor
COSMOS: A SpaceTime Odyssey • Standing Up In The Milky Way • FOX/NatGeo • Fuzzy Door Productions and Cosmos Studios, Inc. in association with FOX Broadcasting Company and National Geographic Channel
Christopher Harvengt, Supervising Sound Editor Richard S. Steele, Sound Designer
Kevin Meltcher, Sound Editor Jeff Carson, Music Editor
Bob Costanza, Sound Effects Editor Lisa Varetakis, Dialogue / ADR Editor
Bill Bell, Foley Supervisor / Sound Editor Tim Chilton, Foley Artist
Jill Sanders, Foley Artist
Vice • Terrorist University/Armageddon Now
• HBO • HBO Entertainment in association with Vice and Bill Maher Productions
Sean Canada, Sound Editor
The World Wars • Trial By Fire • HISTORY • Stephen David Entertainment for History Tim W. Kelly, Sound Supervisor
Jonathan Soule, Sound Editor Brian McAllister, Sound Editor John Kilgour, Sound Editor Mike Alfin, Sound Editor
Outstanding Sound Mixing For A Comedy Or Drama Series (One Hour)
Breaking Bad • Felina • AMC • Sony Pictures Television
Darryl L. Frank, Production Mixer Jeffrey Perkins, Re-Recording Mixer Eric Justen, Re-Recording Mixer
Downton Abbey • Episode 8 • PBS • A Carnival Films/Masterpiece Co-Production in association with NBC Universal
Alistair Crocker, Sound Mixer Nigel Heath, Re-Recording Mixer Alex Fielding, Re-Recording Mixer
Game Of Thrones • The Watchers On The Wall
• HBO • HBO Entertainment in association with Bighead, Littlehead; Television 360; Startling Television and Generator Productions
Ronan Hill, C.A.S., Production Mixer Richard Dyer, Production Mixer
Onnalee Blank, C.A.S., Re-Recording Mixer Mathew Waters, Re-Recording Mixer
Homeland • Good Night • Showtime • Showtime Presents, Fox 21, Teakwood Lane Productions, Cherry Pie Productions, Keshet Larry Long, Production Sound Mixer
Nello Torri, Re-Recording Mixer Alan Decker, Re-Recording Mixer Larold Rebhun, Scoring Mixer
House Of Cards • Chapter 14 • Netflix • Donen/Fincher/Roth and Trigger Street Productions, Inc. in association with Media Rights Capital for Netflix
Lorenzo Millan, Production Mixer Nathan Nance, Re-Recording Mixer Scott R. Lewis, Re-Recording Mixer
Outstanding Sound Mixing For A Miniseries Or A Movie
American Horror Story: Coven • Fearful Pranks Ensue • FX Networks • 20th Century Fox Television
Bruce Litecky, C.A.S., Production Mixer Joe Earle, C.A.S., Re-Recording Mixer Doug Andham, C.A.S., Re-Recording Mixer
Fargo • The Crocodile's Dilemma • FX Networks • MGM and FX Productions Mike Playfair, Production Mixer
David Raines, Re-Recording Mixer Mark Server, Re-Recording Mixer Chris Philp, Re-Recording Mixer
Killing Kennedy • National Geographic Channel • Scott Free Productions for National Geographic Channels
William Britt, Production Mixer Mark Linden, Re-Recording Mixer Tara Paul, Re-Recording Mixer
Sherlock: His Last Vow (Masterpiece) • PBS • Hartswood West for BBC/Cymru Wales in
co-production with Masterpiece
John Mooney, Sound Mixer
Howard Bargroff, Re-Recording Mixer Doug Sinclair, ADR Mixer
Peter Gleaves, ADR Mixer
Treme • Sunset On Louisianne • HBO • HBO Entertainment in association with Blown Deadline Productions
Bruce Litecky, C.A.S., Production Mixer Andy Kris, Re-Recording Mixer
Blake Leyh, Music Mixer
Outstanding Sound Mixing For A Comedy Or Drama Series (Half-Hour) And Animation
Californication • Kickoff • Showtime • Showtime Presents, Aggressive Mediocrity, And Then…
Daniel Church, Sound Mixer Todd Grace, Re-Recording Mixer
Edward C. Carr, Re-Recording Mixer
Modern Family • The Wedding, Part 1 • ABC • Picador Productions and Steven Levitan Productions in association with 20th Century Fox Television
Stephen A. Tibbo, Production Mixer Dean Okrand, Re-Recording Mixer Brian R. Harman, Re-Recording Mixer
Nurse Jackie • The Lady With The Lamp • Showtime • Showtime Presents, Lionsgate Television, Jackson Group Entertainment, A Caryn Mandabach Production, Clyde Phillips Productions
Jan McLaughlin, Production Sound Mixer Peter Waggoner, Re-Recording Mixer
The Simpsons • Married To The Blob • FOX • Gracie Films in association with 20th Century Fox Television
Mark Linden, Re-Recording Mixer Tara Paul, Re-Recording Mixer
Veep • Detroit • HBO • HBO Entertainment in association with Dundee Productions
Bill MacPherson, Production Mixer Richard Davey, Re-Recording Mixer
Outstanding Sound Mixing For A Variety Series Or Special
The Beatles: The Night That Changed America
• CBS • AEG Ehrlich Ventures, LLC
Larry Reed, Production Mixer Tom Holmes, Production Mixer Al Schmitt, Music Mixer
Giles Martin, Music Mixer
Josh Morton, Re-Recording Mixer
The 56th Grammy Awards • CBS • AEG Ehrlich Ventures, LLC
Tom Holmes, Broadcast Production Mixer Eric Johnston, Playback Mixer
John Harris, Broadcast Music Mixer Eric Schilling, Broadcast Music Mixer
Mikael Stewart, House Production Mixer Ron Reaves, House Music Mixer
Tom Pesa, Stage Mixer Michael Parker, Stage Mixer Pablo Munguia, Playback Mixer
Paul Sandweiss, Package Mixer Bob LaMasney, Sweetening Mixer
The Kennedy Center Honors • CBS • The Stevens Company in association with the John F. Kennedy Center
Tom Holmes, Production Mixer
Paul Sandweiss, Post Mixing (Music) Dave O'Donnell, Post Mixing (Music) Josh Morton, Post Mixing
Patrick Baltzell, FOH Mixer
The Oscars • ABC • Academy of Motion Picture Arts and Sciences
Paul Sandweiss, Production Mixer Tommy Vicari, Orchestra Mixer Biff Dawes, Music Mixer
Pablo Munguia, Protools Mixer
Kristian Pedregon, Post Production Mixer Patrick Baltzell, FOH Mixer
Michael Parker, Monitor Mixer Bob LaMasney, Sweetening Mixer
The Voice • Episode 619A • NBC • Mark Burnett's One Three Inc. and Talpa Media USA in association with Warner Horizon Television Michael Abbott, Production Mixer
Kenyata Westbrook, Production Mixer Robert P. Matthews Jr., Production Mixer John Koster, Production Mixer
Randy Faustino, Music Mixer
Ryan Young, Post Production Mixer
Christian Schrader, Supplemental Audio Mixer Tim Hatayama, Music Mix Recordist
Michael Bernard, Music Sub Mixer Andrew Fletcher, FOH Mixer
Bill Deitzman, Reality Stage Monitor Mixer Eddie Marquez, Production Sub Mixer
Outstanding Sound Mixing For Nonfiction Programming
The Amazing Race • Part Like The Red Sea • CBS • WorldRace Productions, Inc.
Jim Ursulak, Production Mixer
Dean Gaveau C.A.S., Production Mixer Jerry Chabane, Production Mixer
Troy Smith, Re-Recording Mixer
American Masters • Jimi Hendrix: Hear My Train A Comin' • PBS • A Production of Fuse Films and Thirteen's American Masters for WNET
Eddie Kramer, Music Mixing Steve Crook, Re-Recording Mixer
Anthony Bourdain: Parts Unknown • Tokyo • CNN • Zero Point Zero Productions
Brian Bracken, Re-Recording Mixer
COSMOS: A SpaceTime Odyssey • Standing Up In The Milky Way • FOX/NatGeo • Fuzzy Door Productions and Cosmos Studios, Inc. in association with FOX Broadcasting Company and National Geographic Channel
Mark Hensley, Re-Recording Mixer Joel Catalan, Re-Recording Mixer Paul Arnoff, ADR Mixer
David Torres, Foley Mixer
Deadliest Catch • Careful What You Wish For
• Discovery Channel • Original Productions, LLC, a FremantleMedia Company for the Discovery Channel
Bob Bronow, C.A.S., Re-Recording Mixer
Outstanding Special And Visual Effects
Almost Human • Pilot • FOX • Bonanza Productions, Inc. in association with Bad Robot Productions and Warner Bros.
Television
Jay Worth, Visual Effects Supervisor
Robert Habros, On-set Visual Effects Supervisor Curtis Krick, VFX Producer
Steve Melchiorre, VFX Producer Michael Cliett, VFX Lead
Christopher Lance, Digital Effects Supervisor David Beedon, CG Supervisor
Adam Stern, Lead Environment Designer Jared Jones, 2D Lead
COSMOS: A SpaceTime Odyssey • The Immortals • FOX/NatGeo • Fuzzy Door Productions and Cosmos Studios, Inc. in association with FOX Broadcasting Company and National Geographic Channel
Rainer Gombos, Lead Visual Effects Supervisor Addie Manis, Visual Effects Producer
Natasha Francis, Visual Effects Producer Luke McDonald, Digital Supervisor
Sam Edwards, Compositing Supervisor Michael Maher, Visual Effects Concept Artist Dominic Vidal, Visual Effects
Ryan Tudhope, Visual Effects Ergin Kuke, Visual Effects
Game Of Thrones • The Children • HBO • HBO Entertainment in association with Bighead, Littlehead; Television 360; Startling Television and Generator Productions
Joe Bauer, Lead Visual Effects Supervisor Joern Grosshans, Visual Effects Supervisor Steve Kullback, Lead Visual Effects Producer Adam Chazen, Visual Effects Coordinator Eric Carney, Visual Effects Previs Lead
Sabrina Gerhardt, Visual Effects Animation Producer
Matthew Rouleau, CG Supervisor
Thomas H. Schelesny, CG Sequence Supervisor Robert Simon, Visual Effects Concept Designer
The 100 • We Are Grounders, Part 2 • CW • Bonanza Productions in association with Alloy Entertainment, Warner Bros. Television and CBS Television Studios
Andrew Orloff, Digital Effects Supervisor Michael Cliett, Visual Effects Supervisor Tyler Weiss, Visual Effects Producer Kornel Farkas, 2D Lead Compositor Chris Pounds, Compositor
Andrew Bain, 3D Lead Artist Mike Rhone, FX Lead Artist
Marvel's Agents of S.H.I.E.L.D. • T.A.H.I.T.I. • ABC • ABC Studios in association with Marvel Television
Mark Kolpack, Visual Effects Supervisor Gary D'Amico, Special Effects Supervisor
Sabrina M. Arnold, Lead Visual Effects Producer Tracy Takahashi, Visual Effects Producer Jonathan Tanimoto, Digital Effects Supervisor Kevin Lingenfelser, Senior Lead Compositor Matt Von Brock, Senior Lead CG Artist
Thomas Mahoney, Senior Lead CG Artist Mitch Gates, Lead CG Artist
Outstanding Special And Visual Effects In A Supporting Role
Black Sails • I. • Starz • Platinum Dunes and Quaker Moving Pictures in association with Starz Originals
Erik Henry, Senior Visual Effects Supervisor Paul Graff, Visual Effects Supervisor George Murphy, Visual Effects Supervisor Annemarie Griggs, Visual Effects Producer Mitch Claspy, Visual Effects Coordinator
Jeremy Hattingh, Visual Effects On-set Lead Doug Hardy, Special Effects Lead
Nick Hsieh, Compositing Lead Steve Messing, Matte Artist
Da Vinci's Demons • The Sins of Daedalus • Starz • Starz presents an Adjacent Production in association with Phantom Four Films
Tom Horton, Series VFX Supervisor/Producer Nicky Walsh, Visual Effects On-set Supervisor Paul Simpson, VFX Supervisor
Gavin Gregory, VFX Producer
Simon A. Mills, VFX Production Manager Louis Dunlevy, 3D Lead
Paul Round, 2D Lead Stefan Susemihl, 2D Lead Alex Snookes, 2D Artist
Hawaii Five-0 • Ho'onani Makuakane • CBS • Kurtzman Orsi Paper Products, 101st Street Television, CBS Productions
Armen V. Kevorkian, Visual Effects Supervisor Alexander G. Soltes, Visual Effects Producer John Hartigan, Special Effects Coordinator Jane Sharvina, 2D Supervisor
Rick Ramirez, 3D Supervisor Dan Lopez, 3D Lead Artist Steve Graves, 3D Artist
Andranik Taranyan, Lead Compositing Artist Chad Schott, Compositing Artist
Mob City • A Guy Walks Into a Bar • TNT • TNT Originals
Jason Maxwell Sperling, Visual Effects Supervisor Richard E. Cordobes, Special Effects Supervisor Michael Joseph Morreale, Visual Effects Producer Michael Enriquez, Lead 3D Artist
Valeri Ann Pfahning, Lead 2D Artist William L. Arance, 3D Artist
Megan Ellen Omi, 2D Artist Diego Galtieri, 2D Artist Franco Leng, 2D Artist
Vikings • Invasion • HISTORY • An Octagon and Take 5 production in association with Metro-Goldwyn-Mayer for History
Dominic Remane, Visual Effects Supervisor Dennis Berardi, Senior Visual Effects Producer Michael Borrett, Visual Effects Producer
Bill Halliday, Visual Effects Producer Ovidiu Cinazan, Lead Compositor Jim Maxwell, Lead Matte Painter
The Walking Dead • 30 Days Without An Accident • AMC • AMC Productions Victor Scalise, VFX Supervisor
Darrell Dean Pritchett, Special FX Supervisor Matt Robken, VFX Producer
Gary Romey, VFX Coordinator Martin Hilke, Lead 2D Artist Diego Galtieri, Senior 2D Artist Michael Cook, Lead CG Artist
William L. Arance, Senior CG Artist Dylen Velasquez, 2D Artist
Outstanding Stunt Coordination For A Comedy Series Or A Variety Program
Brooklyn Nine-Nine • FOX • Universal Television, Fremulon, Dr. Goor Productions and 3 Arts Entertainment
Norman Howell, Stunt Coordinator
Community • NBC • Krasnoff/Foster Entertainment, Harmonious Claptrap production in association with Universal Television and Sony Pictures Television Casey Charles O'Neill, Stunt Coordinator
It's Always Sunny In Philadelphia • FX Networks • FX Productions
Marc Scizak, Stunt Coordinator
Sam & Cat • Nickelodeon • Nickelodeon in association with Schneider's Bakery, Inc. Vince Deadrick, Jr., Stunt Coordinator
Shameless • Showtime • Showtime Presents, John Wells Productions, Warner Bros.
Television
Julie Michaels, Stunt Coordinator
Outstanding Stunt Coordination For A Drama Series, Miniseries Or Movie
The Blacklist • NBC • Sony Pictures Television and Davis Entertainment
Cort L. Hessler III, Stunt Coordinator
Game Of Thrones • HBO • HBO Entertainment in association with Bighead, Littlehead; Television 360; Startling Television and Generator Productions
Paul Herbert, Stunt Coordinator
Grimm • NBC • Universal Television and Hazy Mills
Matt Taylor, Stunt Coordinator
Hawaii Five-0 • CBS • Kurtzman Orsi Paper Products, 101st Street Television, CBS Productions
Jeff Cadiente, Stunt Coordinator
Revolution • NBC • Bonanza Productions in association with Bad Robot Productions, Kripke Enterprises and Warner Bros.
Television
Jeff Wolfe, Stunt Coordinator
True Blood • HBO • HBO Entertainment in association with Your Face Goes Here Entertainment
Hiro Koda, Stunt Coordinator
Outstanding Technical Direction, Camerawork, Video Control For A Series
The Big Bang Theory • The Locomotive Manipulation • CBS • Chuck Lorre Productions, Inc. in association with Warner Bros. Television
Brian (Army) Armstrong, Camera John Pierre Dechene, Camera Ray Gonzales, Camera
James L. Hitchcock, Camera
Richard G. Price, Camera
John D. O'Brien, Video Control
The Daily Show With Jon Stewart • Episode 18153 • Comedy Central • Central Productions, LLC
Andre Allen, Technical Director Tom Dowling, Camera
Tim Quigley, Camera Phil Salanto, Camera Rich York, Camera
Paul Ranieri, Video Control
Dancing With The Stars • Episode 1711A • ABC • BBC Worldwide Productions
Charles Ciup, Technical Director Bert Atkinson, Camera
Larry Heider, Camera Bettina Levesque, Camera Dave Levisohn, Camera Mike Malone, Camera Adam Margolis, Camera Rob Palmer, Camera Hector Ramirez, Camera Brian Reason, Camera
Seth Saint Vincent, Camera Damien Tuffereau, Camera Easter Xua, Camera
Chris Gray, Video Control
Jimmy Kimmel Live • In Austin • ABC • ABC Studios in association with Jackhole Industries
Ervin D. Hurd, Technical Director Parker Bartlett, Camera
Randy Gomez, Camera Greg Grouwinkel, Camera Garret Hurt, Camera Ritch Kenney, Camera Bernd Reinhardt, Camera Kris Wilson, Camera
Guy Jones, Video Control
Saturday Night Live • Host: Jimmy Fallon • NBC • SNL Studios in association with Universal Television and Broadway Video Steven Cimino, Technical Director
Paul Cangialosi, Camera Joe DeBonis, Camera Kurt Decker, Camera
Eric A. Eisenstein, Camera Barry Frischer, Camera John Pinto, Camera
Len Wechsler, Camera
Frank Grisanti, Senior Video Control Susan Noll, Senior Video Control
The Voice • Episode 519A • NBC • Mark Burnett's One Three Inc. and Talpa Media USA in association with Warner Horizon Television Allan Wells, Technical Director
Diane Biederbeck, Camera Danny Bonilla, Camera Manny Bonilla, Camera Suzanne Ebner, Camera Guido Frenzel, Camera Alex Hernandez, Camera Dave Hilmer, Camera Marc Hunter, Camera Scott Hylton, Camera
Katherine Iacofano, Camera Scott Kaye, Camera
Steve Martyniuk, Camera Jofre Rosero, Camera Steve Simmons, Camera
Terrance Ho, Senior Video Control
Outstanding Technical Direction, Camerawork, Video Control For A Miniseries, Movie Or A Special
The Oscars • ABC • Academy of Motion Picture Arts and Sciences
Eric Becker, Technical Director Rick Edwards, Technical Director John Pritchett, Technical Director Rob Balton, Camera
Danny Bonilla, Camera
Robert Del Russo, Camera David Eastwood, Camera Suzanne Ebner, Camera Patrick Gleason, Camera Marc Hunter, Camera
Jay Kulick, Camera Brian Lataille, Camera Dave Levisohn, Camera Tore Livia, Camera
Steve Martyniuk, Camera Lyn Noland, Camera
Rob Palmer, Camera David Plakos, Camera Jofre Rosero, Camera Danny Webb, Camera Mark Whitman, Camera Easter Xua, Camera
Terrance Ho, Video Control Guy Jones, Video Control Keith Winikoff, Video Control
Sochi 2014 Olympic Winter Games Opening Ceremony • NBC • NBC in association with FiveCurrents
Mark Causey, Technical Director Michael Aagaard, Camera
Cody Alexander, Camera Michael Borowski, Camera Sam Brattini, Camera John Chupein, Camera Richard Fox, Jr., Camera Keith Greenwood, Camera Michael Harvath, Camera Kevin Kellogg, Camera
Ed Krivis, Camera Richard Leible, Camera Tore Livia, Camera James Mansfield, Camera Brian Phraner, Camera John Pinto, Camera
Rick Rice, Camera Thomas Stone, Camera Nick Utley, Camera Ken Woo, Camera
The Sound Of Music Live! • NBC • Universal Television, Sony Pictures Television, Storyline Entertainment
Emmett Loughran, Technical Director Robert Muller, Technical Director
Rob Balton, Camera Jerry Cancel, Camera Lesley Hankey, Camera Ray Hoover, Camera Charlie Huntley, Camera Andrew Jansen, Camera Jay Kulick, Camera
Jeff Latonero, Camera Pat Minietta, Camera Brian Phraner, Camera
Claus Stuhl Weissenburg, Camera Mark Whitman, Camera
Susan Noll, Video Control Yoneet Solange, Video Control
67th Annual Tony Awards • CBS • White Cherry Entertainment
Eric Becker, Technical Director Mike Anderson, Technical Director Rob Balton, Camera
Robert Del Russo, Camera Charlie Huntley, Camera Ernie Jew, Camera
John Kosmaczewski, Camera Jay Kulick, Camera
Tore Livia, Camera
John Meiklejohn, Camera Lyn Noland, Camera
Jim Tufaro, Camera Mark Whitman, Camera
Paul Ranieri, Video Control Ka-Lai Wong, Video Control