Glen here…
…with a few tidbits from the WHOverse, and Docbacker HornOrSilk's review of The Abandoned Big Finish audio - a tale co-authored by Louise Jameson, who DW viewers may remember as Leela, companion to fourth Doctor Tom Baker.
DOCTOR WHO EXTRA COMING
Today BBC announced DOCTOR WHO EXTRA, an interesting sounding Behind the Scenes shown evidently chronicling the making of Season/Series 8 proper.
Doctor Who Extra is much more than a 'making of' show as we follow Peter Capaldi every step of the way throughout the creation of his first season as the Doctor. Over the course of 12 programmes we trace the highs and lows of Doctor Who's most ambitious run of episodes yet, getting the inside take on series 8 from the people who made it.
The Doctor Who Extra team had unparalleled access to stars including Peter Capaldi, Jenna Coleman and Samuel Anderson (series regular Danny Pink) plus guests Frank Skinner, Keeley Hawes, Michelle Gomez, Ben Miller, Foxes and many more. Writers, such as Lead Writer and Executive Producer Steven Moffat, and directors also contribute as they spill the beans on the on and off-screen drama.
More on DWE can be found HERE.
ONE BIT OF FALLOUT FROM THOSE RECENTLY LEAKED SCRIPTS AND WORKPRINTS…
Folks in Germany won't have a dubbed version of Deep Breath, this weekend's inaugural Season/Series 8 episode, prepared in time.
Dear FOX-fans, it is our goal to present to you German premieres as near as possible to their world premieres - in the original language and in german. We did this successfully with THE WALKING DEAD, THE BRIDGE - AMERICA and DA VINCI'S DEMONS. That is why we were proud to announce a simulcast broadcast to the UK premiere of Series 8 of DOCTOR WHO. And your very positive feedback showed us that this is the right thing to do.

During producing of the show a script was leaked to the public ( http://bit.ly/1tgwjcR ) which lead to advanced security politics and later arrivals of material and dubbings. This is the reason why we are only able to fulfill one part of our promise: You will be able to experience Series 8 of DOCTOR WHO on FOX on the same day as the UK, but only in its original version. We are very sorry! The German episodes will be presented to you on your VoD account at Sky and Kabel Deutschland. As soon as they are available, you will get a notice from us here at Facebook.
More via Fox Deutchland and Doctor Who News.
HORNORSILK REVIEWS THE ABANDONED BIG FINISH AUDIO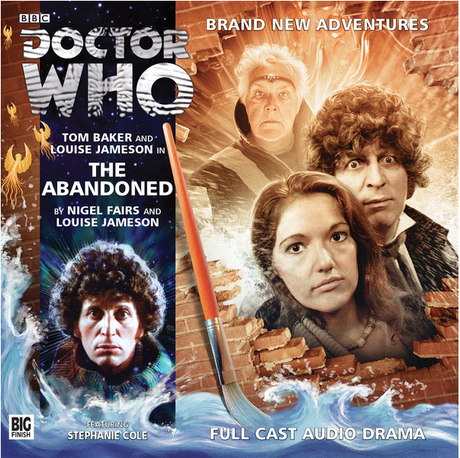 Fourth Doctor Adventures 3.07 The Abandoned
Written By: Nigel Fairs and Louise Jameson
This is a rather special audio being that it was co-written by Louise Jameson (the actress who played Leela). And, as the commentary at the end of the audio explained, Nigel Fairs and Louise Jameson truly wrote it together, so that it wasn't just Louise writing the Leela aspects of the story (which some might think would happen). They had a general understanding of what they wanted to accomplish, and so they could alternate the parts they were writing, so that even if she started by writing for her own character (which she knows better than anyone else), she moved beyond Leela and focused more on the rest of the story and everyone else in it.
Before going any further, this is a good reason for any Who fan, especially a fan of the Fourth Doctor, to find a way to listen to this audio. It is a good first story for Louise Jameson. It is far from perfect (often with the same problems many Big Finish audios have had lately, such as being too short for the Fourth Doctor stories), but it is good, and Louise shows such promise that I would like to see what she could do if she wrote a story by herself, focusing perhaps on a Doctor she didn't work with.
I want Sylvester with Leela and Ace.
Now to the adventure itself. It's TARDIS centered. The Fourth Doctor and Leela find strange phantoms coming to life in the TARDIS, phantoms which have a way of manipulating them, even influencing the way they think. It is Leela, moreover, and her explorations within the TARDIS and what she found within it, which brought their threat into the TARDIS.
In this way, the story is like the early Hartnell adventure, "The Edge of Destruction." Since it is TARDIS centered, many things which happen were reminiscent of the way the TARDIS communicates in that story, so much so that I wondered about the phantoms and their relationship to the TARDIS. Was the TARDIS trying to say something?
Of course, when the identity of the phantoms is established, this does not mean the TARDIS is doing nothing. As we find out, the TARDIS is a character in this story, not only because it might be trying to communicate with the Doctor and Leela, but also because its history and past operator is explored in this story. While it might feel a bit of a retcon, a plot point coming out of nowhere, we are now given a glimpse of the TARDIS's previous user, and the kind of life and crimes she was associated with. This person, this Time Lord, the Lady Marianna (played by Stephanie Cole), is more than a little crazy, more than a little villainous, holds the key to what is happening as well as to the solution of the tale. She is a Time Lord, and so like the Master, whatever character flaws she has, there is still something within her which can allow her some shade of nobility, especially since her crime is more like the Rani than the Master in intention.
But it must be made clear. There are real villains, villains trying to use the TARDIS for their own end. These phantoms cause a serious concern for the Doctor, Leela, and eventually Marianna. Llike "The Edge of Destruction," there are many insane events happening within the TARDIS, and in audio form, making it important for the listener to pay attention and possibly relisten to grasp what really was taking place.
But what is important to this audio is the relationship of the Doctor and Leela, something that Louise helps by knowing it and how to portray it better than anyone else. We begin with the Doctor is in a teaching spirit. In some ways, the problems of this story come out of this. He explains to Leela the Time Lord mathematical-scientific concept, the "Point of Stillness." How he does so is a part of the early charm, because it is entirely the kind of insanity expected with Tom Baker's Doctor. And yet, how he does this and what he says ends up being relevant to the whole story. Instead of explaining it, it is best to keep silence on it, so that you can enjoy the Doctor's presentation of it better and appreciate how it connects to the story as a whole (plus, there really is no way to speak about it).
Without giving more away, this story has its ups and downs. It is a style which has been done but not often in Doctor Who (Edge of Destruction, Mind Robber, and similar stories) but it does so in a new fashion, and does so adding a new dimension to the myths which underlie the Doctor Who universe. Due to the way Big Finish likes to use its own myths, I expect they will be further addressed, and we might find a way for Lady Marianna to have more stories and encounters with the Doctor (with a typical sci-fi way to retcon what happened in this story).
I rate this audio a high 8/10, and recommend it for anyone interested in the Fourth Doctor and his era, due to the added interest of having Louise Jameson co-write it. As expected, she gets the spirit of the Doctor and Leela right and this is a highlight of the story. While the rest of the plot might have served as dressing to highlight such characterization, that is a simple plot allowing the Doctor and Leela to interact without much concern for a story, this did not happen here. There is something substantial in this story: it is no mere phantom menace.
-- HornOrSilk
---------------------------------------
————
Glen Oliver
"Merrick"
- e-mail
- Twitter
DOCBACK CODE OF CONDUCT

1) a Docback should be about completely open and free discourse regarding all things WHO with, obviously, some variation on subject matter from time to time - the real world intervenes, discussions of other shows are inevitable, etc....

2) converse, agree, disagree, and question as much as you want - but the freedom to do so is NOT a license to be rude, crass, disrespectful, or uncivilized in any way. Not remaining courteous and civil, as well as TROLLING or undertaking sensational efforts to ignite controversy, will result in banning. Lack of courtesy may receive one (1) warning before a ban is instigated. Obvious Trolling or Spamming will result in summary banning with no warning.