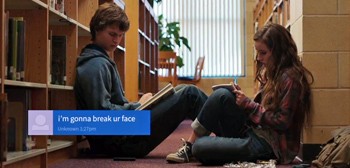 This teaser for Jason Reitman's adaptation of Chad Kultgen's MEN, WOMEN & CHILDREN definitely surprised me. I don't know what I was expecting, but it wasn't necessarily this. At least in this peek, the central premise seems to be that social media is dictating the way we interact in contemporary society, from childhood flirtations all the way to middle-aged married life. The on-screen texting and typing thing has been done well going back to Fincher's SOCIAL NETWORK, but here, the juxtaposition between the evident humanity of the characters and the chilliness of their sparse back-and-forth messaging adds a ton of emotional impact.
And check out Sandler all pathetic, ordering prostitutes! Always great to see him go the sad, serious route.
This looks like a worthy addition to Reitman's filmography. We'll know more about its level of quality when it plays Toronto next month.
-Vincent Kim-Zahedi
"Papa Vinyard"
vincentzahedi@gmail.com
Twitter