Hey Yo, Draven here.
Paul Thomas Anderson's INHERENT VICE was recently announced as the centerpiece gala of this year's New York Film Festival. So with the film set to make its grand debut in just a month and a half on October 5th, we still haven't seen almost anything from the film yet.
Well that should change shortly, as the first look at Josh Brolin's character, Bigfoot Bjornsen was revealed by EW (via P.T.A's personal blog) with this image: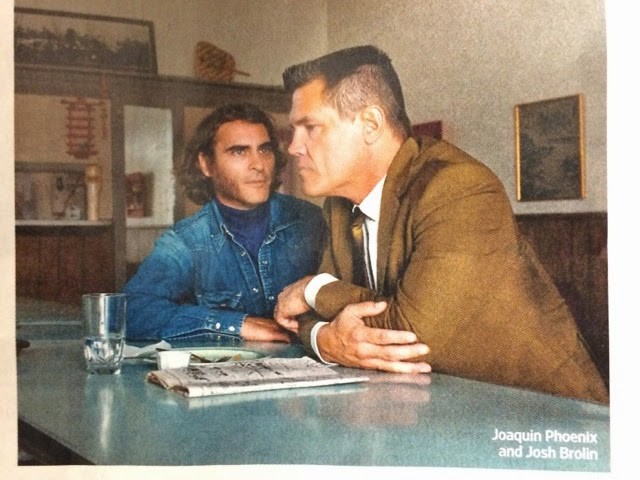 That's not all though, as EW also confirmed a running time of 148 minutes and had this nice little write up in their most recent issue:
"Following the Oscar nods and "Is it really about Scientology?" innuendo that greeted his 2012 film The Master, writer-director Paul Thomas Anderson takes a left turn into '70s noir - and a cloud of marijuana smoke - with his psychedelic crime romp Inherent Vice. Adapted from Thomas Pynchon's gonzo 2009 novel, Vicestars Joaquin Phoenix as Larry "Doc" Sportello, a shambling SoCal PI investigating the disappearance of his ex-girlfriend's wealthy boyfriend. Along the way, he uncovers a pileup of conspiracies and faked deaths, heroin cartels and pimps. The cast includes Josh Brolin as a hippie-hating L.A. cop, Owen Wilson as a surf-band saxophonist, and Reese Witherspoon as a deputy DA and Doc's part-time squeeze.

Anderson draws inspiration from a certain hard-boiled Raymond Chandler classic as well as the stoner stalwarts behind Up in Smoke. "Paul said it has elements of The Long Goodbye and Cheech & Chong," says Katherine Waterston, the newcomer (and daughter of Law & Order's Sam Waterston) who plays the femme fatale. "It's hard to explain tonally." (Maybe The Bong Goodbye?) And in a film that swings between suspense and absurdity, prepare for a bit of magical realism. "A piece of fruit plays a major role. It's frozen. And it's my friend," teases Brolin. "Even talking about it now is making me chuckle.""
I know it can be easy to forget about a lot of these upcoming "smaller" films when we are in the middle of blockbuster season, but if any of the early buzz is to be believed on INHERENT VICE, this is going to be a film that will be discussed through the end of the year. I really can't wait to see it because it sounds insane and like something completely different than anything P.T.A has done before.
Follow me on Twitter here!