Hey Yo, Draven here.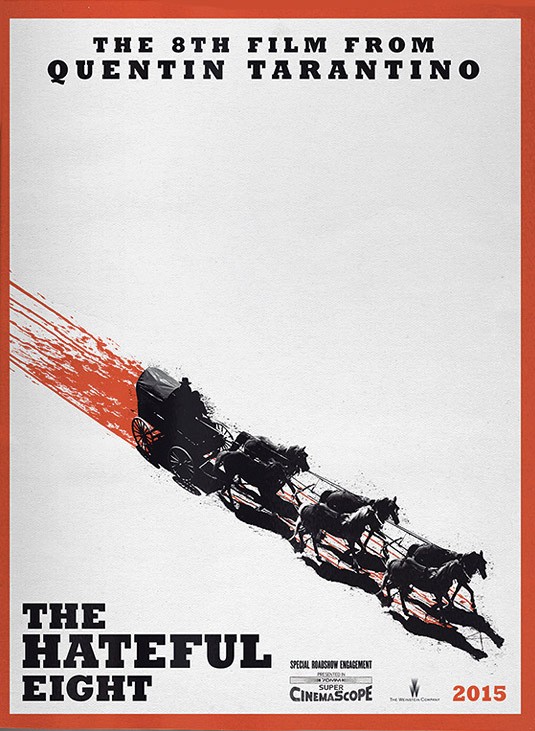 I was just talking to somebody today about how little buzz there is on SIN CITY: A DAME TO KILL FOR, and the buzz that is there is pretty negative. (It's barely over an hour and a half long!) Almost a decade after the original film's release, it seems that just too much time has passed and SIN CITY 2 is likely to become one of the big financial disappointments of this summer.
Today though, it was revealed (via /Film) that an exclusive trailer for Quentin Tarantino's next film, HATEFUL EIGHT will be attached exclusively to SIN CITY: A DAME TO KILL FOR and will not be made available online. So, the only way you are going to get to see (legally) the HATEFUL EIGHT trailer is if you go and see Tarantino's best friend, Robert Rodriguez's film. (Now, that's a best friend!)
Seeing as that filming is not scheduled to begin on HATEFUL EIGHT until late this year, the teaser trailer probably won't feature any footage but it is Tarantino and so you know it is going to be interesting. That is why I will consider paying to see SIN CITY 2, even though I don't have a lot of interest in it.
Enough about me though, will the promise of seeing an exclusive trailer for Tarantino's HATEFUL EIGHT get you to pay to see Robert Rodriquez's SIN CITY: A DAME TO KILL FOR?
Follow me on Twitter here!