Glen here…
The coming of a new Season/Series of DOCTOR WHO is most assuredly upon us: BBC's promo machine is churning into full gear, sundry news bits abound, plot and casting rumors are swirling, I'm once more suspended in a state of annoyingly perpetual uncertainty in my dealings with BBC America, and Lindalee is busily prepping for another stream of DW reviews over at Beyond The Marquee.
Below you'll find an assemblage of DWish news bits - some of which have appeared here on AICN over the past week, some of which are fresh and newish. Be sure to read carefully - one of those news bits in particular may set your mind swirling. A great deal seems to be happening in the DWverse at the moment - feel free to share more info morsels in the Docback below, and I'll also update this article over the weekend should any significant developments arise.
NEXT WEEK will bring us Deep Breath - Peter Capaldi's first full appearance as the Doctor, and the first episode of Season/Series 8. As we've perpetuated over the past few years, there will be a dedicated Docback to this episode and all episodes of Season/Series 8. Please take a moment to re-familiarize yourselves with the 'Code of Conduct' posted below - we tend to take it seriously, it seems to work out nicely, and we remain wholly invested in the Docback remaining a friendly, constructive, snark-free zone. This is not the average AICN Talkback. This is not the average internet message board. There are plenty of other avenues to explore elsewhere if strife, combat, and insult are what you're hoping to find. If you're looking for a very smart, very friendly and welcoming lot to chat with? Join in, welcome back, and/or and welcome aboard!
THE FIRST OFFICIAL PROMO DEDICATED EXCLUSIVELY TO DEEP BREATH (INSTEAD OF S8 ON THE WHOLE) HIT THIS WEEK…
LINDALEE GOES TO NEW YORK FOR DEEP BREATH
As mentioned above, Beyond the Marquee's Lindalee is gearing up for another Season/Series of coverage. Her first stop? Last night's screening/Q&A in New York City.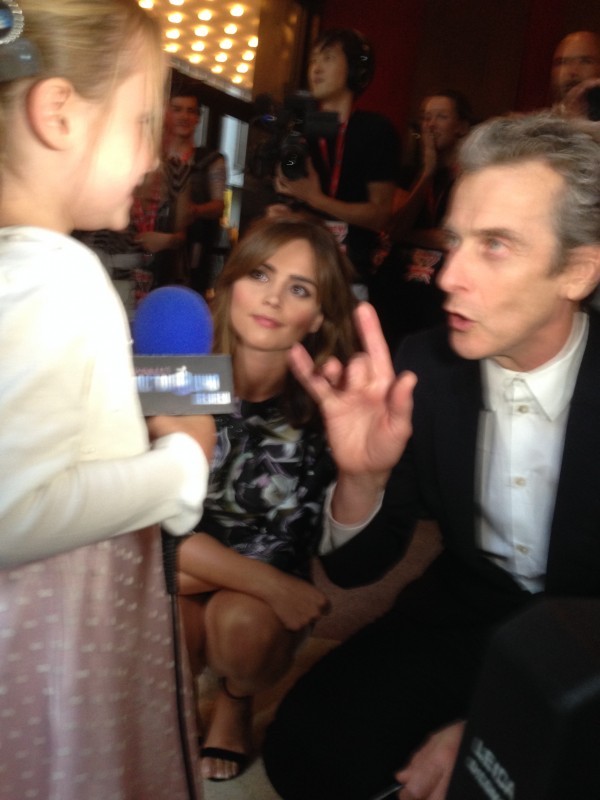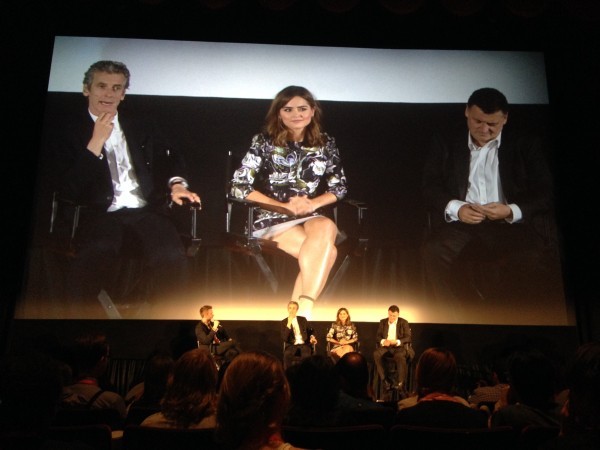 You can find further photos and details HERE. A video report of her adventure should be coming next week.
AMERICAN DIRECTOR RACHEL TALALAY DISCUSSES DIRECTING DW S8
We've known for a while now that American filmmaker Rachel Talalay (ALLY McBEAL, FREDDY'S DEAD: THE FINAL NIGHTMARE, TANK GIRL, SUPERNATURAL, HAVEN) would be helming two episodes of DOCTOR WHO's upcoming Season/Series, which debuts August 23.
In an interesting interview with The Globe and mail, Talalay reveals more about her experience on the show - discussing exactly which episodes she's shooting.
What can you tell me about the episodes you worked on?

I am doing the two-part finale. Both parts were written by Steven Moffat, which is fantastic. There's so much action and effects and emotional material. It's a Cyberman episode. We shot in London for two days. One day we shot outside St. Paul's Cathedral. There were a billion tourists circling us while we were trying to film. Part of what we were tasked to do was replicate some classic shots – from the sixties show – of the Cybermen outside St. Paul's. It's a whole new story.

What was that day at St. Paul's like?

We had a big scene with Peter Capaldi and Michelle Gomez – a dialogue scene. We had about seven hours of shooting and quite a bit of material to cover. I didn't factor in that we were basically given five-minute periods to shoot, then we had to let pedestrians cross. So for every five minutes of shooting, we had about 20 minutes of moving pedestrians. It was very hot as well, which made it also very hard. The Cybermen were scorching hot in their suits. You're all the time worried they're going to pass out.

You're trying not to have all your scenes prerecorded and posted on people's iPhones and on the Internet before you have finished your own shooting. You're trying your hardest just to keep focused. You just go, 'Here are my priority shots. Here's the absolute minimum we need to get, and let's just stay concentrated on that.'
You can read more insight from Talalay HERE, including show overlord Steven Moffat's comments as to why she was hired, her assessment on Peter Capaldi's assumption of the lead role, DOCTOR WHO's overall longevity, and more.
Talalay's involvement with S8 is very, very interesting indeed. Yes, she is clearly and notably a woman…and female directors seem to be in painfully short supply both here in the US and in the UK…and on DOCTOR WHO. Perhaps more consequential to DOCTOR WHO on the whole, however, is the fact that she's North American and not British - which very much goes against the show's long-standing tradition of sourcing directors from either UK, or relatively nearby.
Over the weekend, I commented in a Docback regarding how wonderful it was to see BBC acknowledging the impact of DOCTOR WHO's global fan base by way of livestreaming the current World Tour of Season 8's stars and showmakers. It's hard not to wonder if, perhaps, injecting an American director into the series - especially for what is sure to be a high-profile, two part episode - represents increased a similarly synergy between The Powers That Be in the UK, and their contingents across the pond. And, if this ultimately proves to be the case, might other American directors find their way to DW's director's chair? Who would be fun to see take a stab at an episode?
PETER CAPALDI DISCUSSES HIS VERY FIRST DAY AS THE DOCTOR / MATT SMITH'S LAST MINUTE GIFT TO HIM
YETI NEEDED
The Odeon cinema at Eagles Meadow in UK is attempting to trace folks who appeared in the apparently/presumed lost Troughton-era DOCTOR WHO adventure The Abonimable Snowmen (Story #38).
Actors who starred as Yetis in the 1967 series The Abominable Snowmen are being offered free tickets to a live screening of the new series.
[EDIT]
The Odeon cinema at Eagles Meadow in Wrexham is trying to trace anybody who played a role in the programmes shot in Gwynedd nearly 50 years ago, either as an actor, extra or production crew.
…says THIS piece at BBC, which includes some fun images from then long-missing episode's filming in Snowdonia. A few of them are presented herein, check the article for more shots.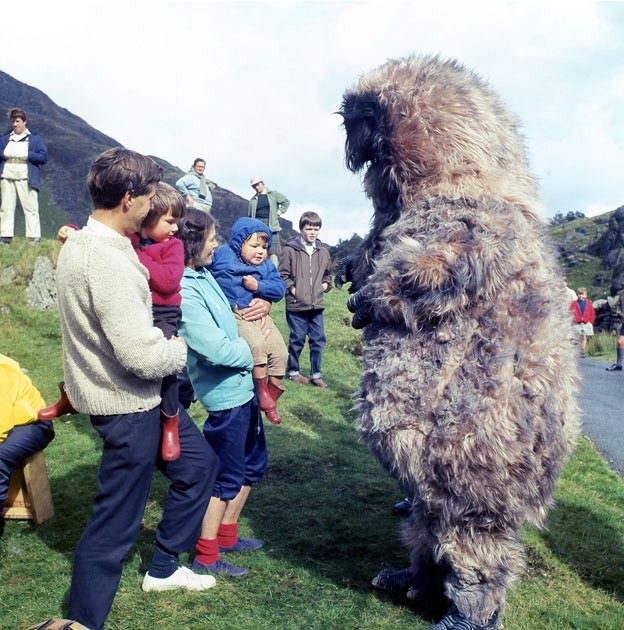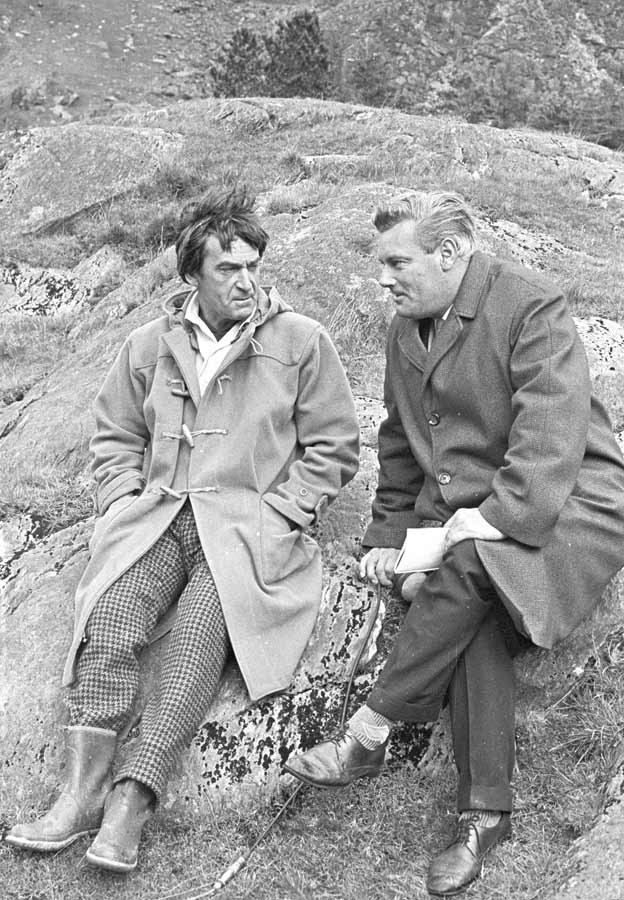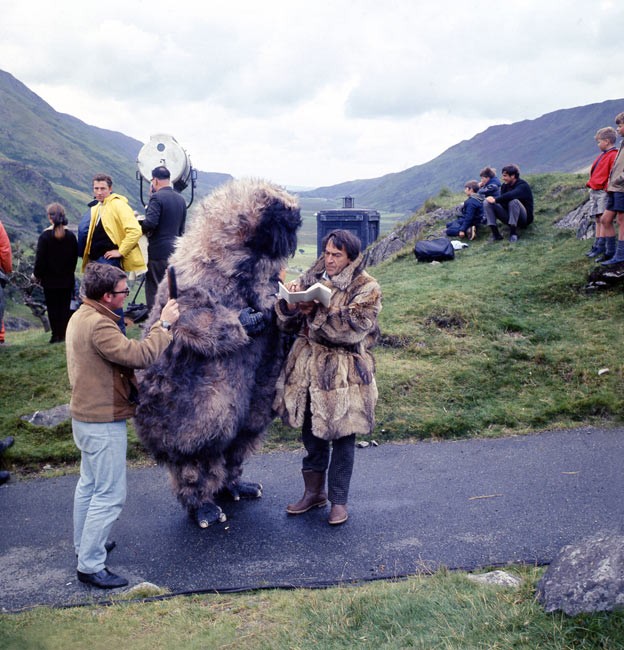 CAPALDI HINTS AT INTERESTING S8 REVEAL
Incoming Doctor Peter Capaldi, who launches the 8th Season/Series of DOCTOR WHO on August 23, offered an interesting aside during a recent interview with Australian radio station Triple J.
When asked about whether Capaldi's previous appearances in the WHOverse might somehow be folded into the current storyline, he pointedly responded…
"Yeah…"
[EDIT]
"But you also have to question who that character was in Pompeii. Perhaps he was not who he said he was…"
Capaldi's comment is interesting given a number of long-lived rumors that S8 would somehow connect Capaldi's character to his previous appearances in the show (the Tennant-era Fires of Pompeii and in TORCHWOOD: CHILDREN OF EARTH, a DWverse spinoff). Said connection to Capaldi's past appearances was apparently generated by previous DW show runner Russell T. Davies. Said current WHO Overlord Steven Moffat in THIS Radio Times interview:
"We are aware that Peter Capaldi's played a part in Doctor Who before and we're not going to ignore the fact," Moffat told Nerd3. "I'll let you in on this. I remember Russell told me he had a big old plan as to why there were two Peter Capaldis in the Who universe, one in Pompeii and one in Torchwood. When I cast Peter, [Russell] got in touch to say how pleased he was, I said 'Okay, what was your theory and does it still work?' and he said 'Yes it does, here it is'. So I don't know if we'll get to it… we'll play that one out over time. It's actually quite neat".
While Moffat's earlier statement above definitely implies that the matter of previous Capaldi appearances would be touched on at some point, Capaldi's comments on Tripple J are our strongest confirmation yet that The Fires Of Pompeii would indeed be revisited in some fashion this Season/Series, as opposed to either being a rumor, or 'something to consider for a future date.'
Audio of the interview can be found HERE.
CAPALDI'S ANSWER REGARDING HIS RETURN FOR S9 IS RATHER INTRIGUING
During his World Tour stop in Sydney, Peter Capaldi was questioned about whether or not he has already signed on for Season/Series 9 of the show. There have recently been hugely conflicting indicators regarding whether or not he's already been set to return.
Capaldi's answer did little to clarify the matter. In fact, his response raises even more, and potentially very intriguing and provocative, questions.
"Well I think you have to watch and see."

Capaldi did say he thinks it'll take until around episode 6 or 7 of Series 8 until fans will really know who this new Doctor is, what he was like and where he was going… "But I'm not sure where he's going next time – if he is around next time…"
Some fan circles have noted that the Smith —->Capaldi regeneration seemed peculiarly abrupt - is it possible that this might, in some way, give rise to a more temporary status for Capaldi doc? Maybe he was "misborn", or something? Or, might his questing "am I a good man?" so prominently in the show's current promotion signify…a Valeyard? We already know there's a "Gatekeeper of the Nethersphere" character on the show this Season/Series - might Capaldi's status as the Doctor have something to do with her, or Capaldi's appearance in The Fires of Pompeii (see above)? Or both? Or none of the above?
CAPALDI'S ENTRANCE AT SYDNEY WORLD TOUR APPEARANCE
Q&A FROM WORLD TOUR STOP IN SEOUL
You may have notcied a few Docbackers and me kicking around the host and presentation of the World Tour stop on Soul in last weekend's post. Here's a sampling of that event.
HIGHLIGHTS FROM THE WORLD TOUR STOP IN SYDNEY
I believe this one's a tad shorter than Seoul as its edited (if I understand correctly, The Powers That Be decided to screen Deep Breath first, then hold a Q&A - they did the it other way around in Seoul. Thus spoilers were excised from this embed…)
FOR THOSE WHO MISSED THE QUICKLY BANISHED LEAK OF S8's AWESOMELY REVAMPED OPENING TITLES...
DOCTOR WHO SERIES 8 OFFICIAL TITLE SEQUENCE
by TheDoctorGab
BBC ISSUES OFFICIAL SYNOPSIS FOR DWS08E02
A Dalek fleet surrounds a lone rebel ship, and only the Doctor can help them now… with the Doctor facing his greatest enemy, he needs Clara by his side.

Confronted with a decision that could change the Daleks forever he is forced to examine his conscience. Will he find the answer to the question, am I a good man?
Into the Dalek transmits Saturday August 30.
HORNORSILK REVIEWS THE MASQUERADE BIG FINISH AUDIO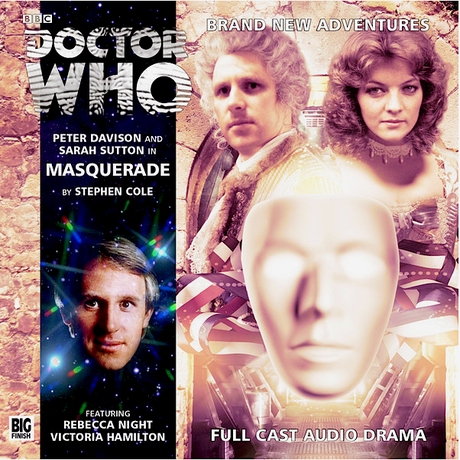 Big Finish 187 – Masquerade
By: Stephen Cole
This is an unusual audio adventure, because, as you first listen to it, especially during the first episode, it feels a bit straightforward and even dull. The story has more happening within it than initial impressions from the first episode gives us. Indeed, it is best appreciated once you have heard everything and can reflect upon the story as a whole. For, throughout the story, we are constantly led to believe a particular cliché will be used, and we find it used, only to have it deconstructed and subverted so as to tell a different story: that is, we have the metaphorical rug constantly taken from under us, revealing a new rug which also gets removed as the story moves on to its final goal.
A lesser story would have taken what we see in the first episode and used all the ideas in it to create the rest of the tale. It would have been predictable, but it would have been able to create a solid albeit unoriginal story. And this, to be sure, is what I feared was going to happen and made it difficult for me to get beyond the first episode. I believed I knew where the story was going. I thought it would be routine entertainment, enjoyable enough while it lasted, but like Chinese Food, leaving us "hungry" soon after it was finished. The other difficulty I had, initially, and somewhat throughout the story, is that although the acting was decent, there was always something off in the presentation, something which made it difficult to concentrate on the story with the level of attention needed. It wasn't the music, for I think it merged well with the tale; it was just the characters, at least as we first met them, were not entirely likeable.
The Fifth Doctor, Nyssa, and stowaway companion Hannah apparently travelled to 18th century France. Somehow, they lost their memories, but knew they were invited by the hostess-friend of Voltaire, the Marquise de Rimdelle, to visit her. It is clear, when there, there is something affecting their minds: the Doctor, Nyssa and Hannah have been given contemporary identities, with the Doctor thinking of Nyssa as his ward and Hannah as her governess. Moreover, when talking, their minds are constantly being bombarded with new facts and ideas to help keep them in character, even to make them forget anything which would have them remember who they are. At least, this initially works on them, but the Doctor has too many memories, of times and places he couldn't have been, for it to last.
Nyssa befriended the niece of the Marquise, Helene, who has seen something – a mechanical man she calls the Steamroller man, while the Doctor hears the voice of a "dead man" talking about rats. Slowly, as the Doctor remembers more of who he is, and he feels he is acting out of character, he poses questions as to what is going on. But the Marquise, upon hearing this, thinks the Doctor is going crazy and would hear none of it.
And yet something is there, in the shadows. Not just the Steamroller man. But something else. It is quickly apparent that the Doctor is not where and when he thought he is. But where is he? Where is his TARDIS? What exactly is affecting his memory – and that of everyone around him?
The answers to these questions are not obvious. We might have an initial idea, but it turns out more twisted and convoluted (in a good way) than what we would otherwise suppose. There are twists within twists, plans within plans, going on here. Something very sinister is at work. And the Doctor is, in many ways, out of his depth here.
Interestingly enough, a major theme of this story is the way we face the consequences of our actions, the bad as well as the good. Indeed, The Doctor and his companions come face to face with the possible negative harm involved with the Doctor's random style of adventuring. Did he create the problem, or is he being used to enhance it? Even if the Doctor is in the right and is a force for good, the good is imperfect, and people will suffer, good people, some who might die though they would not have died if the Doctor had not shown up. But the problem is not just the Doctor and how he interferes with history; we find out the main antagonists of the story have arisen as a result of the actions of others, based upon events which happened before the story began. The Doctor at once made the situation worse and better (ultimately, his involvement was for the best), but yet, it is clear, it's often the unintended consequences of good actions which cause the most long-term harm. And this is well highlighted in this story. Indeed, the ending of this story continues with this theme – I could see the Capaldi Doctor thinking of this adventure as being one of his many mistakes he would like to fix.
Despite all of this, I think the pace of the story is not entirely well managed. The ideas are sound. The mix of getting them out is where this story falls; it often feels flat. For this reason, while very well plotted (9/10 for plot), I would suggest this is an average story to listen to (7/10).
-- HornOrSilk
======================
NEXT WEEK:
DOCTOR WHO S08E01: Deep Breath
————
Glen Oliver
"Merrick"
- e-mail
- Twitter
DOCBACK CODE OF CONDUCT

1) a Docback should be about completely open and free discourse regarding all things WHO with, obviously, some variation on subject matter from time to time - the real world intervenes, discussions of other shows are inevitable, etc....

2) converse, agree, disagree, and question as much as you want - but the freedom to do so is NOT a license to be rude, crass, disrespectful, or uncivilized in any way. Not remaining courteous and civil, as well as TROLLING or undertaking sensational efforts to ignite controversy, will result in banning. Lack of courtesy may receive one (1) warning before a ban is instigated. Obvious Trolling or Spamming will result in summary banning with no warning.