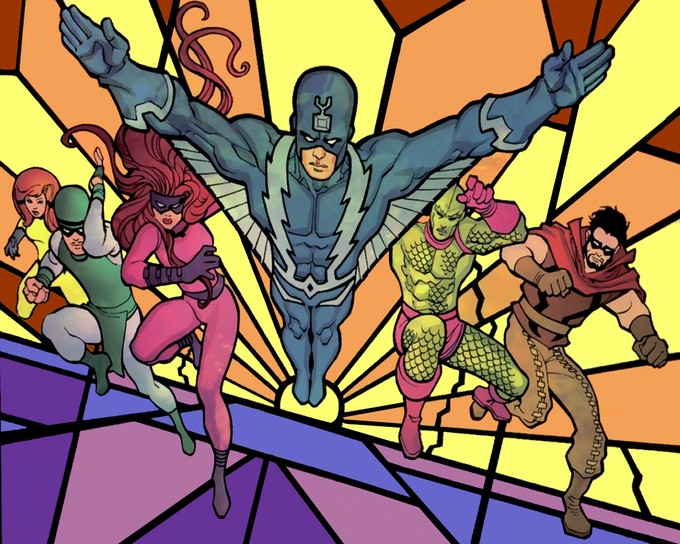 Marvel went (almost) completely interstellar for the first time this summer, and, with $320 million in just about 10 days, they're feeling quite happy about it.
So happy, in fact, that according to Collider, they're finally moving to get development rolling on their current draft for a feature based on THE INHUMANS, one of the many classic Marvel lines created by Stan Lee and Jack Kirby.
They've had a script lying around for a couple of years written by Joe Robert Cole (AMBER LAKE), and it seems that Feige & co. are ready to start sending it out to prospective directors. Once the director is signed, expect Marvel to let them have a go at the script themselves; think about how James Gunn injected his personality into Nicole Perlman's draft of GUARDIANS.
THE INHUMANS were created by the Kree out of early homo sapiens, and are genetically enhanced humanoids with their own society. They're led by their king, Black Bolt, who's accompanied by his Royal Family, including Medusa, Karnak, Gorgon, Crystal, Maximus, Triton, and Lockjaw. Once they are known to Earth, the superhuman family has often crossed paths with The Avengers, The Fantastic Four, and the X-Men; if the movie gets made, we may see them crossover with THE AVENGERS even before the GUARDIANS reach earth themselves.
If they do fasttrack their INHUMANS movie, Marvel could possibly shoot this sometime late next year (or more likely 2016), and fit it into one of their 2017 or 2018 release dates (aside from the one already claimed by GUARDIANS OF THE GALAXY 2).
As for what director/cast they're looking at, your guess is as good as mine. They've been hiring lesser-known, but proven filmmakers as of late like Peyton Reed and Scott Derrickson as of late, so expect someone in that vein, albeit maybe with some sci-fi experience.
And then there's this mysterious Facebook post by Vin Diesel…
-Vincent Kim-Zahedi
"Papa Vinyard"
vincentzahedi@gmail.com
Twitter