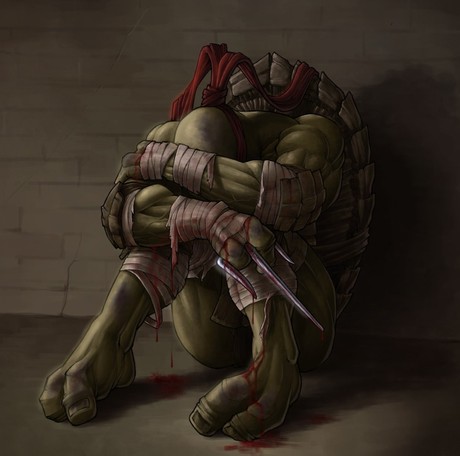 Ahoy, squirts! Quint here. Well, the Teenage Mutant Ninja Turtles movie had a huge weekend (never underestimate the Paramount marketing team!) and Paramount took its celebratory lap before the weekend was even through by announcing the sequel.
TMNT 2 is already dated for June 3rd, 2016, Michael Bay's Platinum Dunes will again be leading the franchise (with Bay taking lead and producers Andrew Form and Brad Fuller coming back as well). Also returning are screenwriters Josh Appelbaum and Andrew Nemec. It's not known if director Jonathan Liebesman will tag along or not.
I hope that they've found the plot by now. It seems that they changed up a ton of stuff mid-stream (word 'round the campfire is the Fichtner as Shredder rumor was true and they reshot it), which left the movie feeling hollow and rudderless for me.
There's a chance the sequel can be awesome if they embrace the fun, weirdness of the universe and QUIT TELLING US HOW STUPID THIS CONCEIT IS EVERY 10 MINUTES!
I'm just saying if there's not a bitchy Brain Alien nestled in a giant android body then they're going in the wrong direction.
Of course, Platinum Dunes has announced sequels after successful openings that either didn't happen or happened years later (Friday the 13th), so if the drop next week is massive you might see this sequel get stuck in development hell.
We'll see. I'm not a fan of the first attempt at the Ninja Turtles world, but I also think there's nowhere to go but up. I'm willing to forgive and forget if they don't make the same mistakes the next time out. You?
-Eric Vespe
"Quint"
quint@aintitcool.com
Follow Me On Twitter