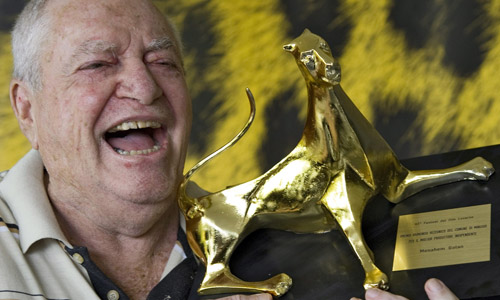 Ask me to explain cinema in the 1980s in two words, and I would probably say "Menahem Golan".
Yes, Steven Spielberg and Amblin ruled the box office, while guys like Sylvester Stallone, Eddie Murphy, Burt Reynolds, Clint Eastwood and Tom Cruise took their turns at the top of the movie star heap, but no one churned out product like Menahem Golan. Along with his producing partner and cousin Yoram Globus, Golan purchased The Cannon Group, Inc. in 1979; by the time the company was bought in 1989 by financier Giancarlo Parretti, Golan-Globus had filled theaters and video stores with somewhere in the neighborhood of 120 movies. The backbone of the Cannon brand was action, but the company also gave life to ambitious art house projects that would've never been backed by a studio or financed by independent entities. This is how, in one year, Cannon could place its shimmering blue logo in front of Jean-Luc Godard's KING LEAR and Sidney J. Furie's SUPERMAN IV: THE QUEST FOR PEACE.
A gregarious man with a fondness for gently fudging the truth if it got in the way of a good story (like any skilled raconteur is wont to do), Golan, who passed away today at the age of eighty-five, was a massively successful filmmaker and producer in his native Israel for close to twenty years before breaking through to the international market with his acquisition of Cannon. As a director, Golan's career was as varied as Cannon's output: he could make a deathly serious hijacking drama like OPERATION THUNDERBOLT one year, then turn around and give the world a bug-fuck rock-and-roll musical like THE APPLE. He was also, as a producer, early to the '80s teen sex comedy craze with the Israeli LEMON POPSICLE series, which he later Americanized as THE LAST AMERICAN VIRGIN (a cult classic with one of the most unforgettable endings in movie history).
Cannon represented all types of films, but when folks of a certain age recall its glory years, they lead with two names: Charles Bronson and Chuck Norris. Golan-Globus took America's pulse, and knew the country was obsessed with rising crime rates; law enforcement seemed ineffective (bound by that pesky duo of Miranda and due process), so moviegoers were highly susceptible to vigilante fantasies. Who better to embody the common man's fed-up attitude than Bronson's Paul Kersey, the hero of 1974's DEATH WISH? In 1982, Cannon officially launched the franchise with DEATH WISH 2, an ugly, extremely violent film that uses women as little more than revenge bait; much more enjoyable was DEATH WISH 3, in which Kersey leads a neighborhood rebellion against the illicit rule of a ruthless street gang. The Bronson films were notable for their nastiness (J. Lee Thompson's 10 TO MIDNIGHT is especially brutal), but he could soften up and have a little bit of PG-13 fun with his wife Jill Ireland in Peter R. Hunt's ASSASSINATION. Still, late-era Bronson was all about Paul Kersey, and Cannon served him up until viewers developed a Ludovico-like aversion to the character.
Chuck Norris was already a mid-level movie star when he first hooked up with Golan-Globus for MISSING IN ACTION, a shameless cash-in on the country's fascination with retrieving American P.O.W.s believed to still be held in Vietnam. Ted Kotcheff's UNCOMMON VALOR got to the issue first in 1983, but Golan-Globus saw franchise potential, and somehow they eked three movies out of Norris's fiercely forgettable Braddock character. Norris's most entertaining effort under the Cannon brand is easily Joseph Zito's INVASION U.S.A., in which the bearded badass singlehandedly puts down a Russian/Cuban invasion of South Florida.
Norris's best movie with Cannon was also Golan's finest hour as a director. Basically a remake of OPERATION THUNDERBOLT, Golan's THE DELTA FORCE combines a credible highjacking drama (featuring accomplished actors such as Robert Forster, Shelly Winters, Martin Balsam and George Kennedy) with wish-fulfillment action centered on the titular strike force successfully resolving a hostage situation (unlike the very real hostage-rescue debacle of Iran in the late '70s). There's a good deal of Israeli nationalism fueling Golan's film, but he manages to give Forster's terrorist villain a human moment here and there to remind us that there's a cause-and-effect element at play. Ultimately, the film devolves into a silly action movie, but it's so much fun that you can't complain. You saw Chuck Norris's face on the poster. You knew what you were getting into.
For a while, the least heralded aspect of Cannon's '80s run was the company's dedication to less commercial dramas and/or art house fare. Barbet Schroeder's BARFLY lost money initially, but eventually became a cult/critical hit for its knockabout depiction of Charles Bukowski's booze-drenched Los Angeles. It's a rare drama about drunks that takes them as they are, refusing to turn their affliction into a saga of recovery; it's not a pretty picture, but there's romance and poetry amidst the brawling and puking. Golan-Globus also had a nice run with director Andrey Konchalovsky, whose RUNAWAY TRAIN was based on a script by Akira Kurosawa and remains one of the most underrated films of the 1980s. And though the finished film may not be his finest work, you've got to give Golan-Globus credit for financing John Cassavetes's LOVE STREAMS while the director was gravely ill with cirrhosis.
While Golan-Globus were allegedly keeping a close eye on Cassavetes during the shoot of LOVE STREAMS, they found time to fully exploit the short-lived breakdancing craze with BREAKIN' and BREAKIN' 2: ELECTRIC BOOGALOO within the same calendar year. Neither film is good, but they both turned a tidy profit. Cannon took a shot at the burgeoning hip-hop scene the following year with RAPPIN', but the target audience sniffed out the film's lack of authenticity.
Cannon got more ambitious as the decade wore on, chasing bigger movie stars and bigger budgets in the hopes of becoming a powerful - and permanent - Hollywood fixture. This proved to be the company's ruin. Golan personally directed Sylvester Stallone's arm-wrestling drama OVER THE TOP, and the film was a pricey stiff. They also hemorrhaged money on two Tobe Hooper movies (the gloriously loopy LIFEFORCE and the remake of INVADERS FROM MARS), SUPERMAN IV: THE QUEST FOR PEACE and MASTERS OF THE UNIVERSE. The company's attempts at launching big-time franchises had fizzled, and not even the rising martial-arts star Jean Claude Van Damme could save them.
Golan parted ways with Globus in 1989 and started up 21st Century Film Corporation, which was responsible for a few modest hits, but is best remembered today for nearly making SPIDER-MAN with James Cameron (after Golan failed to get his own take on the webslinger before cameras in the late '80s). Golan did produce a big-screen version of CAPTAIN AMERICA in 1990, and it is inexplicably terrible.
It's heartening to know that Golan lived long enough to see various film societies around the world celebrate the true artistic triumphs of Cannon. Hopefully, young producers and filmmakers will look to Golan's example and attempt a similar balance of trash and tasteful. Both can be immensely satisfying; the trick is to love movies so much you can't imagine doing anything else. This is how Menahem Golan lived his life. If he had to make four too many DEATH WISHes to give us one BARFLY, so be it. BARFLY was worth it. And, fuck it, so was DEATH WISH 3.
Faithfully submitted,
Jeremy Smith