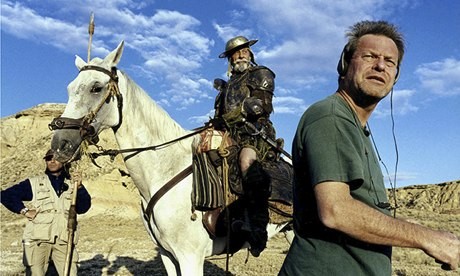 The long, dare-I-say Quixotic quest of Terry Gilliam to film his THE MAN WHO KILLED DON QUIXOTE has been long, plagued with stops-and-starts, and so far, ultimately fruitless. That is, until Gilliam decided to rework the script into something more practical and shootable, which, it seems, has worked in his favor.
Gilliam told The Wrap that he's locked down financing for THE MAN WHO KILLED DON QUIXOTE, and is prepping for a shoot at the tail end of 2014 ("after Christmas").
However, what's going to be on the screen isn't what he had begun shooting 14 years ago, and which was documented in the great LOST IN LA MANCHA. Gilliam has reworked the script: instead of being a straight adaptation of Quixote's quests, it's now about a director whose attempt at making a Don Quixote movie worsened the lives of all those involved.
Well then.
In his own words:
"I keep incorporating my own life into it and shifting it…It's more about how movies can damage people. Our main character actually made a Don Quixote movie a lot earlier in his history, and the effect it had on many people wasn't very nice. Some people go mad, some people turn to drink, some people become whores."
This kind of sounds more interesting, original, and even Gilliam-esque than the original time-travel premise Johnny Depp and Jean Rochefort originally signed on to do. Gilliam is an incredibly expressive filmmaker, but I don't think he's ever gone quite this personal before, that is to basically put himself as a character into his own film (unless you think he's actually Baron Munchausen, which isn't a stretch). Could morphing THE MAN WHO KILLED DON QUIXOTE into his 8 1/2 be the thing that finally gets it made? I certainly bloody hope so.
Gilliam's looking at actors now (none of the actors previously associated with the production are expected to return), so if the stars really are aligned this time around, expect to hear more updates about this incarnation of THE MAN WHO KILLED DON QUIXOTE fairly soon.
If this does indeed lens this December, we may see finally THE MAN WHO KILLED DON QUIXOTE as early as late 2015.
-Vincent Kim-Zahedi
"Papa Vinyard"
vincentzahedi@gmail.com
Twitter