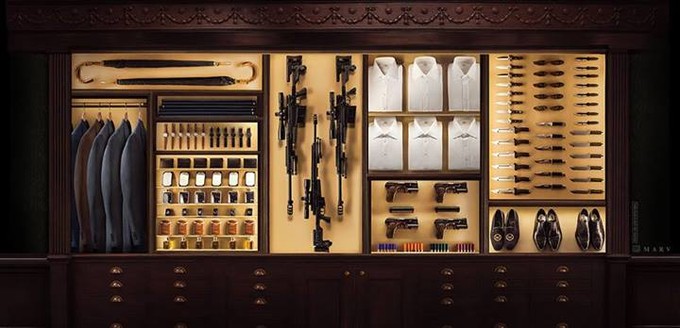 Hope that Comic-Con presentation (or at least reading/hearing about it) didn't get you TOO excited for Matthew Vaughn's KINGSMAN: THE SECRET SERVICE, 'cause it's gonna take a little longer than we thought for it to touch down to theaters.
Fox announced today that their adaptation of Mark Millar's comic has been pushed back for four months from its original date of October 24th to mid-February 2015. The most likely reason for this change is to give Vaughn enough time to put the finishing touches on his currently buzzed-about project. Unfortunately, that means ditching a weekend it would've owned (where its main competition was the OUIJA movie), and is now going up against Christian Grey and Spongebob Squarepants…formidable adversaries if ever there were two, especially for the attention of this current crop of moviegoing millenials.
To accommodate the move, Fox has moved their Gil Kenan-directed POLTERGEIST remake to July 24th, where it's up against Judd Apatow's TRAINWRECK. That, there, is a solid counter-programming move, especially considering the summer is fairly free of horror flicks after INSIDIOUS: CHAPTER 3 bows in late May (unless you count GOOSEBUMPS).
We're all super-excited for Vaughn's follow-up to KICK-ASS, so waiting a little longer will hurt, but I guess we'll do it. After all, we've dealt with MAD MAX: FURY ROAD and JUPITER ASCENDING getting pushed back to 2015, so what's one more heavily-anticipated action flick?
KINGSMAN: THE SECRET SERVICE will now take a bullet for you on February 13th, 2015.
-Vincent Kim-Zahedi
"Papa Vinyard"
vincentzahedi@gmail.com
Twitter