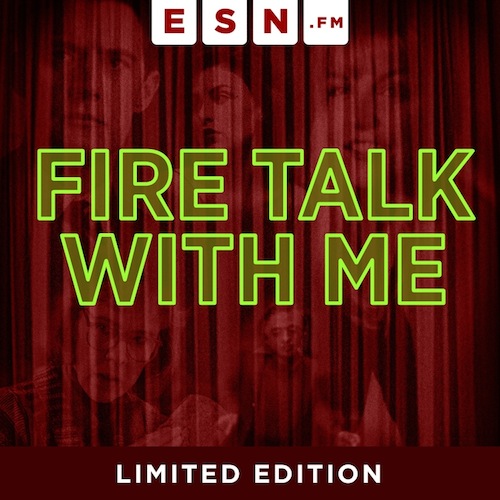 Jeremy here...
That show you like is coming back in style.
The release of TWIN PEAKS: THE ENTIRE MYSTERY has breathed new life into a fandom that for years had feared they'd seen all there was to see of their beloved show. Now, they suddenly have ninety additional minutes of FIRE WALK WITH ME, new interviews with the cast and crew, and all sorts of haunting ephemera to sift through thanks to this amazing Blu-ray set.
I'm so excited about it that I started a podcast with my pal Allison Goertz (aka Cossbysweater) called "Fire Talk With Me", in which we break down the series episode-by-episode - the twist being that Allison has never watched the show before, while I've been a fan since its 1990 premiere. We launched the series last week, and just uploaded a brand new episode today featuring special guest Jake Fogelnest (whose "The Fogelnest Files" podcast is a must-listen). If you're a TWIN PEAKS fan, it's a chance to re-experience the show with someone who has absolutely no idea what's coming; if you're new to the series, it's an opportunity to examine each episode in greater depth (and, if you're so inclined, chime in with your own thoughts by leaving a review on iTunes or hitting us up via Facebook or Twitter). Allison's already picked up on a couple of things that never occurred to me, so, as far as I'm concerned, the podcast is already bearing fruit.
We're so excited to share the show with you that we've obtained a Blu-ray copy of TWIN PEAKS: THE ENTIRE MYSTERY (graciously provided by the fine folks at CBS Home Entertainment) to give away to one lucky listener. All you have to do is leave a review on our iTunes page dated no later than August 15th. We'll announce the randomly selected winner on Episode 4, which will be posted on August 19th.
You can expect a new episode of "Fire Talk With Me" every Tuesday morning, just in time for your morning commute/coffee/copulation. You should also keep an eye out for "bonus" episodes featuring special guests discussing specific elements of the show, and how David Lynch influenced their work. Basically, what you need to do is subscribe to the podcast, 'cuz then you won't miss nothin'!
In honor of our Episode 2 guest, here's Jake Fogelnest's tribute to TWIN PEAKS for Funny Or Die!