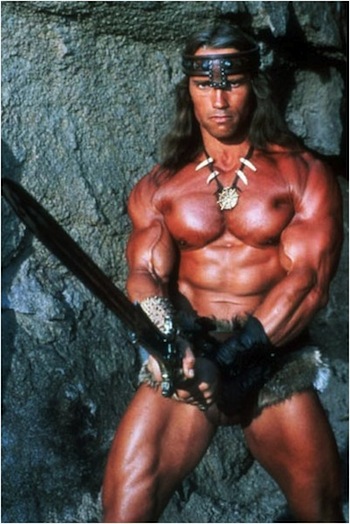 Jeremy here...
Is Arnold Schwarzenegger's long-awaited return to the role of Conan the Barbarian less than a year away? Our buddies at TheArnoldFans.com recently spoke to Fredrik Malmberg, one of the producers on the film, and he believes production could start as soon as Spring 2015. Here's what he told 'em:
"We want to polish up the script, specifically about the characters," says Malmberg, "but we don't think it will take long. We'll probably have this turned in around September after the holiday and then we'll take it to the studio and if they're happy, we can hopefully start (production) in the Spring (2015)."
This version of the screenplay was written by WORLD TRADE CENTER's Andrea Berloff, who was brought on the project last year by producer Chris Morgan (best known for applying his screenwritin' magic to THE FAST & THE FURIOUS franchise). The extent to which it will resemble John Milius's unproduced KING CONAN script is unknown, but Morgan is a huge fan of Milius's 1982 film, so that's encouraging, I guess. There is currently no director attached to the project, but I'm pretty sure you can scratch Marcus Nispel off the list.
If the film commences principal photography in the spring of 2015, it will almost certainly see a theatrical release in 2016.