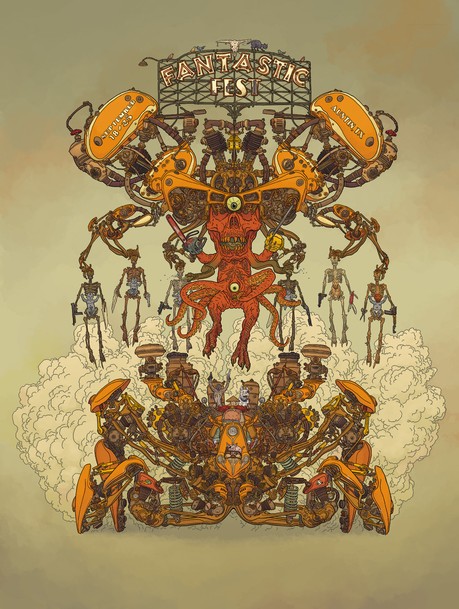 Ahoy, squirts! Quint here. Holy moly, Fantastic Fest 2014 is next month! At the newly renovated S. Lamar Alamo, no less. I remember when it was just a baby, when you could walk into any movie 5 minutes before it started and still find a seat. It was a more simple, innocent fest back then. Our little Fest is now 10 years old. Growing pains aside, we still love it just as much as when it was a baby...
Okay, I'm running out of ways to compare the fest to a child, so I'm just going to drop the analogy and get on with the story. Okay? Okay.
Fantastic Fest X has announced its first details, which includes the World Premiere of The ABCs of Death 2 and the US premiere of Kevin Smith's weird-looking "Justin Long is gonna turn into a Walrus" flick TUSK!
Other films announced in the first wave of programming are Alleluia, The Babadook (I've seen this one, it's good!), Bro's Before Ho's, Closer to God, Danger 5 – Series 2, High Five (Relocos y Repasados), Horsehead (Fievre), The Incident (El Incidente), Jacky in the Kingdom of Women, Kung-fu Elliot, Local God, The Man in the Orange Jacket, Norway, Still Life, Tombville, Tommy, V/H/S Viral and Wyrmwood.
What else? There's going to be a special presentation of The Meltdown with both Jonah Ray and Kumail Nanjiani hanging out around the fest as well as a new movie trivia game called MALTIN's which is like Balderdash except you take a movie from Leonard Maltin's Film Guide no one has ever heard of and the panel has to write a fake synopsis. Best wins, etc. My buddy Ant Timpson came up with this game and now he's taking it to the next level, ala fest staple Fantastic Feud.
The opening night party will culminate in a giant food fight. The press release was very specific about this, so you know Fantastic Fest is still keeping things weird. I don't see any food fight parties announced at TIFF, just saying.
Also announced, and a big deal for us Austin locals, is that the fest will definitively be the grand re-opening of the South Lamar Alamo Drafthouse location. It's been closed for refurbishments as some really rich people build giant condos all around it. There's a brand new Highball (attached to the theater now), a giant lobby and 3 new screens.
So there you go. First wave features a couple big genre titles and a ton of surely awesome flicks, many of them randomness from around the world. These end up being my favorites because they're likely the films you don't get a chance to see anywhere else.
Fantastic Fest runs September 18th-25th here in Austin. See you there?
-Eric Vespe
"Quint"
quint@aintitcool.com
Follow Me On Twitter