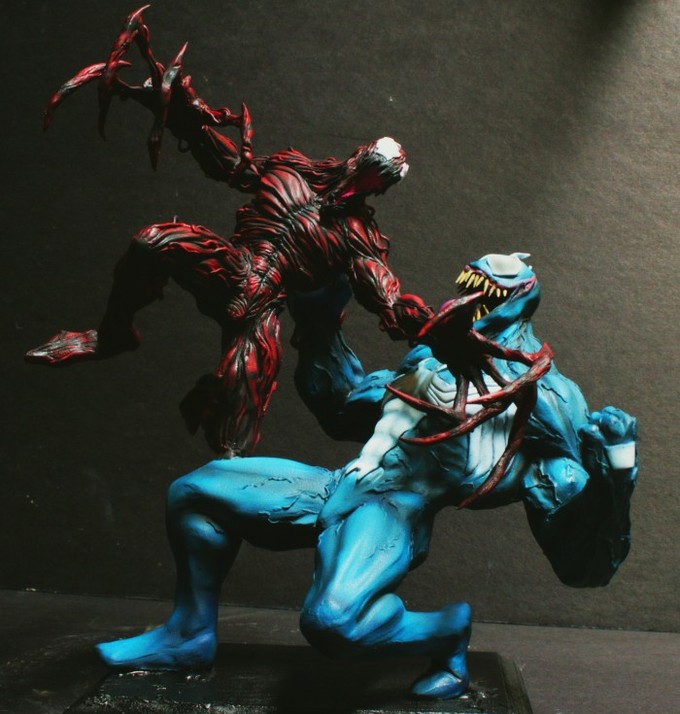 It became immediately obvious after the release of THE AMAZING SPIDER-MAN 2 that Sony's grand, ambitious plans didn't sound as sexy (or realistic) as they probably did when the sequel was in development. Still, they doubled down at Comic-Con by confirming that SINISTER SIX is, indeed, lined up for a November 2016 release, and now,The Wrap reports that Sony is planning two SPIDER-MAN spinoffs for 2017: a female-led superhero movie and the rumored-to-be-titled VENOM CARNAGE.
They also slip in the detail that Doc Ock, not Harry Osbourne, will be the one rounding the villains together in SINISTER SIX. The Wrap has the lineup as follows: Ock, Electro, Vulture, Mysterio, Kraven, and Sandman. I gotta say, I think Rhino and Green Goblin are safe bets to appear, while there's no evidence in ASM 2 of Sandman and Mysterio. But who knows.
All we know about the female superhero flick is that Sony's actually tapped a woman, Lisa Joy (BURN NOTICE, PUSHING DAISIES), to pen it. No word on who the character will be, but obviously, all signs point to Felicia Hardy/Black Cat, who was introduced (as a throaway) in ASM 2. They have story context for her character, and a talented, up-and-coming actress (Felicity Jones) in the role; it seems like a no-brainer, even if The Wrap throws names like Spider-Woman and Silver Sable into the mix.
Regardless, if this pans out, Sony will be beating Marvel to the punch of getting a solo, female-driven superhero movie in theaters first. So good for them.
As for VENOM CARNAGE, Alex Kurtzman is still lined up to direct based on the script co-written by Ed Solomon (BILL & TED, MEN IN BLACK). The title makes it official that the VENOM film will actually be a VENOM/CARNAGE face-off, even though neither Eddie Brock nor Cletus Kasady have been established in the ASM universe. Maybe one or both characters will be introduced in either the SINISTER SIX or female-led films. Either way, it'll be cool to see these massively-popular characters get their due onscreen (Topher who?). Let's hope Kurtzman has the goods to portray them in all of their sinewy, teeth-gnashing glory.
So yeah. Sony is going full steam ahead with their Marvel properties. Even though no one really wants them to except their stockholders. So let's just hope for the best, and that they've learned their lesson from ASM 2 and will focus on creating tight, memorable, human stories instead of throwing as many characters and special effects on the screen at once.
HOPE, I said. Not expect.
So expect SINISTER SIX on November 11, 2016, with the female superhero movie (probably BLACK CAT) and VENOM CARNAGE dropping sometime in 2017 (probably summer and winter, respectively).
Headline sculpture by Hector Arce.
-Vincent Kim-Zahedi
"Papa Vinyard"
vincentzahedi@gmail.com
Twitter