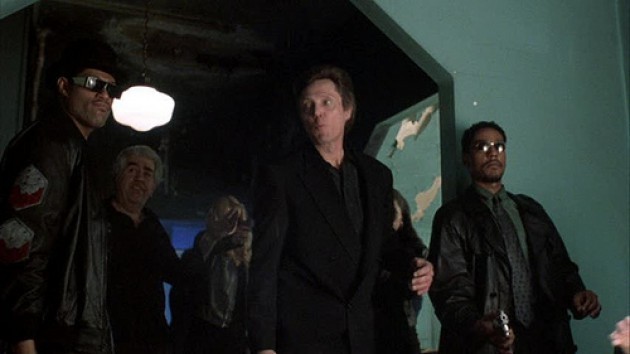 Maybe it's a coincidence, maybe Jon Favreau's a big KING OF NEW YORK FAN, but the latest two names to join his JUNGLE BOOK first worked together on that Abel Ferrara jam 25 years ago.
Christopher Walken will be playing King Louie, infamously voiced in the original by Louis Prima. If you recall, Louie was an orangutan who hounded Mowgli to give he and his apes the secret of creating fire. He could also sing and dance real good, making it a perfect fit for Walken (although he only gets to voice the character). Louie wasn't in Kipling's original stories, and was created specifically for the '67 Disney film, but now the character's part of JUNGLE BOOK lore as far as many are concerned. It's a perfect opportunity for Walken to call upon that patented mix of weirdness and charm; slick decision on Favs' part.
Meanwhile, Giancarlo Esposito will be playing Mowgli's wolf-pack mentor, Akela. In the film. In the Disney original, Akela only appeared at the beginning to hand over Mowgli to Baloo and Bagheera for his safety, but in the original stories, the character is more prominent and reappears continually as time goes on. Still, I think they're sticking with Disney's original template, so I'd expect Esposito's character to be kind, fatherly, and swiftly swept aside. Bet he'll still crush it though.
The voice cast Favs' is lining up keeps getting more and more impressive. But he STILL. DOESN'T. HAVE. HIS. BALOO. (money's still on Downey or Favs himself…and I'm still hoping for the latter!
THE JUNGLE BOOK doesn't want to be like you, just wants your money on October 9th, 2015.
-Vincent Kim-Zahedi
"Papa Vinyard"
vincentzahedi@gmail.com
Twitter