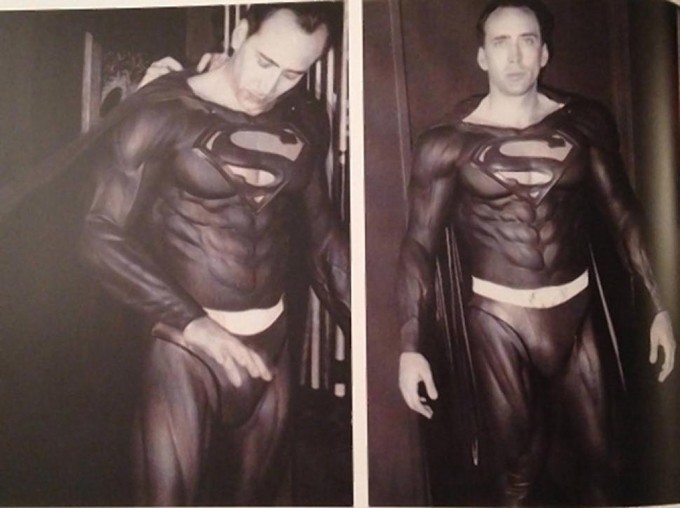 Most, if not all, of us are aware that a SUPERMAN LIVES film written by Kevin Smith, directed by Tim Burton, and starring Nicolas Cage as Kal-El/Clark/Supes was almost a thing. We've seen the suit (above), heard the nightmare stories about Jon Peters (below), and wondered what this revisionist take on the iconic character would've entailed.
Jon Schnepp amassed some funds (with the help of Kickstarter) to create a doc examining the aborted SUPERMAN LIVES project, and the trailer below gives us a peek at the currently-unfinished film. Amazingly, Schnepp has gotten both Kevin Smith and Tim Burton (who've had very public disputes) to discuss the film, along with a bunch of other creative types who came in and out during the tumultuous, eventually halted development process. Along with that, Schepp has also accumulated a remarkable amount of stills and footage, including concept art, more peeks at the unique, "regenerative" suit, and most impressively, VFX test footage showing Nicolas Cage in costume landing on top of a rooftop. Cool beans.
JODOROWSKY'S DUNE showed that, if there's enough source material and openly willing interviewees, you can get across the potential of an aborted project in a lovingly-crafted documentary. Schepp's passion is obviously there, and if there are this many goodies in only about 2-and-a-half minutes, I'm excited to get a feature-film's worth of info about the SUPERMAN LIVES that could've been.
THE DEATH OF SUPERMAN LIVES is currently in production. We'll update you when we know where/when you can eventually see it.
-Vincent Kim-Zahedi
"Papa Vinyard"
vincentzahedi@gmail.com
Twitter