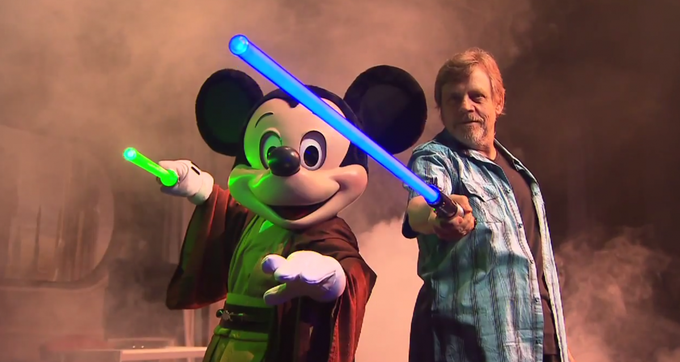 Here's an interesting tidbit, one which may or may not give us any insight into the story details of EPISODE VII.
In an interview with the BBC, this is how Hamill answered the question of, "Was it great being reunited with Han and Leia?":
"Fantastic. Again, I thought even if they did a third trilogy, we wouldn't be involved. Because it's really about the new generation of characters. We're just there to lend our support, and grow contractually-obligated beards."
He went on to praise the new cast, specifically Andy Serkis and Daisy Ridley, but that throwaway line (told in a joking tone, btw) may be the closest we'll get to confirming the recent rumors regarding the film's story. The alleged synopsis involves a search for Luke Skywalker, who, obviously, the main characters eventually find; a scraggly beard would be a great physical indicator of how much time he's been scuttled away, no?
Of course, this could just be because without the beard, Hamill looks considerably younger (or less in shape?). The beard also makes him look a little like Alec Guiness circa '77, and putting Luke in the Obi-Wan role seems to be where they're going this time around. But the fact that it was in his contract makes me think it was really crucial to J.J. & everyone that Luke be sporting a beard this time around. And how can we not speculate as to why?
STAR WARS: EPISODE VII will extend "No Shave November" through December 18th next year
-Vincent Kim-Zahedi
"Papa Vinyard"
vincentzahedi@gmail.com
Twitter