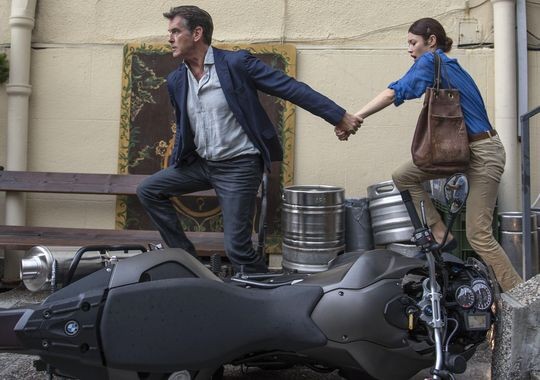 The teaser for Roger Donaldson's THE NOVEMBER MAN was fairly vague, apart from setting up the premise of an older hitman in conflict with his young protege. This new trailer gets more of the plot across; Olga Kurylenko is being hunted by C.I.A. assassins for what she knows, and Brosnan feels deeply compelled to protect her due to…reasons we aren't quite sure about yet. And of course they call in his former pupil (Luke Bracey) to take them both out.
It's been a while since we've seen Brosnan kicking ass like this, and in the era where Liam Neeson, Kevin Costner, and Denzel Washington are making a good living as near-60 ass-kickers, it fits that the former Mr. Bond is getting his licks in while he still can. Donaldson doesn't have an immaculate record or anything, but he's got really enjoyable flicks under his belt like THE BOUNTY, THE GETAWAY, and THIRTEEN DAYS (as well as the underrated and underseen WHITE SANDS with Willem Dafoe, Mickey Rourke, and Samuel L. Jackson).
Hopefully, the film lives up to the high points of this trailer, and is more than your run-of-the-mill European-set spy thriller. Even if there's a new Bond these days, I think there's still room in cinemas for Brosnan to glower and shoot his way out of sticky situations.
THE NOVEMBER MAN passes through and lets nothing live on August 27th.
-Vincent Kim-Zahedi
"Papa Vinyard"
vincentzahedi@gmail.com
Twitter