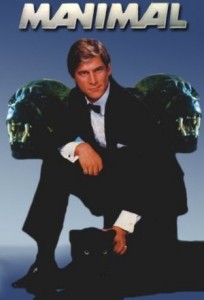 This is the one we've all been waiting for, guys.
Sony Pictures Animation and Gary Sanchez Productions are developing an animated/live-action update of the 1980's TV series MANIMAL. Will Ferrell and Adam McKay are set to produce the film, and writers Jay Martel and Ian Roberts (KEY & PEELE) are currently at work on a script.
The original series was about Dr. Jonathan Chase, who helped innocents using an ancient African ability to morph into any animal he chooses (mostly a hawk or panther). Despite their campy rep, those morphing sequences were actually designed by Stan Winston.
No clue as to who they want to play Chase, or if Will Ferrell is even considering to appear in it in any capacity. While it would do nothing to deflate my sails, many would be perturbed by remembering the last time Ferrell starred in an update of a fondly remembered, campy old TV show: LAND OF THE LOST (the less said about BEWITCHED, the better).
Adam McKay is more upfront about his intentions:
""I think it's right down our alley, it's what we do. It's tongue-in-cheek and has an action component, but overall it's a comedy.

Like The Catcher In The Rye or The Sound And The Fury, Manimal has always been one of those elusive projects every producer dreams of taking to the silver screen. I know the movie will be funny and entertaining, but will it be the first film to win a Pulitzer? We'll just have to see."
The allusions that it's an action-comedy (which makes me think this could be in the vein of MACGRUBER) and my fond memories of LAND OF THE LOST make this something I kind of really want to see. Who else would love it if Ferrell ended up playing Dr. Chase/MANIMAL?
-Vincent Kim-Zahedi
"Papa Vinyard"
vincentzahedi@gmail.com
Twitter