Glen here…
…with a Friday Mini-Docback ramping us up to August 23's premiere of Season/Series 8.
Since our last Docback, a new trailer has been revealed:
Word on the street is: this trailer is very much in keeping with the tone of this Season/Series, which has bee described to me as more understated, darker, and more raw and moody than the DW to which we've recently become accustomed (one individual indicated to me that even the scoring of the show will be more somber and subtle).
If this turns out to be the case, such qualities would jibe with my sense of the recently leaked S8 scripts (discussed HERE) - in which I alluded to the writing this Season/Series as feeling a tad more 'adult' than many might be expecting.
BBC WORLDWIDE STATEMENT ON LEAKED DOCTOR WHO EPISODES (NOT JUST THE SCRIPTS)
When word of the five leaked scripts I mention above came around - a number of sources indicated to me that as many as SIX unfinished/'workprint' episodes were posted on the same server as the scripts. Meaning: they were available for someone to download alongside said scripts.
This detail felt downplayed in the early stages of this matter's damage control, but BBC is now copping to the fact, indeed, video of SIX unfinished episodes were leaked alongside those five scripts (presumably this video encompasses the five episodes already represented in script form - plus one additional title).
I'm assuming this admission is now being presented more prominently due to this week's highly publicized online dispersal of Deep Breath - the first episode of DW S8 and Peter Capaldi's first full foray as the Doctor. By inference, there may be more to come.
BBC has some very kind words for fans about the matter - DW enthusiasts seem to be doing a very lovely job containing spoilers and respecting the show's viewership and integrity. In a statement issued yesterday, BBC Worldwide says…
BBC Worldwide update on Doctor Who leaks 17.07.14

We would like to thank Doctor Who fans everywhere for their amazing efforts in helping us contain the recent leaks.

The mistake was damaging and resulted in the exposure of five scripts and the first six unfinished episodes from Series 8 on a publicly accessible FTP site. While there is still a risk that this leak will result in more of this content emerging, so far the impact has been contained to a limited amount of this material through a combination of fans efforts and the plan that we put in place using new technology and internal manpower to limit any illegal activity.

We would particularly like to thank the fansite moderators and Doctor Who devotees who have actively protected the programme.

BBC Worldwide has taken this issue extremely seriously and disciplinary action has been implemented as a result of the incident.

Our sincere apologies again to Steven Moffat, the cast and production team who toil long hours to make the show in Cardiff, the BBC, and of course the fans who expect so much better.
BBC WORLD TOUR INFO
We haven't mentioned much about the upcoming DOCTOR WHO 'World Tour.'
Initially, it didn't seem like that big a deal to me, untilI realized that…
DW will have a downplayed presence at this year's San Diego Comic Con (where there's not even a panel for the show, as production is still underway on S8 and none of the talent could make it to San Diego at the moment) . And that…
The World Tour will essentially serve as a stand-in for whatever might've transpired at SDCC.
You can find more about what to expect from the tour…which will include new Doctor Peter Capaldi, returning companion Jenna Coleman, and current WHO overlord Steven Moffat…HERE.
Locations being visited by the tour:
Cardiff, UK

Seoul, South Korea

Sydney, Australia

New York, USA

Mexico City, Mexico

Rio de Janeiro, Brazil
They should probably stop in Austin, TX. You know. Maybe on the way to or from New York or something. I'll take them all out for tacos or something. Or a snowcone. And my lady can speak British to them.
BRITISH BASTARDS TO SEE DEEP BREATH - CAPALDI'S FULL EPISODE EARLY!
An opportunity which requires application by ballot, which can be found HERE.
The BFI screening, which will also include an appearance by cast & production team folks, occurs thursday August 7th. The ballot linked above closes on Sunday July 20 - two days from the time of this posting - so act fast!
QUICK MUSINGS ON TITAN'S NEW DOCTOR WHO COMICS
Just raced through preview copies of Titan's new DOCTOR WHO comics, in stores next week. Two lines are releasing: one dedicated to Matt Smith's 11th Doctor, and one to David Tennant's 10th Doctor.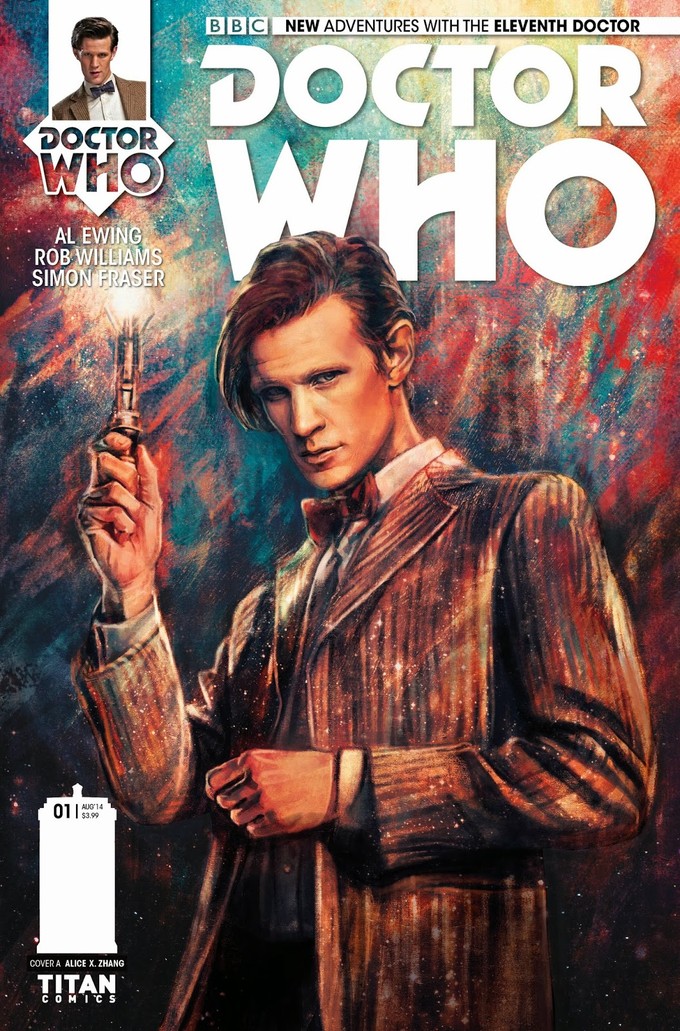 Set during the Doctor's post-Pond adventures, After Life, written by Al Ewing and Rob Williams, very nicely captures the heart and soul of the 11th Doctor.
The Doctor's dialogue and interaction with new companion Alice is brisk and sometimes touching, nicely evoking the Matt Smith 'vibe.' Alice's backstory is affecting and well considered - she's a smart, simple, modern woman facing very difficult 'real world' pains, struggles, and isolation. Ewing and Williams nail the Doctor here - including a few laugh out loud moments.
The wrap-around story into which Alice and the Doctor are inserted offers fundamentally sound elements (which would be a tad spoilery to divulge here), although the ultimate 'cutesy' nature of the crisis of the week - and its resolution - reads as too diametrically opposed to Alice's introduction and backstory, resulting in something of a bipolar identity crisis for the story on the whole.
This said, it does feel like respectable WHO - but as a story in itself, a touch more consideration regarding tone control might've helped immensely.
While, on the story and character level, After Life feels fundamentally solid in terms of capturing the WHO zeitgeist - and could easily fit into the show's on-screen universe - the comic's art here feels a tad more cursory, and does little to nothing to evoke the aesthetic, style, color pallet, or even basic frame composition which defines the television production. Making After Life feel a tad more 'knock-off' than was necessary, especially in light of Ewing and Williams' impressive efforts to nail the vibe of the Moffat/Smithverse.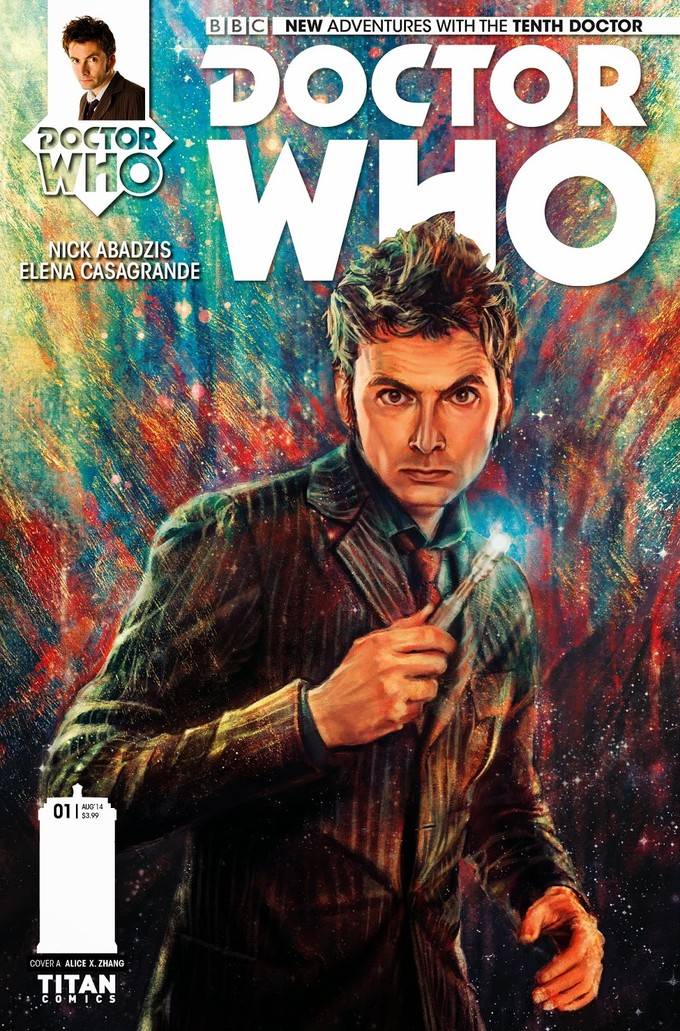 The nick Nick Abadzis written Revolutions of Terror Part 1 (Titan's first 10th Doctor comic) fails to nail the Russell T. Davies aesthetic in many of the same ways the 11th Doctor comic drops the ball. Although, in this instance, the setting of the story - a gritty, Latino-centric area of New York City - is unique enough to the franchise, and well realized enough both in writing and art, to stand on its own with a loud and unique voice.
As this is only the first installment of a longer tale, I can't judge the whole of the story. However, it feels very RTD-era, the afore-mentioned setting is interesting and strong in the context of the DW mythos, and this is a very nice set-up at the very least. The Doctor appears to have no companion in this installment - although there's a strong, Latina character who seems a solid candidate. We'll see.
All in al, a generally solid and promising launch for both lines - with a few more reservations regarding the 11th era comic than the 10th. Both lines should strongly should re-consider their artwork. RTD and particularly Moffat-era WHO is very well shot and strongly considered visually; having a comic which is anything less feels a tad cheap and half-assed - no matter how strong the stories being told. And, at the end of the day, comics are a visual medium just like TV. There's no reason to make such sensibilities so divergent.
—————
Glen Oliver
"Merrick"
- e-mail
- Twitter


DOCBACK CODE OF CONDUCT

1) a Docback should be about completely open and free discourse regarding all things WHO with, obviously, some variation on subject matter from time to time - the real world intervenes, discussions of other shows are inevitable, etc.)...

2) converse, agree, disagree, and question as much as you want - but the freedom to do so is NOT a license to be rude, crass, disrespectful, or uncivilized in any way. Not remaining courteous and civil, as well as TROLLING or undertaking sensational efforts to ignite controversy, will result in banning. Lack of courtesy may receive one (1) warning before a ban is instigated. Obvious Trolling or Spamming will result in summary banning with no warning.