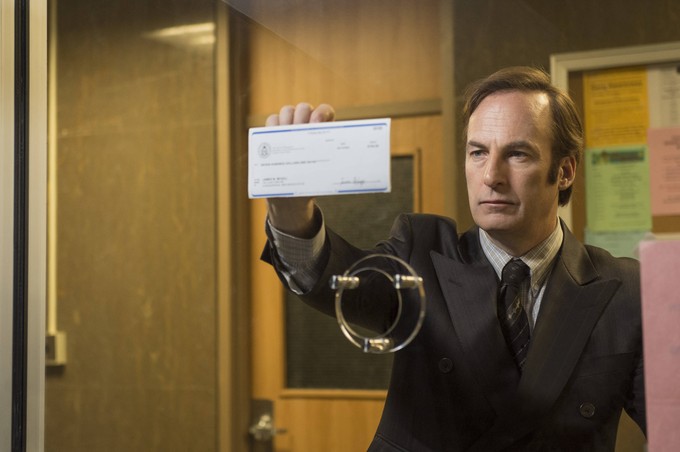 Vince Gilligan revealed at AMC's Friday TCA event that "Breaking Bad" spin-off "Better Call Saul" would hop around to various eras (much as "Breaking Bad" did), but would also spend a lot of time in 2002, six years before Saul Goodman met Walter White.
Gilligan said also that the first seven episodes would not be bringing any characters back from "Breaking Bad" (beyond, one assumes, Goodman and Mike Ehrmantraut).
AMC's Friday press release reveals that when he first began associating with ex-cop Mike, Saul was lawyering under the name of Jimmy McGill:
Los Angeles, CA – July 11, 2014 – AMC released today from the Television Critics' Association (TCA) Press Tour two new photos from the set of the Breaking Bad prequel Better Call Saul, currently in production in Albuquerque, NM. The photos feature series stars Bob Odenkirk and Michael McKean. In addition, the network confirmed the line-up of series regulars for Saul, set to premiere in early 2015. Joining Odenkirk are Jonathan Banks (Breaking Bad, Wiseguy) as "fixer" Mike Erhmantraut, McKean (This is Spinal Tap) as Chuck, Rhea Seehorn (Franklin & Bash, House of Lies) as Kim, Patrick Fabian (Big Love, Grey's Anatomy) as Hamlin and Michael Mando (Orphan Black, The Killing) as Nacho – characters that will represent both legitimate and illegitimate sides of the law.

Better Call Saul is the prequel to the award-winning series Breaking Bad. Gilligan and Breaking Bad writer and producer Peter Gould created the show together and serve as co-showrunners of the premiere season. The series is set six years before Saul Goodman (Odenkirk) meets Walter White. When we meet him, the man who will become Saul Goodman is known as Jimmy McGill, a small-time lawyer searching for his destiny, and, more immediately, hustling to make ends meet. Working alongside, and, often, against Jimmy, is "fixer" Mike Erhmantraut (Banks), a beloved character introduced in Breaking Bad. The series will track Jimmy's transformation into Saul Goodman, the man who puts "criminal" in "criminal lawyer." The series' tone is dramatic, woven through with dark humor.

As previously announced, Breaking Bad creator and showrunner Vince Gilligan directed the first episode of the series, which has already been greenlit for a second season of 13 episodes. The debut season will consist of 10 episodes.