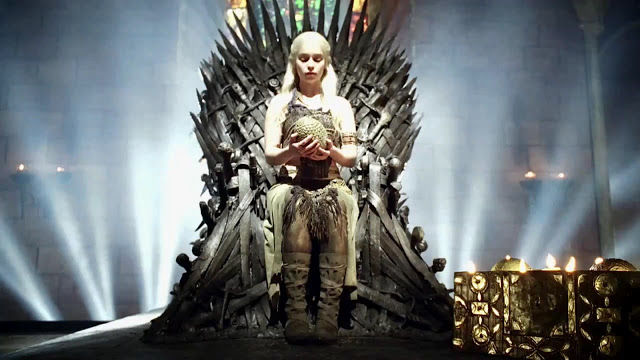 It could be the biggest question on the minds of "Game of Thrones" fans, but it's a question "Thrones" author George R.R. Martin doesn't even want asked.
What does the 65-year-old author say to those who wonder whether he'll be able to complete the final two books in his massive 7-novel "A Song of Ice And Fire" series before he dies?
"I find that question pretty offensive, frankly, when people start speculating about my death and my health. So 'Fuck you!' to those people," he told the the Swiss newspaper Tages Anzeiger.
Martin began writing the saga in 1991, when he was 42.
The fourth season of the HBO series, I'm told, depicted events described in novels three, four and five (the fifth being the last novel completed). The channel has already ordered a fifth and sixth season – but there's still no word as to when Martin's sixth novel of Westeros & Essos – "The Winds of Winter" – will find its way to bookshelves. (The seventh and final novel is expected to be titled "A Dream of Spring.")
Ironically, HBO's "Game of Thrones" – on which Martin serves as producer and screenwriter – is slowing down his work on the Stark-Lannister-Targaryan novels because it has increased Martin's travel schedule, and Martin does not write on the road.
"Thrones" is now the most popular series in HBO history, and HBO execs confirmed at a Television Critics Association this week that the channel fully intends to adapt Martin's entire series.
Martin has been consulting with the HBO series' showrunners, sharing what he intends to do with the final two books. (Martin has already revealed to the rest of us that the final two novels will take his characters farther north than ever before.)
The perhaps marginally less offensive question I would ask Martin? Is it inevitable that we're going to start seeing the adventures of Arya, Dany, Tyrion, et al on screen before they find their way to the page?
Find all of Tages Anzeiger's interview with Martin here.