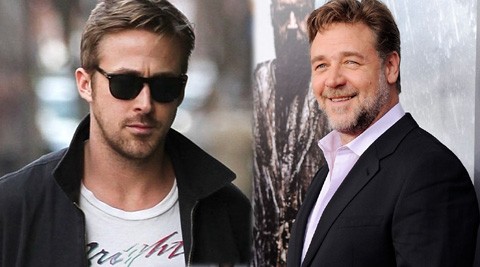 I love that you hear Shane Black's name in the news twice in one week again.
First, his choice to do the new PREDATOR over DEATH NOTE led to the rumor that Gus Van Sant is going to take the gig. Now, we get this news that Warner Bros. wants to make Black's NICE GUYS with Russell Crowe and Ryan Gosling.
Black's had NICE GUYS in the pipeline for forever, but this is the closest it's come to actually getting produced. WB is apparently duking it out with other studios for the rights to the project, which Black co-wrote with his DEATH NOTE and DOC SAVAGE collaborator, Anthony Bagarozzi. Gos and Crowe are only in talks, but they've been attached for a while, and are probably the most attractive (in more ways than one) aspects of this package.
NICE GUYS is a detective story set in L.A. of the '70s, and teams up a P.I. and a Hollywood bruiser to investigate the alleged suicide of a porn starlet. Needless to say, there's much more under the surface, and apparently the oil-starved American auto industry of the era gets involved. No idea which roles Crowe and Gosling are taking, but my gut tells me the former will be Jackson Healy, the tough guy, and Gosling will play private dick Holland March. But I'm pretty sure that hasn't been announced yet, so we'll wait and see (if they even get officially signed).
This sounds sorta like KISS KISS BANG BANG meets THE LONG GOODBYE with a dash of CHINATOWN thrown in there for kicks. Those movies don't suck, and neither do Black, Crowe, or Gosling. Hopefully, Warner agrees, and gives Black the budget, marketing and rollout he deserves this time around.
Headline photo courtesy of Indian Express.
-Vincent Kim-Zahedi
"Papa Vinyard"
vincentzahedi@gmail.com
Twitter