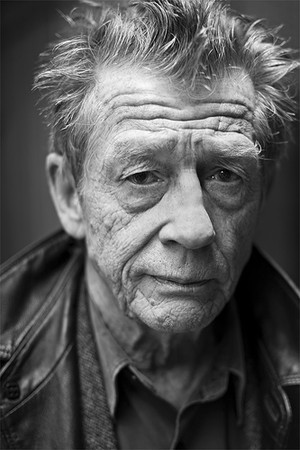 Guillermo Del Toro has always peppered his output with smaller, indie films in between his studio work. He started out with CRONOS, he did THE DEVIL'S BACKBONE after MIMIC, and he earned Oscar wins and a massive swell of street cred in between the HELLBOYs with PAN'S LABYRINTH. In an interview with Steve Weintraub of Collider, GDT announced that after CRIMSON PEAK and before he jumps into pre-production on PACIFIC RIM 2, he'll be shooting a black-and-white "strange little movie."
He doesn't relent many details, like the title he claims he's already chosen or any sort of allusions to the premise, but he does say he wants his Dr. Bruttenholm from HELLBOY, John Hurt, to star in the film. He also says, "There's one great creature in it," so imagining a horror-ish tale along the lines of THE ORPHANAGE or PAN'S LABYRINTH isn't out of the question.
Del Toro would shoot the thing early next year, in between the pre-production of PACIFIC RIM 2 (which begins this August) and the production period beginning late 2015.
Many of us can agree that GDT is one of those guys whose work warrants attention, no matter what scale or budget the man is working with. I thought PACIFIC RIM had his personal touch on its sleeve, but without Thomas Tull and hundreds of millions of dollars looming over his shoulder, I'd expect this one to be his most personal work since PAN. Which is excellent.
Not a lot of people keep hitting the low-budget well after they hit it big. Big ups to Del Toro for fulfilling his artistic ambitions in between the blockbusters.
Who else is REALLY excited to see Guillermo Navarro shoot this sucker in black-and-white?
-Vincent Kim-Zahedi
"Papa Vinyard"
vincentzahedi@gmail.com
Twitter