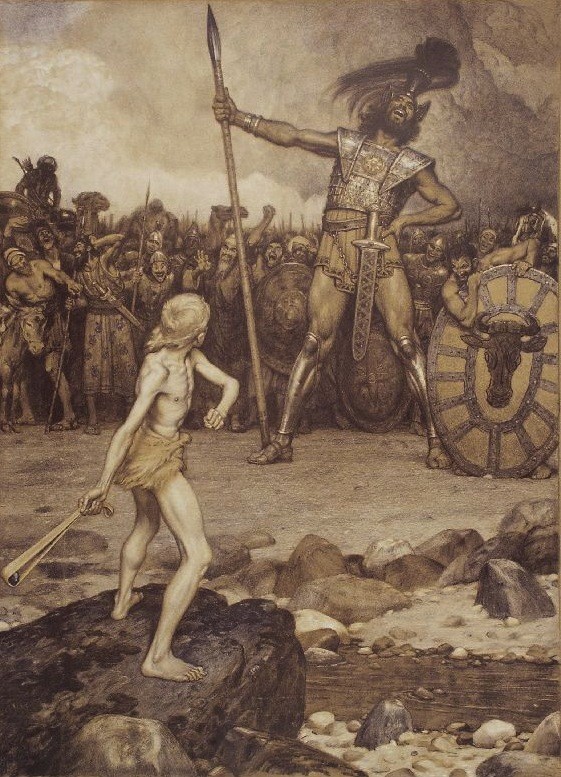 If one thing was proven this year at the box-office, it's that there is money to be made off of the stories in the good book.
SON OF GOD, HEAVEN IS FOR REAL, and NOAH made a ton of profit, and Ridley Scott's EXODUS is set for release this December. Still, Scott has already lined up his next biblical epic: DAVID, as in the one who killed Goliath an eventually became the first king of Israel.
Scott will produce and possibly direct, but DAVID is up against PROMETHEUS 2 and THE MARTIAN for Sir Ridley's attention. Still, Fox wants to invest huge bank in this, so don't be surprised if they pull a PROMETHEUS and pressure him into the driver's seat. They might be reluctant to even try and land a similarly big name, especially considering Paramount's headache when they went with "artist" Darren Aronofsky and had to battle with him in the editing bay.
David's story is indeed epic, and more fleshed out than the original story of NOAH, featuring his battle with the giant Goliath, his conquest over the philistines, and quelling he rebellion of his own son, Absalom. Scott could make an excellent, rip-roaring sword-and-sandals flick out of this, or he could go the super pious, religious route, but something tells me he'd opt for the former. The GLADIATOR version of this story writes itself, and Scott could (and hopefully will) shoot the hell out of it.
-Vincent Kim-Zahedi
"Papa Vinyard"
vincentzahedi@gmail.com
Twitter