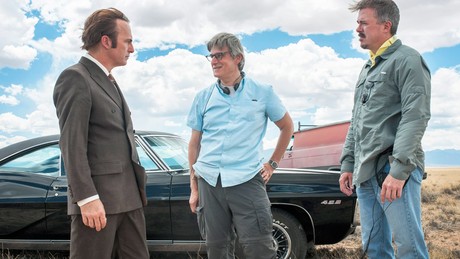 Walter White will likely make his way into "Breaking Bad" spinoff "Better Call Saul," which co-creator Peter Gould confirms will be set partially during the events of "Breaking Bad."
"One of the great things about having a time line which is flexible is that perhaps some of it takes place before 'Breaking Bad,' during 'Breaking Bad,' and after 'Breaking Bad'. That gives us the ability to bring back characters that were killed on 'Breaking Bad,'" Gould told The New York Daily News.
"Saul" won't hit AMC until next year, but the channel is so excited about the project from Gould and "Bad" mastermind Vince Gilligan that it has already ordered a second, longer season for the hourlong, which will depict the further adventures of Saul Goodman, attorney to meth kingpins Gus Fring and Walter White.
Bryan Cranston has long expressed interest in reprising his signature Walter White character on "Saul."
Jonathan Banks, who played henchman Mike Ehrmantraut on "Breaking Bad," has already been cast as a "Saul" regular.
Gould also told the paper that the "Saul" series will, like "Breaking Bad," be highly serialized.
Find all of The Daily News' story on the matter here.