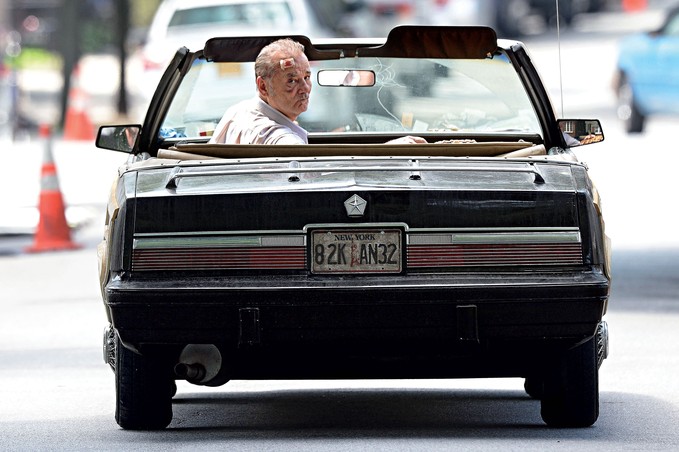 You can say a lot of things about this ST. VINCENT trailer. You can say it has the same "lovable schmuck befriends awkward child" scenario used in countless dramedies, from THE WAY, WAY BACK to ABOUT A BOY and so on. You can say it seems a little obvious, what with the split between the boy's conservative side, represented by his priest (Chris O'Dowd) and his mother, and his more anarchic tendencies, which bad-boy Bill Murray has to coax out of him. You could even say that the tone looks unremarkable, that none of the jokes are haymakers, and that it could very well be a lukewarm wannabe charmer.
REGARDLESS…
This is Bill Murray's first starring role in an out-and-out comedy since, I'm not kidding, THE MAN WHO KNEW TOO LITTLE 17 years ago. He's been funny in movies like THE MONUMENTS MEN, THE CRADLE WILL ROCK, and, of course, the Wes Anderson jams, but he hasn't been the lead, and certainly hasn't been veering this close to the type of lackadaisical schlub he used to play in the early days. I'm not saying he looks hilarious in this movie, just that it's nice to see him let his hair down and once again be the guy kickin' back with a beer and an empty bank account. That alone could make this one worth checking out.
It's funny that this trailer comes out the same day some outlets have published their (appropriately) devastating reviews for TAMMY, because the primary flaw of that film, that McCarthy sticks too much to her tried-and-true persona, seems to not be a problem here. She's playing the straight man to Bill Murray, and I, for one, am interested to see her do the whole self-righteous seriousness thing while someone else does the goofy shit.
And not only am I fine with Naomi Watts' ridiculous accent, but I'm totally excited to see the rest of her work in this film. If her entire role's as mannered as what we see here, it could be really interesting funny stuff, or it could be disastrous. Very curious.
ST. VINCENT takes care of your kids on October 24th.
-Vincent Kim-Zahedi
"Papa Vinyard"
vincentzahedi@gmail.com
Follow Me On Twitter