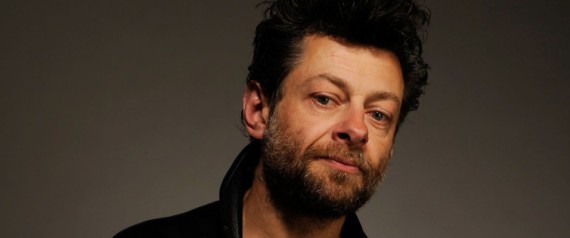 Andy Serkis, along with his company The Imaginarium, is providing mo-cap assistance to Mark Ruffalo and the rest of the performers on AVENGERS: AGE OF ULTRON. This makes sense considering he's the biggest name in the industry and, with the success of his work as Gollum and Caesar in LOTR and the last two POTAs, the dude you go to if you want advice on this sort of thing. However, he let it slip that, alongside the technical consultation, he's also actually playing a legit role in the next AVENGERS movie.
In an interview with Variety (via FirstShowing.net), Serkis responded thusly to, "You're involved with both the AVENGERS: AGE OF ULTRON and STAR WARS: EPISODE VII.":
"The Imaginarium is the performance capture consultant, and I'm playing a role (in both films). On 'THE AVENGERS,' I've been working closely with Mark Ruffalo."
"Will we actually see your face?"
"I'm not at liberty to mention. But it's all the same to me. I've never drawn a distinction when playing a role, whether it be live action or performance capture. Acting is acting. It's just basically what you wear to the set that's different."
Despite his hesitation, and his live-action presence in stuff like THE PRESTIGE, BURKE & HARE, and 13 GOING ON 30, I'd still bet that his role will utilize his unmatched talents as a mo-cap actor. Whether he'll be playing an established Marvel character or a minor, throwaway cameo is anyone's guess, but I'm hoping for the former; Serkis is a big name these days, and it'd be great to see him as a permanent addition to the MCU roster.
I expect we'll hear more about his role sooner than later as the months tick away leading up to next May.
AVENGERS: AGE OF ULTRON assembles on May 1st, 2015.
-Vincent Kim-Zahedi
"Papa Vinyard"
vincentzahedi@gmail.com
Follow Me On Twitter