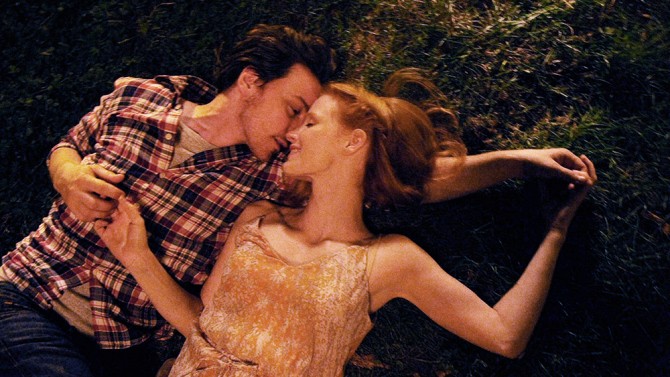 THE DISAPPEARANCE OF ELENOR RIGBY has created a lot of press for having been shown in three versions: one, HIS, focusing on James McAvoy's character, HER, told from Jessica Chastain's perspective, and THEM, a compilation of the two for mainstream release.
No word on when we'll get to see the HIS and HER cuts of the film, but we have a trailer for the THEM cut we'll be seeing in theaters this September.
It's gotten a great reception so far, and it certainly looks more mature and subtle than your average romantic drama, complete with two leads more at home in big blockbusters or challenging indies than cornball love stories. Still, it's hard to convey the ambitions of the narrative and the unconventional release strategy in a 2-minute trailer, but the handful of scenes we get a glimpse at look have an intimacy that makes this flick look pretty interesting.
Plus, other than McAvoy and Chastain, we got Bill Hader, Jess Weixler, Isabelle Huppert, Viola Davis, and a wisdom-spouting William Hurt.
THE DISAPPEARANCE OF ELENOR RIGBY: THEM releases on September 26th, with the separate chapters to come at some point later.
-Vincent Kim-Zahedi
"Papa Vinyard"
vincentzahedi@gmail.com
Follow Me On Twitter