This Caleb Reynolds fellow is apparently not the most politically correct of "Big Brother" contestants: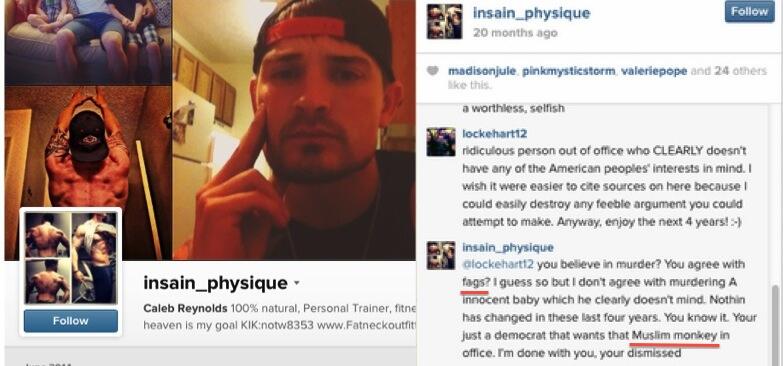 The "Big Brother" feeds did not activate and HGTV's "Big Brother After Dark" did not launch after last night's episode – which only really introduced eight of the season's 16 contestants. The whole shebang snaps into place tonight.
Returning tonight:
NY Med (10pm ABC)


"Hell's Kitchen" hit its best number since March and tied a "Big Bang Theory" repeat as last Thursday's top broadcast.
"Last Comic Standing" managed its first uptick of the year.
No basketball-promo boost for ABC's "Black Box."
Thursdays, April 17-June 19, 2014
(18-49 finals; repeats in grey; prior weeks in parentheses)
1.8 (2.0) (2.0) (2.0) (2.2) (4.9) (3.8) (4.5) (4.5) (2.5) Big Bang Theory
1.8 (1.6) (1.7) (1.6) (1.6) (1.7) (1.5) (1.6) (1.7) (1.7) Hell's Kitchen
1.4 (1.2) (1.4) (1.6) (1.7) (---) (---) (---) (---) (---) Last Comic Standing
1.3 (1.4) (1.3) (1.5) (---) (---) (---) (---) (---) (---) Mom
1.3 (1.7) (---) (---) (---) (---) (---) (---) (---) (---) Soccer
1.3 (1.2) (1.1) (1.5) (1.3) (1.7) (2.1) (2.1) (2.5) (---) 2½ Men
1.1 (0.9) (0.8) (1.1) (0.9) (0.9) (0.7) (1.1) (0.8) (0.8) Pawn Stars
1.1 (---) (---) (---) (---) (---) (---) (---) (---) (---) Rookie Blue
1.0 (0.9) (1.0) (1.2) (1.4) (2.3) (1.9) (2.0) (2.4) (---) The Millers
0.9 (1.0) (1.1) (1.2) (1.1) (1.1) (0.9) (---) (---) (0.9) Hollywood Game Night
0.9 (0.5) (0.5) (0.4) (---) (1.1) (1.6) (0.3) (---) (---) SportsCenter
0.9 (0.9) (1.0) (1.3) (---) (---) (---) (---) (---) (---) Undateable
0.8 (0.8) (0.8) (0.9) (0.9) (---) (---) (---) (---) (---) Gang Related
0.8 (---) (---) (---) (---) (---) (---) (---) (---) (---) Kate Plus 8
0.7 (---) (---) (---) (---) (---) (---) (---) (---) (---) American Restoration
0.7 (---) (---) (0.7) (0.8) (1.1) (1.2) (1.3) (1.5) (---) Black Box
0.7 (0.6) (0.7) (0.8) (0.8) (1.4) (1.5) (1.6) (1.6) (---) Elementary
0.6 (0.4) (0.4) (0.4) (0.4) (0.4) (0.3) (0.4) (---) (0.4) Conan
0.6 (---) (---) (---) (---) (---) (---) (---) (---) (---) Defiance
0.6 (---) (---) (---) (---) (---) (---) (---) (---) (---) Dominion
0.6 (---) (---) (0.6) (---) (0.4) (0.4) (0.6) (0.5) (0.5) The First 48
0.6 (---) (---) (---) (---) (---) (---) (---) (---) (---) Honey Boo Boo
0.6 (0.7) (0.6) (0.6) (0.7) (0.7) (0.6) (0.7) (0.6) (0.5) MTV Challenge
0.5 (---) (0.3) (---) (0.3) (0.3) (---) (---) (0.3) (---) Impact Wrestling
0.5 (0.6) (---) (0.6) (0.6) (0.5) (---) (---) (---) (0.6) Impractical Jokers
0.4 (0.5) (0.4) (0.5) (0.6) (0.5) (---) (---) (---) (---) Carbonaro Effect
0.4 (0.3) (---) (---) (---) (---) (0.4) (---) (---) (---) Chopped
0.4 (0.4) (0.5) (---) (0.5) (0.4) (0.4) (0.4) (0.4) (---) Colbert Report
0.4 (---) (---) (---) (---) (---) (---) (---) (---) (---) College Baseball
0.4 (0.4) (0.5) (---) (0.6) (0.4) (0.4) (0.5) (0.5) (---) The Daily Show
0.4 (0.3) (0.4) (0.4) (0.3) (0.4) (0.4) (0.4) (0.3) (0.4) House Hunters
0.4 (---) (---) (0.4) (0.4) (0.4) (0.4) (0.3) (---) (0.4) House Hunters Intl
0.4 (0.3) (0.5) (---) (---) (---) (---) (---) (---) (---) Party Down South
0.3 (---) (---) (---) (---) (---) (---) (---) (---) (---) Critics' Choice TV
0.3 (0.5) (0.5) (0.6) (0.5) (0.4) (0.5) (0.4) (0.4) (---) Eric Andre Show