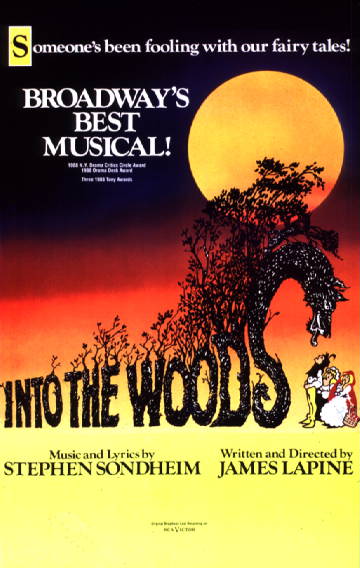 Jeremy here...
Last week, The New Yorker relayed some discouraging, off-the-cuff quotes from Stephen Sondheim regarding a number of fairly significant creative compromises forced upon him by Disney in bringing his classic musical INTO THE WOODS to the big screen. Today, Sondheim put on his moonwalking shoes and issued a statement through his lawyer.
The basic gist: the terrific song "Any Moment" is still in the movie, as is the brief indiscretion of the Baker's Wife (Emily Bunt) and the Prince (Chris Pine). As for the alterations to Rapunzel's (Mackenzie Mauzy) fate and the relationship between the Big Bad Wolf (Johnny Depp) and Little Red Riding Hood (Lilla Crawford), well, Sondheim doesn't address those issues in the below response, so you should probably consider those changes permanent.
It's a huge bummer that Sondheim and writer James Lapine caved to Disney's wishes, but this was never going to be the INTO THE WOODS that won three Tony Awards in 1988 (it lost Best Musical to the runaway phenomenon that was Andrew Lloyd Webber's PHANTOM OF THE OPERA). I'm hoping for the best, but with Rob Marshall directing and non-singing movie stars playing pivotal roles, the best-case scenario is that it won't be a full-fledged fiasco like Tom Hooper's LES MISERABLES.
Here's Sondheim's statement:
An article in The New Yorker misreporting my "Master Class" conversation about censorship in our schools with seventeen teachers from the Academy for Teachers a couple of weeks ago has created some false impressions about my collaboration with the Disney Studio on the film version of Into the Woods. The fact is that James (Lapine, who wrote both the show and the movie) and I worked out every change from stage to screen with the producers and with Rob Marshall, the director. Despite what the New Yorker article may convey, the collaboration was genuinely collaborative and always productive.

When the conversation with the teachers occurred, I had not yet seen a full rough cut of the movie. Coincidentally, I saw it immediately after leaving the meeting and, having now seen it a couple of times, I can happily report that it is not only a faithful adaptation of the show, it is a first-rate movie.

And for those who care, as the teachers did, the Prince's dalliance is still in the movie, and so is "Any Moment."
INTO THE WOODS opens theatrically on Christmas Day.