Truth be told, I'm not the biggest fan of Christopher Nolan's BATMAN/DARK KNIGHT movies.
While I found his interpretation aesthetically admirable…and felt certain stylistic flourishes he brought to the table were effective and even inventive within the context of the mythos…I found the whole of the affair to be a tad cumbersome and dour for my tastes. As if they were trying too hard? Taking themselves a little too seriously? I'd say this about BATMAN BEGINS and THE DARK KNIGHT, at least. THE DARK KNIGHT RISES is an entirely different beast - it's over-reaching, sloppy, and fatally hamstrung by a severely under-amped Bane and a clumsily realized riff on an iconic comic book moment (the breaking of Batman's back).
This said, one of the elements which did interest me about all of the films were the backstory behind - and presentation of - the technology Bruce Wayne brought to bear to personify his "Batman" alter ego. The Tumbler. The gadgets. "Those wonderful toys" (I know, I know, wrong adaptation). And, of course, that suit. Tough looking. Meaning business. "Don't fuck with me."
An outfit that's that's brilliantly realized in a recent release from Hot Toys/ Sideshow.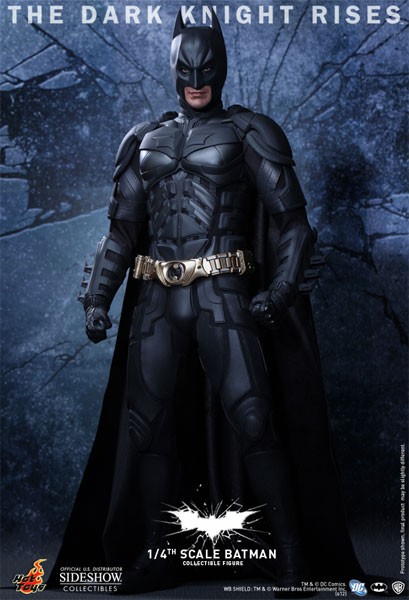 I don't purport to have seen every Batman figure ever created - I don't know if doing so is even possible. But in terms of detail and substance, Hot Toys' THE DARK KNIGHT RISES 'Batman Quarter Scale Figure' is easily the best presentation of the character I've personally come across. It's also one of the Hot Toys' greatest-ever creations - pound for pound (literally), and because of said poundage. This is a sturdy, imposing collectible no matter how one looks at it. It is weighty and huge - standing slightly over 18" tall and coming in at over 12 lbs. It's loaded with a substantial assemblage of interchangeable accessories (so many that I had to cut and paste from the figure's official site to be sure I listed them all…)
•Authentic and detailed fully realized likeness of Batman in The Dark Knight Rises film

•Approximately 18.5 inches / 47 cm tall

•Three (3) interchangeable heads including:

•One (1) Batman head with patented Parallel Eyeball Rolling System (PERS)

•Alternate Batman head features the sonar vision device with light-up eyes(cell button battery operated-included)

•Three (3) interchangeable lower face parts capturing his classic facial expressions, can be fit onto two functional heads

•One (1) newly developed head sculpt of Christian Bale as Bruce Wayne in the movie with accurate facial expression, detailed wrinkles and skin texture

•Batman body with over 32 points of articulation

•Three (3) pairs of interchangeable gloved palms including:

•One (1) pair of fists

•One (1) right relaxed palm

•One (1) left open palm

•One (1) right palm for holding grapnel gun

•One(1) left half open palm

•One (1) newly developed complex Batsuit featuring fabric costume covered with armor

•One (1) cape

•One (1) flight pack

•One (1) utility belt with accessories

•One (1) pair of forearm gauntlets

•One (1) pair of black boots

•One (1) grapnel gun with bullets

•One (1) transformable sticky bomb gun

•One (1) functional ultrasonic cutter

•One (1) functional radiation detector

•One (1) light-up EMP gun

•Three (3) batarangs

•One (1) miniature mine

•One (1) figure stand imitating the movie scene with the masks of Bane, Joker and Scarecrow, and the movie logo
As suggested by the list above, this Bat offers insane quantities of well considered accouterments and detail.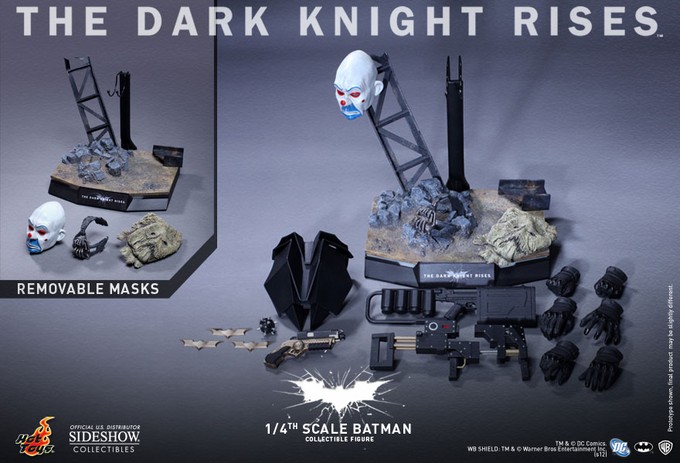 For example, the armor plating, and accruements which constitute the bulk of the uniform are each meticulously sculpted, and are secured atop a detailed fabric body/suit/undersuit. In essence, there's an amazing amount of depth dimension (for want of a better word) evident at first glance alone - before one even has a chance to peruse the details.
But when one does so? You'll see truly remarkable paint precision - on my review product, I couldn't locate a single blemish or micro-splash or misalignment of paint. Extreme - almost incomprehensible - precision went into this element of the figure.
There's also supreme devotion to other nuances - like detailed ribbing on the straps holding on Bruce's armor plating, and subtly embodied surface texture within the armor itself (as if it is truly made of some sort of composite material). This same precision extends to gauntlets and equipment - there's a 'fullness' of vision and execution here which is impressive and almost humbling at times.
The accurate sculpting of Baleface (the figure comes with multiple and interchangeable heads - including one light-up "sonar vision" goggle mask) is so finely crafted it's almost unnerving to see little bitty Bale heads staring up at you from the box - especially given that the sculpts have all been embed with a eerie touch of countenance.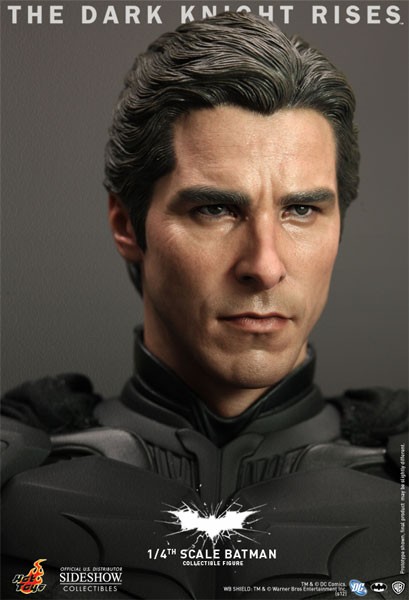 This said, and while the precision of paint application is flawless (to my eyes, at least), there's a minor complexion issue here - as if the Balefaces are wearing thick make-up or somesuch. This does not sink the overall illusion here - not by a longshot - and this criticism is particularly irrelevant given that a vast majority of fans will prefer to keep the figure's face obscured by Bat masks. But it's a notable wobble within an otherwise exceptional offering.
This one's very highly recommended for fans of Nolan's BATflms, and/or Batman completists. But I have no issue going one step further here: if you're a Geek like me who, simply, appreciates the artistry and 'badassity' of a thing - even if you're not wholly in love with the tales from which it sprang? This one's for you as well. The Quarter Scale Batman works wonderfully as an icon of both superhero and film history, and…at the end of the day…what greater complement could be paid to any collectable of this nature?
You can find more about the Hot Toys' Quarter Scale Batman - including finding a number of additional photos - HERE.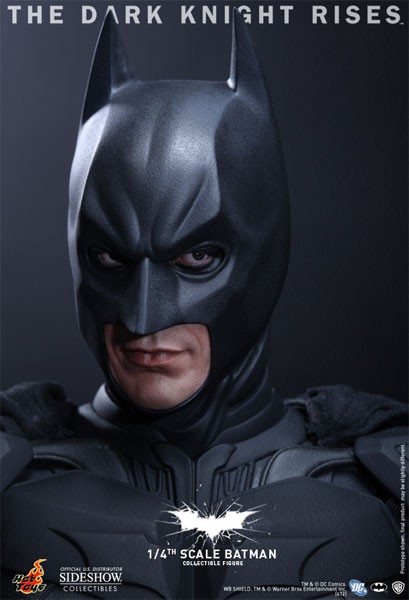 —————
Glen Oliver
"Merrick"
- e-mail
- Twitter