Glen here…
…with a mini-Docback touching on a few cool points from WHOness this week, as well as another fine Big Finish Audio review from HornOrSilk. News on the WHO front has been a tad slow lately - in my experience it tends to ebb and flow considerably. One would imagine, however, that it'll pick up a bit as we careen towards S8's premiere.
And, yes, we'll have the weekly episodic Docbacks back as always when S8 ramps up. Whether or not they'll be pre-reviewed as previously? Is anyone's guess at this point…but stay tuned.
THE FIVE(ish) DOCTORS REBOOT SEQUEL COMING!?!?
Around DOCTOR WHO's 50th Aniversary late last year, fifth Doctor Peter Davison mounted an amusing and impressive celebration of his own - THE FIVE(ish) DOCTORS REBOOT.
Per recent comments from eight incarnation Paul McGann, it now seems a sequel of some sorts is in the works.
According to reports from Eighth Doctor Paul McGann's appearance at an event for Cambridge students, the Five(ish) Doctors onscreen reunion has already begun production.
…says THIS report via DenOfGeek. No other details were spilled.
Part of me is hugely excited by this - and can't wait to see where they go with the conceit. Part of me is apprehensive, though - I'm not eager to see the warmth and joy of the progenitor diminished by a potentiality lesser follow-up.
Come what may, it'll be a blast to discover what Davison & Co. have in store for us. More as we know more…
CAPALDI-ERA COMIC COVERS REVEALED!!
Per a press-release from BBC Worldwide North America…
DOCTOR WHO: THE TWELFTH DOCTOR #1

New Doctor! New Beginning! Offering shocks, surprises, and timestream-shaking revelations, don't miss your chance to get on board
this amazing ongoing series!

Eagle award-winning writer Robbie Morrison (Drowntown, The Authority, 2000AD, Nikolai Dante) and New York Times-bestselling artist Dave Taylor (Batman: Death by Design, 2000AD) dive headfirst into the TARDIS console room and spin the new Doctor off to his most challenging destination yet!

As with the Tenth and Eleventh Doctor ranges, Doctor Who: The Twelfth Doctor #1 comes with a beautiful regular cover painted by Alice X. Zhang, plus five other variants - including a "100% rebel Time Lord" photo cover and Mariano Laclaustra penned picture of Clara.

With the amazing storyline and fantastic interior art under lock and key at the time of going to press ­keep an eye on doctorwho.tv, titan-comics.com and the official BBC Doctor Who Facebook page for the official announcements.

Doctor Who: The Twelfth Doctor is available to pre-order from comic stores tomorrow and will hit retailers on October 1. Due to licensing restrictions, fans in the UK and Ireland can only purchase this comic digitally.

Titan Comics' new Tenth and Eleventh Doctor ranges will hit comic book stores on July 23, and print or digital editions are available to pre-order now - for more information, visit titan-comics.com.

COVER VARIANTS:

COVER A: REGULAR COVER: Alice X. Zhang

(Diamond order code: JUL141438)

COVER B: PHOTO COVER SUBSCRIPTION INCENTIVE VARIANT

(Diamond order code: JUL141439)

COVER C: BLANK SKETCH VARIANT

(Diamond order code: JUL141440)

COVER D: MARIANO LACLAUSTRA COVER FREE 10 COPY VARIANT

(Diamond order code: JUL141441)

COVER E: CLARA PHOTO COVER FREE 25 COPY VARIANT

(Diamond order code: JUL141442)

COVER F: ALICE X. ZHANG 'STARK' COVER FREE 100 COPY VARIANT

(Diamond order code: JUL141443)
HORNORSILK REVIEWS THE 'TOMB SHIP' BIG FINISH AUDIO!!
====================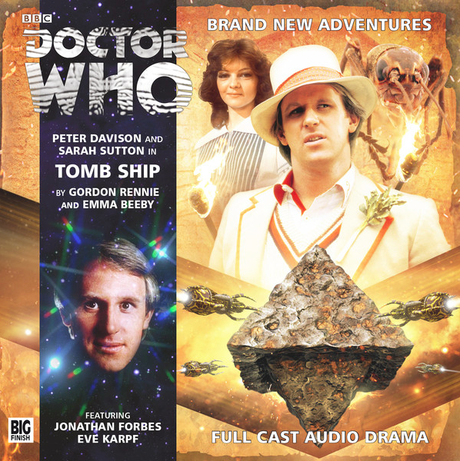 Big Finish 186 – Tomb Ship
By: Gordon Rennie and Emma Beeby
After the personal disappointment I had with the last monthly Big Finish adventure, I am pleased to say I did not have the same problem with this story. While not necessarily an extraordinary tale, for it is on the whole an average story, it remains enjoyable and does not bore while listening to it. It does what it sets out to do, and it knows it cannot extend itself too far, because if it did, then it might wear out its welcome. It's good when authors know how to do this, especially for a story like this, the kind which we need from time to time, where there is a story to be told, but one which does not take itself as being more important or sensational than it is.
Thus, we have a rather simple story behind the audio: The Doctor and Nyssa land on a vast "floating pyramid" tomb ship for the "God-King" of the Arrit (a species of highly intelligent insectoids, which we learn, could have rivaled the Time Lords if their species had lasted longer). While the "floating pyramid" aspect made me think we might have a connection to Sutek, we do not. Instead, the tomb-ship in space is going towards its final destination, where it plans to create a new star to immortalize the God-King.
The ship promises to give those proven worthy a special prize. This has attracted a family of tomb-raiders, led by the matriarch, Virna, looking for the treasure they believe must be aboard the ship. Initially seeing the Doctor and Nyssa as rivals, they eventually team up to help navigate through the ship and its many traps (or tests, as the case may be, often done through holograms, again, making me think of the Osirians). The dysfunctional nature of the family, especially the greedy nature of the matriarch who is willing to sacrifice anything, even her own children, lies at the heart of the tale.
The twists in this story are ones we could all see very early and resemble ones we have seen in other Doctor Who stories. Indeed, this audio reminds me of three classic Who stories: Tomb of the Cybermen, The Five Doctors, and The Mysterious Planet (the last, for the way the matriarch is portrayed). The story could have been dull, with such a straightforward presentation, but it is not; the twists and turns within Virna's family (which includes how long she has been trying to find the treasure) keep the story active. And, at the end, we have a little surprise, a sort of cliff-hanger with one of the characters in the story.
The Fifth Doctor, being in a situation similar to Tomb of the Cybermen, shows how different he is from his second persona. The Second Doctor, despite appearances, was more in control of what was going on, while here, we have the usual Fifth Doctor presence, where he is seemingly in over his depth, being surprised by things which he later realizes he should not have been. He does, of course, figure things out, but, it seems to be more of a challenge for him than it would have been for other Doctors. And this, I think, gets his character and persona right. He is that way more than any other Doctor. He still is a force to be reckoned with, especially when he is angry or desperate (such as in Caves of Androzani), but otherwise, he is likely to be the most forgiving and peaceable of the Doctors (I could never him destroying Harriet Jones' government like the Tenth Doctor did, for example).
Nyssa remains as she is – kind and considerate, trying to help, as long as she finds reasons to trust those she is helping – even if it means forgiving Virna's sons for following her mother, who at one time used Nyssa as leverage against the Doctor to get the Doctor's help. In many ways, the reason why many think she does little in her televised stories, is because of how similar she is to the Doctor – often making her redundant to the story (though, thankfully, not every story).
Probably the biggest problem with this story is that the listener might get confused with Virna's family, and who each of the sons are, and where they are in a given scene. They would be easier to follow if this had been filmed; but as it is, this is only a minor issue.
While not exceptional, the story still deserves a decent "average" rating of 7/10. It is something you can listen to and enjoy, and the flow of the story keeps going and doesn't seem to be padded (which, with a story of this kind, makes it a plus).
-- HornOrSilk
====================
—————
Glen Oliver
"Merrick"
- e-mail
- Twitter