Per Dwayne Johnson's Twitter feed, singer/actress Kylie Minogue is joining the cast of SAN ANDREAS.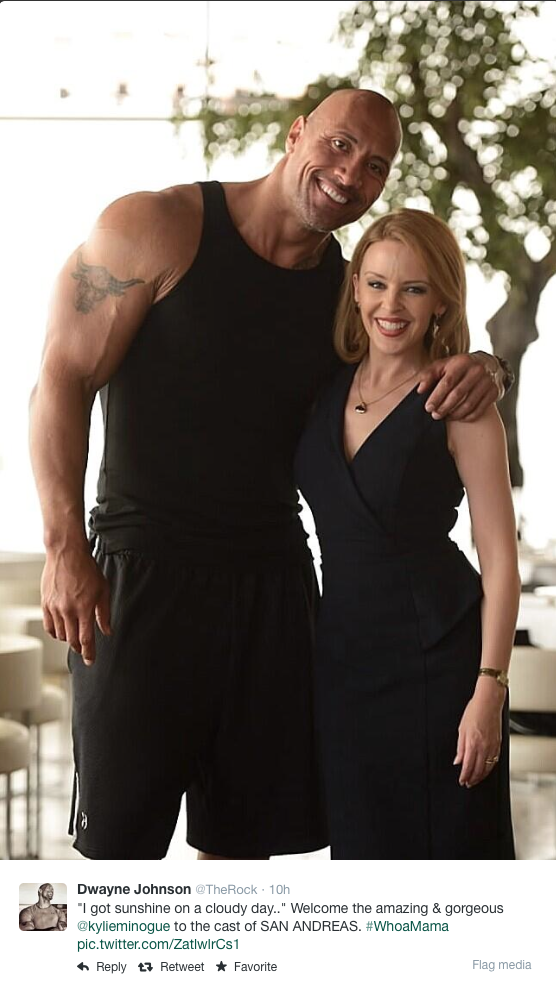 The film sounds a bit like an Irwin Allen adventure surrounding the aftermath of an earthquake in California.
This news is actually rather exciting to me, as 1) Minogue is quite, quite hot, and 2) she was rather wonderful in her guest appearance on a Tennat-era DOCTOR WHO episode called Voyage of the Damned. So good, in fact, that I would've had zero issue with her becoming a longtime companion to Tennant's Doctor. Alas…
Since then, I've been hoping she'd find a high profile/mainstream role which would illustrate to the masses how good an actress she is: will this one finally be the one?
SAN ANDREAS reunites Johnson with Brad Peyton, who helmed him in the the surprisingly spectacular and entertaining JOURNEY 2: THE MYSTERIOUS ISLAND back in 2012.
SAN ANDREAS is due on screens next Summer.
—————
Glen Oliver
"Merrick"
- e-mail
- Twitter