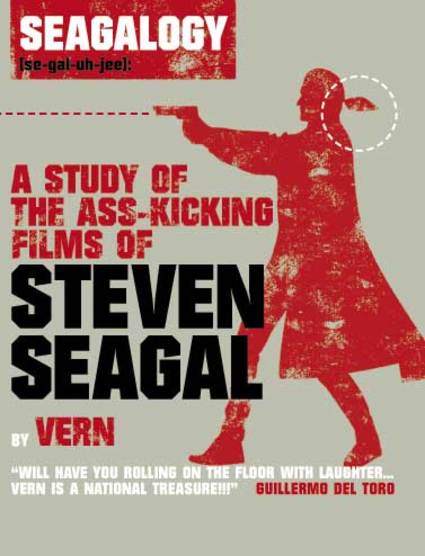 Jeremy here...
This Saturday, June 14th, Heavy Midnites, The Cinefamily And AICN are proud to present SEAGALOGY: A Steven Seagal Movie Marathon. Joining us for this one-of-a-kind evening of cinema will be the man who literally wrote the book on Seagalogy, Vern! This will be Vern's first-ever public appearance, and I couldn't be more excited to hear this ridiculously talented writer-philosopher preach the good news of Aikido master/movie star/lawman/blues musician Steven Seagal! There are still some tickets left, but they are going fast. Buy yours today!
In the interest of making sure the house is packed with as many hardcore Seagalogists as possible, I've been given two pairs of tickets to give away to two highly enlightened readers (and their guests). Want 'em? Here's what you have to do:
1) Send an email to mrbeaks@gmail.com w/ the subject "Seagalogy". Emails w/ the incorrect subject will be automatically disqualified.
2) Answer this question in 200 words or less: "What does it take to change the essence of a man?"
3) Under your answer, provide your full name and the name of your guest.
Entries are due by Noon PST on Friday, June 13th. Only one entry per person please. Multiple entries will result in disqualification.
The Cinefamily doors will open on Saturday at 4:30 PM. Our first selection, HARD TO KILL, will begin promptly at 5:15. The next three films - UNDER SIEGE 2: DARK TERRITORY, OUT FOR JUSTICE and ON DEADLY GROUND - have very approximate start times, as there will be introductions and special guests. Screenwriter Richard Hatem will join us for UNDER SIEGE 2, while editor Robert A. Ferretti will be on hand to discuss the power and the glory of OUT FOR JUSTICE and ON DEADLY GROUND. It's going to be one helluva blowout.
For more on this blessed event, please visit Heavy Midnites' page at The Cinefamily's website. Hope to see you there!