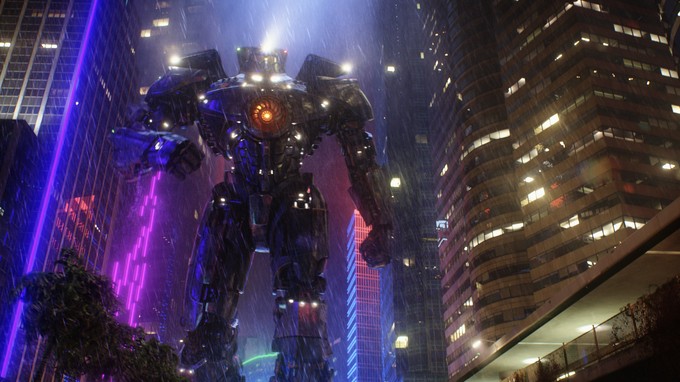 At ATX over the weekend, Guillermo del Toro revealed that he's currently scripting a PACIFIC RIM sequel with X-MEN: THE LAST STAND and THE INCREDIBLE HULK (movie) scripture Zak Penn.
Per THIS piece at BuzzFeed, first film's co-scripter Travis Beacham helped shape the new project's story, but was too involved with his new HIEROGLYPH television series on Fox to tackle this follow-up.
"I don't have the money, but I'm proceeding like it is happening,"
…says del Toro, who goes on to reveal that Charlie Hunnam and Rinko Kikuchi's characters from the first installment are…for now at least…in the mix, and that the new film would be a sequel - and not the prequel some had conjectured.
He also indicated that…
"I'm going for very new, very crazy ideas on the second one, which are very different from the first one — but you will get really great spectacle."
As for whether del Toro will ever get his money to make this movie? Legendary Pictures has openly expressed a willingness to consider the endeavor, and word on the street is the progenitor film did actually pass Legendary's internal benchmarks to consider a sequel - albeit not as aggressively as might've been hoped for. So, a follow-up would definitely seem to be very much on the the playing field, but as an enterprise it's not as glaring obvious or "safe" as we often witness in some franchises.
Previously, del Toro & Co. have revealed that a potential sequel might ping notions introduced in the original movie, such as humans "drifting" with Kaiju, and a resultant Kaiju/Jeager hybrid. Whether or not these ideas are still afoot is not clear at this time.
Personally, I'd love, love, LOVE to see a sequel. My 7 year old asks me every week (literally) if there's going to be a "PACIFIC RIM 2" - and speaks of the PACIFIC RIM verse…Jeagers, Kaijus, Gipsy Danger, Cherno Alpha, Coyote Tango, and "those really cool pilot suits"…as often as I spoke of STAR WARS growing up. PACIFIC RIM changed the way he perceived film, and it remains a standard to which he measures every other spectacle picture…this Summer's big movies, for example. Fair? Probably not. But kids will do that. I remember the days when "nothing was as good as STAR WARS!" Similarly, , the original RIM re-energized my own excitement for what movies could be - giving me hope that original, imaginative, and dazzling spectacle is still out there, waiting to make it to screens. Not just in terms of a RIM sequel…but on the whole.
My strong hunch is The Powers That Be are truly onto something with this one…they just gotta figure out how to grow the franchise, and how to introduce people to something "new" in a time when the business systematically feeds audiences films based on safe, pre-established / self-selling properties.
Fingers crossed…
—————
Glen Oliver
"Merrick"
- e-mail
- Twitter