Hey guys! Horrorella here...

Hells Yeah!!! I have been the biggest GHOSTBUSTERS fan since I first saw the movie when I was about 7 years old. It was hilarious, scary, and totally awesome. When I revisited it in college, I found an entirely new way to appreciate it. Much of the subtle and dry humor had been lost on me as a kid, so I found that as an adult, GHOSTBUSTERS is one of those fantastic films that only gets better the more you watch it.
It's clever, it's unique, it's infinately quotable, and it's an undisputed classic. The writing talent of Harold Ramis and Dan Aykroyd, the hilarity of Bill Murray's Venkman, the brilliant cast, and the weird mesh of comedy and horror that could only have ever happened at a very specific place and time make Ghostbusters a truely memorable and lasting film.
Which is why this is so damn exciting and one of the best parts of my day.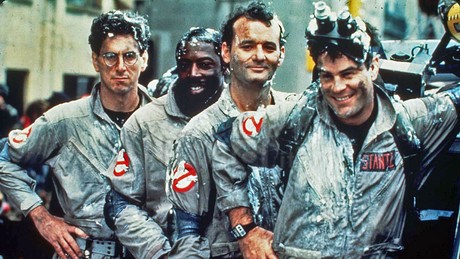 GHOSTBUSTERS turns 30 this year (that's right – we're all old), and to celebrate, a new Blu-ray set for both films is being released, AND (here's the super-exciting part) a theatrical rerelease of the 1984 seminal classic.
If you haven't seen GHOSTBUSTERS on the big screen since you were a kid, now you finally get a chance to relive the magic. And if you have NEVER seen GHOSTBUSTERS in a theater, I kind of pity you, and am also SO EXCITED for you at the same time. It's a fantastic experience. I suggest you buy your tickets now – you won't want to miss it.
Mark your calendars now:
August 29th: GHOSTBUSTERS Theatrical Re-release
September 16th: 30th Anniversary Special Edition Blu-Ray.
Via EW