Hey Yo, Draven here.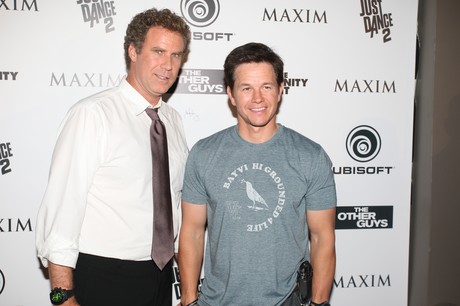 Here is some cool news: Deadline is currently reporting that Mark Wahlberg is in talks to re-team with Will Ferrell on a new comedy entitled, DADDY'S HOME. The project was originally set up to team Ferrell with Vince Vaughn along with Etan Cohen directing. Thankfully, that fell apart and now HORRIBLE BOSSES 2 directors, Sean Anders and John Morris, are in discussions to direct the film. Paramount is trying to fast track it, with the hopes of having it filming this fall.
Ferrell and Wahlberg teamed up in 2010 for the buddy cop comedy, THE OTHER GUYS. I really liked THE OTHER GUYS and the chemistry between the two was a major reason for that (with neither one really playing the "straight man" partner), so any chance of a re-team with those two is something that will grab my attention. Then, you add in the fact that Adam McKay (writer/director on THE OTHER GUYS) co-wrote the script for the film and is producing and they have what now seems like a can't miss project.
The way Deadline describes the film really makes it sound like Ferrell will be more of the straight man in the film and Wahlberg will get the chance to be the asshole he plays so well in films like THE DEPARTED and THE OTHER GUYS:
"Daddy's Home casts Ferrell as a mild-mannered radio executive who strives to become the best stepdad ever to his wife's two children. Complications ensue when their freewheeling, freeloading real father (Wahlberg) arrives, forcing the stepdad to compete for the affection of the kids."
Hopefully they can close the deal with Wahlberg and we all get the chance to see DADDY'S HOME in 2015 or 2016.
Follow me on Twitter here!