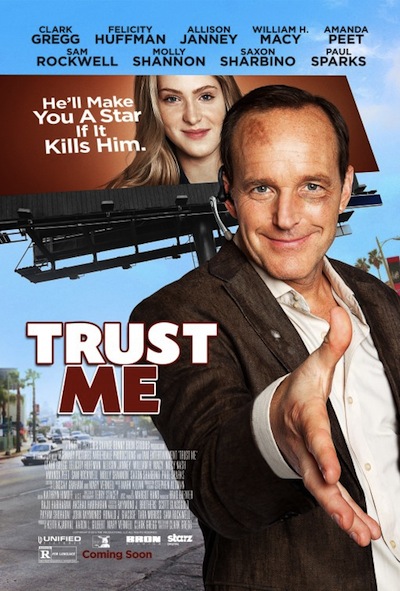 One of the most gratifying side benefits of the Marvel movie revolution has been Clark Gregg's ascension from "that guy" status to genuine stardom. Moviegoers all over the world now associate him with a role in one of the most popular franchises going; he's Agent Coulson, the guy who gave The Avengers something to avenge. He was so beloved in the role, they brought him back from the dead and gave him his own TV show in ABC's AGENTS OF S.H.I.E.L.D.
It's a remarkable mid-career turn of events for a character actor, and Gregg, always an immensely appealing presence onscreen, is incredibly grateful for his good fortune; he's been at it for over thirty years, and he knows just how fickle and cruel this business can be. This experience forms the basis for Gregg's TRUST ME, a pitch black comedy about a disgraced talent agent who specializes in child actors. It's Gregg's second go-round as a writer-director (following his adaptation of Chuck Palahniuk's CHOKE), and it's an unflinching depiction of how low people will sink to make it in the entertainment industry. Gregg stars as Howard, an agent who can't shake his own failed career as a child actor, so he inflicts his bitterness and desperation on his young clients. Just when it looks like Howard has lost his last client, he glimpses salvation in the form of Lydia (Saxon Sharbino), a precocious teenager who has the pluck and talent to be the next Jennifer Lawrence. But the minute Howard takes her on as a client, he's forced to outmaneuver a rival agent (Sam Rockwell), a duplicitous executive (Felicity Huffman) and Lydia's dirtbag father/manager (Paul Sparks). He's got the goods, and everyone in Hollywood wants what he has as much as they want him completely out of the picture.
When it comes to writing and directing, Gregg certainly has a taste for the nihilistic, which seems at odds with his outwardly pleasant demeanor. When I interviewed him last week at STK in West Hollywood, I was curious to find out what draws him to such darkly comedic material. We also discussed life as Agent Coulson and, in the vaguest of terms, what to expect from the second season of AGENTS OF S.H.I.E.L.D.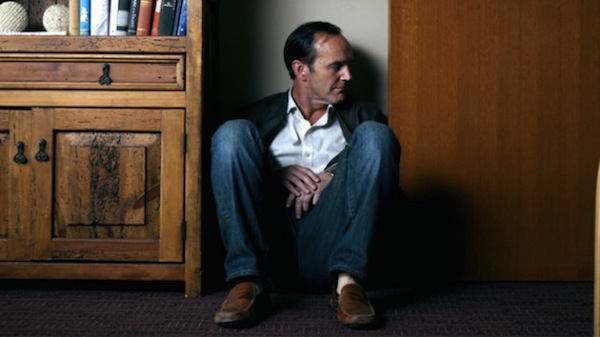 Jeremy: You've been around this business for over thirty years. Are you working through some trauma relating to showbiz parents or child actors?
Clark Gregg: It's funny. I wasn't a child actor. I've been around some child actors, and it always seems a little bizarre to me because I didn't have that childhood. Some of them really thrive under it, and beg their parents to let them do it; they just know from an early age that that's what they want to do, and they end up having a healthy life staying in it. As we all know, plenty of others have a different experience. I never set out to do an exposé. I don't think this is a representative case. It's representative of a minority of cases that are very unfortunate and to me represent something that's a little twisted in the system. I just want to be clear that my agents are spectacularly kind people who sacrifice themselves to help me. This is about a different idea to me, which is… built in to the American dream - especially as it's manifested in Hollywood, which is the world of business that I am familiar with and can write about - there's this idea of a transformative moment, where you'll get that job or, even more twisted, meet that person who can put you in the big time and change your life. And then people have this whole romanticized vision of how your life is going to change and you're going to be different. As my profile has gotten a little more high visibility, you see people look at you in a way where they're projecting this myth onto you. It's hard not to let them. "You think I'm some god-like creature? Keep thinking that." But meanwhile you go home, and you forgot to clean up or something, and you have trouble with your wife, and you realize it's all bullshit.

I had this idea about a person who's on the outside, which is certainly the part I connected with more than the child actor part. Somebody who's desperately on the outside trying to find that break - and you realize a lot of people never get that break. We're so focused on winners and stars and celebrities that we don't realize or talk about what the journey's like for the people - and it's not just a few of them. Half of the people will always be in the bottom half. In this particular business, less than one percent ever reach anything that's called "stardom". Ninety-nine percent have a different experience. (Laughs) I'm getting a political science-y, but that was my departure point to write something that felt like an unusual comedy of desperation that was buried in a kind of gradually evolving film noir.
Jeremy: There are a number of films about Hollywood that have this toxic view of the industry. I was thinking of HURLYBURLY while watching this movie.
Gregg: HURLYBURLY is a great example.
Jeremy: And that underbelly really does exist.
Gregg: It's not representative of anything that I've lived through, and at the same time there's nothing in this movie that hasn't happened this month somewhere in Hollywood. Anyone who's worked in the business for a while, the most preposterous stuff that I could dream up as a writer wouldn't touch the stuff that I've heard.
Jeremy: Are any of the events in here inspired by stories you've heard or things you've observed?
Gregg: No, it's from my imagination. There's elements, moments, lines, things I've heard about that are a part of it, but your job is not to be a documentarian. Your job is to capture the essence of something. You start out writing something that is about this, and it becomes a kind of comedy film noir to me where a desperate guy on the outside is finally presented with the thing he's been after for thirty years, then he realizes he has to choose between that or his soul. Later, I watched it and was like, "What was I talking about, where did this come from?" And then I watched it last week in Seattle and I realized, "Oh, it's a movie about transformation, about the desire for transformation and about the return to innocence." I realized that so much of where this movie came from was about me having a daughter. People won't necessarily see that, but you seek transformation in your career and in your success, and then here comes this girl you're responsible for.
Jeremy: You have a real facility for dark comedy. What writers influenced you early on, and where do you see yourself headed as a writer?
Gregg: I started with playwrights. I ran a theater company in New York. David Mamet was a teacher and a mentor. His writing I thought was knife-edged true and brutal and funny and also dark at times. I worked with Aaron Sorkin, whose dialogue was sizzling and funny and romantic at times. I spent a little time around Paul Thomas Anderson, and was a big fan of his movies and his writing. But I also fell in love with '70s movies; I grew up loving Hal Ashby and movies that Robert Towne wrote, like CHINATOWN or THE LAST DETAIL. And NETWORK. Paddy Chayefsky. Things like that. I always found myself drawn to films where I wasn't sure exactly how to feel, and I had to figure that out for myself. Lately, I've found that being re-immersed in the nerdy world… with all the highbrow stuff I've been involved in, I've found myself being connected back to the geek culture of my childhood. BLADE RUNNER was one of my favorite movies. I love mash-ups. This is a mash-up. BLADE RUNNER is a mash-up; it's a sci-fi noir. I'm interested in that kind of stuff; I don't look down my nose at sci-fi and fantasy. I feel like those are a different way of looking at the world, and, as our world gets more and more sci-fi, are particularly potent ways of looking at things. That's what I'm looking to explore next.
Jeremy: The script delivery scene in this movie…
Gregg: Ha! Totally Marvel! Nobody's asked me that!
Jeremy: What is it like when you get a new Marvel script?
Gregg: THE AVENGERS script, I think the guy was waiting down at the bottom of my driveway. I think they may have had a medic there just in case I passed out from reading, first of all, how great Agent Coulson's stuff was in there, but then also the fact that this would terminate my existence as a Marvel character.
Jeremy: I've heard stories about Marvel's security. They're no-nonsense.
Gregg: It's not just Marvel. Now, in the kind of blogger-spoiler world, everyone's terrified that their script is going to get out and their ending will be revealed - sometimes I think more than people are actually interested in what the ending is. More and more there's this coding on your scripts, and a top secret things saying, "Please don't discuss this."
Jeremy: AGENTS OF S.H.I.E.L.D., like a lot of shows, took a while to find itself. It's a lot of experimentation. What's your sense of what works, and where do you think the show should proceed from here?
Gregg: I don't really believe in formulas, you know? I think the network may have had an idea of a formula that would work for our show, and Marvel has ideas about that kind of thing, but the thing itself has to tell you what it wants to be. It was very clear how Season One needed to be, and I think you're right that it needed to find its way the way a lot of first-year shows do. But because Marvel's had such an amazing track record in big spectacle cinema, the transition into making a show about not superheroes, people like Coulson who are vulnerable and can die, might've been destined to be sort of stumble-y at first. And the amount of attention that was on it, to see what Marvel was doing next and the hype people put on it led to an unfortunate amount of tension and pressure in its beginning phases. I give a huge amount of credit to [Maurissa Tancharoen], Jed Whedon and Jeph Loeb, the writers on our show, for, even within that crazy fishbowl, staying limber and finding a way to do the groundwork and let people get to know those characters. In some of the standalone episodes, which I didn't necessarily want the show to be, that's where we got to know who Agent Simmons was. When you're taking your time with an early scene, a lot of people aren't aware how much that's affecting your level of being able to enjoy it later in the movie. I think the same is true in television. I love the way S.H.I.E.L.D. was blown apart with WINTER SOLIDER; I loved being part of a cross-platform storytelling that felt like something I'd never seen before. To have Nick Fury walk on with my beautiful gun that I never thought I'd see again… somebody did a really great meme: "When you absolutely have to kill every supersoldier in the room." To have him hand me this cube and make me the director of S.H.I.E.L.D., there are so many moments that I didn't think my heart could survive as a fanboy. That was one of them.

If we try to do the same model next year, it won't work. Next year has to go from there. From my understanding, my guess is that suddenly the really powerful director of a super-secret, historically effective organization that no longer exists and is outlawed and riddled with traitors who are psychotic, evil people - and we don't necessarily know who they are. If you think you know everyone who's Hydra by now, you're crazy. I think it's going to get really interesting and fun. I think it's going to get real paranoid '70s thriller, lo-fi, brass knuckles, let's go back to basics and find out how to build a S.H.I.E.L.D. that works better this time.
TRUST ME hits theaters in limited release this Friday, June 6th. It is currently available via VOD.
Faithfully submitted,
Jeremy Smith