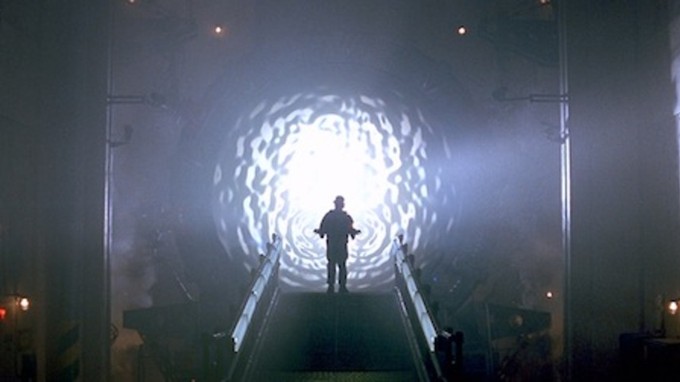 I don't think anyone could've called this one.
Just a day after a new screenwriter was hired for their long-gestating INDEPENDENCE DAY sequel, and now Roland Emmerich and Dean Devlin are reportedly revisiting another one of their classics: 1994's franchise-launching STARGATE. The two are set to direct and produce, respectively, a reboot of the franchise which will kick off a new trilogy for MGM.
There is no timeframe given for when Emmerich, who's currently working on his small-scale gay rights drama, STONEWALL, and Devlin, prepping his own directorial debut GEOSTORM, will tackle the project, but the lack of a hired screenwriter makes me think they'll wait until after at least the first INDEPENDENCE DAY sequel. However, the logistics of getting that flick to screen (with or without Will Smith) seem to be quite daunting, so I wouldn't be surprised to see the New Jack STARGATE getting fast-tracked before any traction gets going on ID FOREVER (or whatever it's called).
No word on whether the multiple series and TV-movies (including STARGATE: SG-1, ATLANTIS, UNIVERSE, and THE ARK OF TRUTH) will be considered canon in this incarnation, or even if the characters originally played by Kurt Russell and James Spader will be featured this time around. My guess is that everything except the actual Stargate itself will be dropped, and we'll get a new cast of characters to follow to the outer reaches of the universe. Still, Russell and Spader are still big name actors, so I'd hope Emmerich or Devlin at least puts a call into their respective camps before they actually start (or get someone to start) hammering out a script.
STARGATE never got a theatrical sequel, but its long-term presence on TV has created a level of franchise fatigue that may make it seem semi-stale to contemporary fandom. It's easy to forget the original film was a big international hit, grossing almost $200 million on a 55 mil budget, and is what landed Emmerich/Devlin the ID4 gig that really kickstarted their Hollywood careers into overdrive. As a fan of the '94 flick, I'm hoping that Emmerich and Devlin have some good ideas that make dusting off STARGATE after 20 years worth it. MGM deciding to keep them onboard, despite their busy schedules and (presumably) high asking price, seems like a sign of good faith that they have some juice in their creative tank in regards to their first Hollywood franchise.
-Vincent Kim-Zahedi
"Papa Vinyard"
vincentzahedi@gmail.com
Follow Me On Twitter