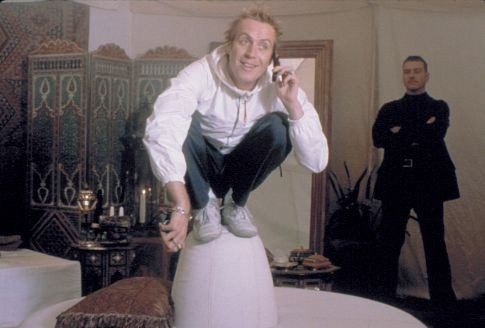 Remember how Tim Burton's CHARLIE & THE CHOCOLATE FACTORY unnecessarily revealed the relationship between Johnny Depp's Willy Wonka and his dentist father (played by Christopher Lee)? It looks like ALICE IN WONDERLAND 2 is going to give us another Depp character with daddy issues.
Welsh actor/comedian (and AMAZING SPIDER-MAN villain) Rhys Ifans will play the Mad Hatter's father, Zanik Hightopp, in the James Bobin-directed follow-up to Burton's billion-dollar-grossing 2010 hit. Even if it's treated as a reveal of some sort, we'll be able to visually deduce the familial connection between Depp's Hatter and Hightopp, "who cannot hide his bright-colored hair beneath a top hat." I'd expect his role to be mostly relegated to flashbacks detailing Hatter's history even further than they did the first time around.
Fellow Brit Mark Rylance (THE OTHER BOLEYN GIRL, the upcoming THE GUNMAN) was originally lined up to play the role, but it seems that Bobin and Sony ended up going with a bigger name. Ifans has been well-known both in Britain and stateside since his breakthrough in NOTTING HILL back in '99, and has been acting in both comedic and dramatic roles in flicks like THE REPLACEMENTS, THE 51ST STATE (a.k.a. FORMULA 51, the source of the above pic), ANONYMOUS, THE FIVE-YEAR ENGAGEMENT, and even HARRY POTTER AND THE DEATHLY HALLOWS - PART 1. He and Sacha Baron Cohen (who's signed on to play the film's villain, Time) are big-name additions to the cast, and join Depp, Mia Wasikowska, and Helena Bonham Carter, but not Academy Award-winner Anne Hathaway (whose character wasn't all that interesting to begin with).
Despite it's massive success, the first ALICE was a critical wash, earning 51% on Rotten Tomatoes (57% amongst the "Top Critics"), and was lampooned by many for its nonsensical plotting and NARNIA-lite climax. Hopefully Bobin, hot off the two MUPPETS movies, can inject some life into the slapdash, bizarro universe Burton created 4 years ago.
ALICE IN WONDERLAND 2 or THROUGH THE LOOKING GLASS or whatever title plays with the focus groups will take you down the rabbit hole on May 27th, 2016.
-Vincent Kim-Zahedi
"Papa Vinyard"
vincentzahedi@gmail.com
Follow Me On Twitter