Hey everyone. Capone in Chicago here.

Twice before, actor Michael C. Hall inhabited a character so completely (both time on television), I thought I'd never be able to see him play another one without thinking of him as this other character. I first saw Hall as mortician David Fisher in HBO's "Six Feet Under" series. He played the lost, moody Fisher so convincingly, I just assumed that's who Hall was as well…until I watched the first episode of Showtime's "Dexter," in which Hall played the introspective, intelligent serial killer Dexter Morgan.

During his run on "Dexter," Hall managed to find his way into a handful of mostly indie movies, such as PEEP WORLD and THE TROUBLE WITH BLISS (as well as the dreadful GAMER), usually in supporting roles. He popped up most recently in last year's KILL YOUR DARLINGS before shooting his first true leading role in a film, director Jim Mickle's COLD IN JULY, which premiered at this year's Sundance Film Festival. In it, Hall plays Richard Dane, a frame store owner, whose life is forever turned upside down after a man breaks into his home and Dane shoots him dead, justifiably. The film co-stars the likes of Sam Shepard, Don Johnson, Vinessa Shaw, and the film's co-writer Nick Damici, and it's a true genre-hopping good time at the movies, featuring Hall in a role that is far from anything we've seen him play to date.

When I spoke to Hall recently, he was just hours from hopping on the Broadway stage, where he's currently performing in Will Eno's "The Realistic Joneses," co-starring Toni Collette, Marisa Tomei and Tracy Letts. The show opened last month and is scheduled to run through mid-July. And if all schedules hold true, we should be able to catch Hall one more time on screen this year, in the crime drama I FOUGHT THE LAW. Please enjoy my talk with Michael C. Hall…





Capone: Hi Michael. How are you?


Michael C. Hall: Fine. How are you?



Capone: Good. So, you're doing this play in New York now, right?



MCH: Yeah, that's right, that's right. I'm doing it through early to mid-July.



Capone: Has it officially opened yet, or is it still in previews?



MCH: Yeah, yeah. It opened back on April 6.



Capone: And you're starring with one of my absolute favorite people that I've interviewed, Tracy Letts.



MCH: Oh, I love that guy.



Capone: I've only ever interviewed him as a writer, never as an actor, but he is fun to talk to. So I think in terms of COLD IN JULY, the most consistent aspect of the film is that it's inconsistent. It's constantly shifting it's tone, and if you can't predict tone it's tough to predict plot usually. Is that something that you enjoyed about reading it initially?



MCH: Absolutely. I liked reading the script, that it created expectations that it defied and did that more than once. Like you said, I think that's rare in the film today or storytelling generally. It seems to aspire to be a genre-bending piece. Definitely when I spoke to Jim about it, it became clear that that's a part of what he'd be doing, and I certainly had a lot of faith in him and enthusiasm in his ability to do that.



Capone: To his credit, I don't think he's really ever done anything like that before, and he pulls it off effortlessly, to the point where I almost hope he keeps making films that defy being placed into a specific genre. The film feels like it's a living, breathing thing when you're watching something like that.



MCH: Yeah, exactly. I think that we are perhaps conditioned in this country for a thing to be the thing that we think it is, and that's all it can be. As it defines itself, it's immediately defining is confining. Yeah, it seems to continue to spread its wings and go where it wants to go, and it was amazing being on a set that one day felt like a domestic drama and the next like an action thriller and the next like a horror movie--maybe all in the same day, with comic, or even slapstick, elements here and there. It was exhilarating.



Capone: There even comes a point where it feels like the lead character is about to switch, because once Sam Shepard comes into the film, there are moments where this becomes his story, which is really unheard of. I was so impressed seeing Sam Shepard here; he is like a fully realized, wonderful character. Tell me about spending time with him.








MCH: It was great. Sam and Don both were just so game. They're guys who have known each other for a long time, but I don't think they'd ever worked together, and we laughed a lot. I had some pretty mind-blowing, at times mind-bending, conversations with Sam. He's a deep and abstract thinker [laughs], and it was a pretty heady experience for me to be in the presence of these two true icons. It made it all the easier to fulfill my assignments, because I think Richard Dane is somewhat bewitched by these more fully realized men.



Capone: It was probably effortless for you to appear bewitched by these men.



MCH: Yeah, sure. They're fascinating guys with huge careers and huge presences. I think that's another rule that the film breaks. I think this is a movie about a lot of things, but it's about fathers and sons, and just as we come to really get inside and appreciate Sam's character's story, I think Richard himself is infused, and maybe infected, by a sense of that man and a desire to do right by him; it has to do with his own unreconciled feelings for his own father. I think they are, for the other, surrogate father and son.



Capone: When I spoke to Jim last week, he mentioned that the hair style that you're sporting quite elegantly was something you insisted on. Is that true?



MCH: I don't know that I would say "insist." I basically was finishing Dexter, and I know a guy who could probably make me the right hair, and I knew that I didn't have time to grow my hair out to have a period-specific mullet hairstyle, and I thought that would do a lot of things. It would maybe let us know that this is a movie where not everything had to be taken with the upmost seriousness, which I think was important. It let us know that this guy was maybe reaching, in terms of his desire to be relevant or cool. And it also was a very sort of period-specific thing. So I texted Jim and said, "How do you feel about a mild mullet for Richard?" And Jim said, "I love it. Mild at least." So, if that's insistence, I guess yeah.



Capone: You brought it up.



MCH: [laughs] I brought it up and I certainly stand by it.



Capone: You're right, it does speak to his state of mind and him trying to be feel relevant, because in those scenes right after the shooting, there are a couple moments that his manhood is called into question. The whole film could be looked at as an attempt by him to prove his manhood. Those were the most fascinating.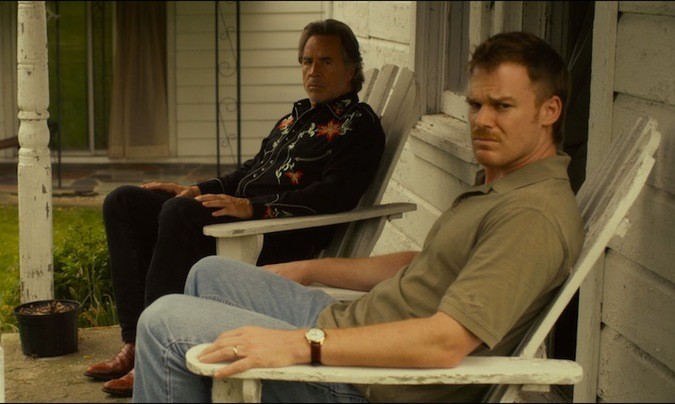 MCH: Absolutely. I think that's what motivates Richard to see this crazy thing through. When he's lying to his wife so that he can talk her into giving him the "okay" for him to go to Houston about this work opportunity for the frame shop, he says, "I've been waiting for something big like this." I think it's actually true for him, though, very true. As I discussed it with Jim, I said he's a guy… Life has happened to Richard, and he really has an appetite to finally happen to life and take some sense of agency. He didn't mean to pull the trigger when he shot the guy. I don't think some blood lust was awakened in him. I think his desire to see this thing through isn't about killing people; it's about taking responsibility for something he set in motion. But I do think he does have a metaphorical desire and need to pull the trigger. He's definitely a guy who doesn't have as strong or solid a sense of himself as a man as do these other two guys who have entered his world.



Capone: After watching you play Dexter for so many years, it was funny watching you play a guy that gets shaken up from killing a man. That moment alone sends you in a completely different direction than we've been watching you for however many years; that's a great moment actually.



MCH: Yeah, yeah. While I was once again killing somebody, I was doing it within a very different context and as a character who didn't mean to or want to or need to. It was somewhat therapeutic when "Dexter" ended to go play a regular Joe who has an immediate sense of horror and bewilderment and remorse over having committed a homicide.



Capone: Let me ask you one last question about a particular scene, the scene in the video store-- I was mesmerized by the fact that there was a fully stocked video store with VHS tapes. It was like deja vu from my childhood. What do you remember about that set?



MCH: I know, right? Well, the most fantastic detail of that day is that there was an extended, deluxe version of the Don Johnson making of documentary video for "Heartbeat" on the shelves. [laughs] That was pretty sweet.



Capone: Such a thing exists? My god!



MCH: Yeah, but nothing says late '80s like stocked shelves with VHS movies.



Capone: So true, but I can't think of a single movie that's tried it in the last 10 years. That brought me home. Michael, thank you so much for talking, and best of luck with this and the play.



MCH: Thanks a lot.



-- Steve Prokopy
"Capone"
capone@aintitcool.com
Follow Me On Twitter