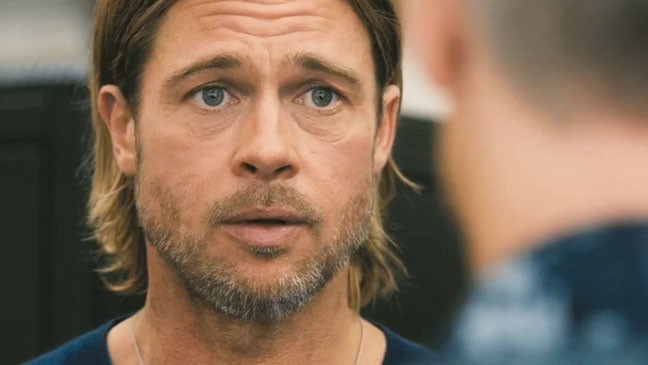 Brad Pitt and Steven Knight seem to be getting along famously. Less than two months after it came out that Pitt was circling a WWII-set romance written by the Oscar-nominated scribe of DIRTY PRETTY THINGS, EASTERN PROMISES, REDEMPTION, and LOCKE (the latter two of which he directed), and Variety is reporting that Pitt has handed Knight the gig of writing his upcoming sequel to WORLD WAR Z.
Pitt, along with his Plan B Productions, was a key producer on WORLD WAR Z, and was attributed by many to have essentially force-fed the film into the public consciousness in the weeks leading up to its release (remember that arm-lock with our very own Harry at the Drafthouse?). This is his series, and hiring Knight, an esteemed scribe currently developing another project with Pitt, screams entirely of Pitt's decision-making. Paramount probably would've been fine lining up hired guns to pen their prospective blockbuster, but I get the feeling Pitt, having pulled the last film out of the fire of bad publicity and and an overlong and expensive shoot, wants to nurture his baby with more care this time around.
Knight taking the gig so soon after he received largely-positive notes for his one-man-show, LOCKE, implies that not only did Pitt probably work hard to persuade him, but that he sees some room for dramatic potential in this big-budget zombie flick. Though they had hot writers like Damon Lindelof, Drew Goddard, and Matthew Michael Carnahan writing the first go-around, none of them were coming off of the kind of critical acclaim currently bestowed upon Knight, whose ambitious, low-key LOCKE could have just as easily gone nowhere with both critics and audiences. He doesn't need this, so I'm curious as to the take that Pitt & Co. presented to him that turned him onto the idea of taking this project on. If they fully figure out their vision before the cameras start rolling this time around, this could manage to kick the Marc Forster-directed original's ass.
If nothing else, I think the idea that there's a big-budget, epic-scaled J.A. Bayona film in the works with Pitt and Knight attached is really exciting. Zombies or not.
I don't think we'll see WORLD WAR Z: RETURN OF THE CROWBAR until at least Summer 2016.
-Vincent Kim-Zahedi
"Papa Vinyard"
vincentzahedi@gmail.com
Follow Me On Twitter