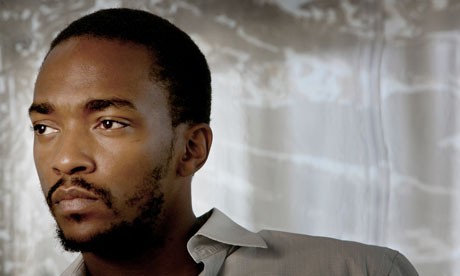 Andre Benjamin's turn as Jimi Hendrix in ALL IS BY MY SIDE hasn't hit U.S. screens yet (although he's received accolades out of its festival screenings), and there's already another actor gearing up to take a swing at the role.
Anthony Mackie, who made a big impression on audiences worldwide as Sam "The Falcon" Wilson this past April, will play the legendary guitarist in Ol Parker's JIMI, about the last nine days of Hendix's life before he tragically asphyxiated at the age of 27. Noomi Rapace will play Hendix' confindant and lover, Kathy Etchingham, while Mr. Parker's wife, Thandie Newton, will be featured in an undisclosed role.
Parker is best known for writing the screenplays to THE EXOTIC MARIGOLD HOTEL and its upcoming sequel, but he's directed two low-key British indies, IMAGINE ME & YOU with Lena Headey, Matthew Goode, and Anthony Head, and NOW IS GOOD with Dakota Fanning.
The project was previously set to be directed by Paul Greengrass, who bailed when negotiations for the rights to Hendrix' music went sour. Hopefully, Parker has been able to mend those broken bridges, giving us the sonic accompaniment to Jimi's legend that ALL IS BY MY SIDE apparently sorely lacks.
As for Mackie, he is a talented, charismatic actor with range to boot. He's going to have his work cut out for him approximating the Purple Haze singer's cadence AND showing the depths of his drug problems at the twilight of his life, but nailing it could open more doors for him in the industry than ever before. Hoping he hits it out the park.
-Vincent Kim-Zahedi
"Papa Vinyard"
vincentzahedi@gmail.com
Follow Me On Twitter