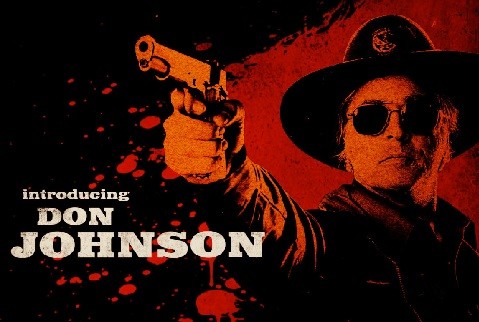 I'm absolutely loving this Don Johnson comeback.
He appeared in only four feature films in the 2000s (only one of which, MOONDANCE ALEXANDER, I've ever heard of), before being "brought back to life", so to speak, by Robert Rodriguez in MACHETE (who payed homage to the actor with an ironic "Introducing" credit). Since then, he's been a presence on both the big and small screen, popping up in stuff like BUCKY LARSON (regrettably), DJANGO UNCHAINED, the FROM DUSK TILL DAWN TV show (where he steals every scene he manages to show up in), and an amazing run as the father of Kenny Powers on EASTBOUND AND DOWN. He's got an incredibly fun and charismatic turn in the just-released COLD IN JULY, and now it seems that he's going to push this "comeback" (people like Don Johnson don't come back…the audience's senses do) a little further by writing and starring in a David Gordon Green football flick.
He mentioned his film, SCORE, in an interview with Grantland.com (via Indiewire), and he says Green is already onboard to direct. He says he wants it to be smaller-scale, and primarily for the VOD/web-streaming market, more for creative control than anything else.
In the former "Sonny" Crockett's own words:
"It's set in the '80s, and it's about the rise of big-time college football. I play this outrageous fucking coach who breaks all the rules and recruits basically criminals and everybody else and shoots the finger [extends middle finger in my direction] to the NCAA. I wrote it in October and I wanna get it financed completely so I can go to the marketplace without layers and layers of executives and bureaucrats. In my mind if you're not bringing something to the dance, but you're taking a big chunk of the cash, I got no room for you."
He also drops another particularly interesting nugget:
"I'm doing a thing with Robert Rodriguez that I wrote. It's about a guy who essentially becomes the TERMINATOR in the 21st century. He's an NSA experiment that's gone terribly wrong. They've injected him with nanorobots to give him the computing power and destructive abilities of Deep Blue. And with all that power, he goes off the fuckin' grid. And I'm an ex-NSA operative who went crazy in the Balkans, and they come get me out of the loony bin to get this guy."
I'm not a big football guy, so obviously that Rodriguez AKIRA homage sounds more appealing than his NCAA flick, but I like the idea of the former Sonny Crockett (who, as we all know, blew out his knee and sidelined his football career) as an old, rowdy coach. Johnson is savvier, funnier, and even better looking than ever these days, and I can't wait to see if these scripts can live up to the high mark he set with his sole previous writing credit: conceiving the idea for the HEARTBEAT music video.
-Vincent Kim-Zahedi
"Papa Vinyard"
vincentzahedi@gmail.com
Follow Me On Twitter